By Doug DeFries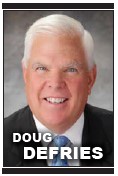 At a conference I was at recently, a fellow banker asked me how long I've been with Bank of Utah. I proudly responded, "35 years." By today's standards, it might be considered unusual to work for the same company that long. For me, there's nowhere else I'd rather have been, for many reasons, one being that Bank of Utah is community-focused. Every day for almost four decades, I have had the privilege of serving the people and the businesses of our great state, and helping the local economy thrive. For Weber and Davis counties, in particular, that means seeing them through times of tremendous growth.
In 1986, the year I started my career at Bank of Utah, Weber County's population was 156,913 and Davis County's was 174,267, according to the U.S. Census Bureau. By the last official count in 2019, Weber County had grown to 260,213 people and Davis County to 355,481 — a 66 percent and 104 percent increase, respectively.
Both counties are expected to grow even more, with state forecasters predicting steady population increases through at least 2025, thanks in large part to Northern Utah's economic vitality, strong job market, scenic landscapes and adventure opportunities. As more and more businesses nationwide adopt permanent remote-work options following the pandemic, Utah's population will likely see additional upticks over the next several years as options expand for where people can live and work.
Utah's recent accolades will attract even more residents, with the state having been named No. 1 for "Best Economy" and the "Third Best State to Live In" by U.S. News & World Report, and having 14 Utah cities being ranked in the top 30 of WalletHub's "Best Small Cities for Starting a Business" category.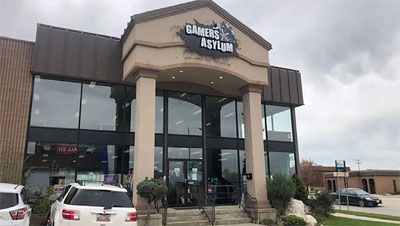 Having outgrown their storefront eight block away, the owners of Gamers Asylum recently moved into a much bigger space in Ogden. Photo courtesy of Bank of Utah.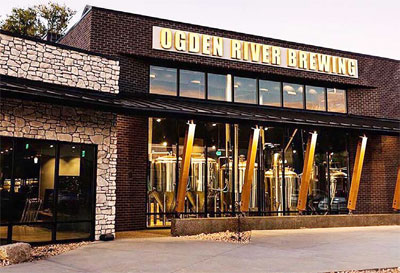 Ogden River Brewery has now been open for nine months, bringing locals and visitors alike to a space to gather, eat and enjoy the scenery. Photo courtesy of Ogden River Brewery's social media team.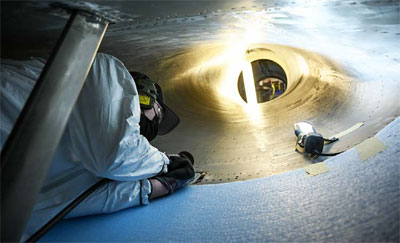 A member of a maintenance crew works on an F-16 intake at Hill Air Force Base. Photo courtesy of the U.S. Air Force media team.
Community banks, like Bank of Utah, get to be active participants in this type of growth and expansion, supporting community members — our neighbors — in a variety of ways. We help families build financial security and finance major purchases, of course, but we also do our part to bolster businesses through lending, funding and banking solutions. That's where I'd like to focus for a moment, on the importance of businesses in Weber and Davis counties.
Businesses help communities thrive by offering must-have products, professional services and unique goods. Businesses create a sense of character and individuality in towns and cities. Importantly, businesses provide employment for local community members and help local economies flourish.
This is extremely evident in Ogden, which was ranked No. 21 in WalletHub's "Best Small Cities for Starting a Business." An eclectic and thriving city within Weber County, Ogden continues to attract new industries, citizens, businesses and visitors. Recently, the new dual-branded Home2 Suites and Tru by Hilton opened on Lincoln Avenue. Close to Ogden's Historic 25th Street and the Ogden Eccles Convention Center, the four-story hotel features 155 rooms and caters to business guests and vacationers alike.
Not far away from the Hilton property is Ogden's newest brewery. A 250-seat pub and restaurant with views of the Ogden River and Wasatch Front, Ogden River Brewery is great for both locals and out-of-towners, and represents a dream realized for a local brewer.
South of the new hotel and brewery on Washington Boulevard, is Gamers Asylum, a popular shop for gaming and comic book connoisseurs. The owners had a fantastic run in a small storefront eight blocks away but the business had grown so much, a bigger space was a must. A few months ago, in May, the owners opened their new location, boasting a much larger area for product displays, gaming tournaments, game days and other events. As you can see, Ogden businesses are thriving and coming together to offer a community that has something for everyone.
Growth is tremendous in Davis County as well, where Hill Air Force Base continues to be one of the largest employers in Utah, alongside an ever-expanding Northrop Grumman. Between the two, they employ over 31,500 Utahns in the aerospace industry, according to the Northern Utah Economic Alliance — that's roughly the population of Kaysville. Other thriving industries include health, trade, transportation, utilities, hospitality and amusement industries. Davis County is also a great location for small business. In fact, WalletHub ranked Clearfield No. 9 and Layton No. 23 in its "Best Small Cities for Starting a Business" category.
As the county's employment rate goes up, it becomes increasingly important to provide Davis' citizens with housing options. Construction is occurring at a rapid pace, with contractors large and small working almost nonstop to provide quality and affordable homes for the growing population. Subdivisions, apartments and townhome communities are under construction, providing a variety of choices.
For example, a significant developer is working to build a community of 66 for-rent townhomes in Layton. Ranging in size from 1,562 to 2,037 square feet, Park Layton Townhomes will offer an alternative to the single-family home, close to industrial areas, retail shopping areas, restaurants and a number of other businesses.
As Davis County continues to grow, we will continue to support business owners and residents alike.
It's often said in the banking industry that a bank is enhanced by the community it's in and vice versa. It's especially true for community banks because we value and emphasize all of our relationships. As a local business that employs over 400 people across the state, Bank of Utah knows how important it is to create vibrant, economically healthy communities for our own employees. We strive to provide a great place for them to work and great communities in which to live, and we strive to help other businesses do the same.
Doug DeFries is president and CEO of Bank of Utah. He is an alumnus of Utah State University, where he earned his bachelor's degree and MBA. Actively involved in the community, DeFries has served on the boards of the Ogden/Weber Chamber of Commerce and United Way of Northern Utah and was a member of the Mt. Ogden Rotary Club for many years.