Salt Lake City-based Prime Inc., one of the nation's largest trucking companies, thinks it has hit on a way to pull ahead of the competition in a tough job market. The transportation giant, which competes in the refrigerated, flatbed, tanker, logistics and intermodal transportation arenas, has just opened a 61,000-square-foot center for its driving and non-driving associates at its Salt Lake City terminal.
Designed to make working at Prime an attractive proposition, the new building is packed with amenities, including a salon, a spa, a daycare center, a gym, private bunk rooms, a basketball court, healthcare facilities, a lounge and a café serving 2,500 meals each week.
At the new building, Prime's employees have access to healthcare and a sleep lab to treat sleep disorders, often a problem for professional drivers. In addition, employees are offered the services of a personal trainer for free. As part of the company's wellness program, trainers also provide customized workouts to keep truck drivers active while on the long haul.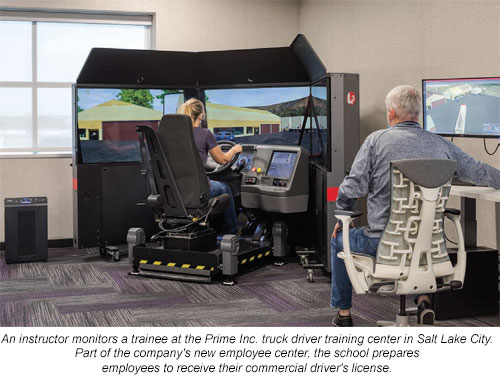 The facility is part of a multi-faceted effort to retain and recruit more drivers and warehouse staff in the face of one of the lowest unemployment rates in the nation, the company said. Utah currently is reporting the lowest-in-the-nation jobless rate of 2.8 percent and the country is facing a years-long shortage of truck drivers. Prime has similar amenities in buildings in Springfield, Missouri, and Pittston, Pennsylvania, to help with driver and non-driver comfort while providing an enticing prospect of employment.
"We built this facility with our associates — our most important asset — in mind," said Brian Singleton, manager of the Salt Lake City terminal. "Our associates deliver for America every day, and we want to make sure we're delivering for them. We're committed to always going above and beyond for our associates."
Because of Salt Lake City's location at the "Crossroads of the West" and being an intersection of major interstates, including I-15, I-80 and I-70, an average of 750 trucks pass through Prime's local terminal each week. The terminal employs 144 non-driving personnel.
Also housed in Prime's Salt Lake City terminal is a state-of-the-art truck driver training program with a simulator for students earning their commercial driver's license.
"We are bringing a new level of luxury to the trucking industry in Salt Lake City," Singleton said.