By Marlin Eldred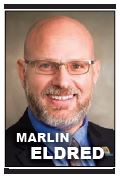 As 2021 begins, Lehi City is looking to the future while remembering the past year. March 11, 2020, marked the beginning of the COVID-19 pandemic and the creation of a new normal for everyone. Employees learned how to utilize Zoom, Microsoft Teams, GoTo Meeting and other video streaming services as work from home became the new normal. Class A office buildings went from being fully staffed to a skeleton crew. Masks became mandatory and even a fashion statement. Eating out and large gatherings have been put on temporary hold for over a year. This has had positive and negative effects on the business community.
The main concern from the Economic Development Department at Lehi City was to be a resource to the business community. Working with the Point of the Mountain Chamber of Commerce, information was sent out concerning PPP, lease and rent help programs, Utah County Business Grants Program and other business information. In most cases the businesses that were hurt the most just needed to speak to someone who was willing to listen.
Service-based industries who provide one-on-one customer-facing business were affected the most by COVID-19. We learned that those businesses who pivoted to provide curb-side pickup, home delivery, pickup windows and marketing outreach to customers, survived and thrived. As mask and gathering mandates are lifted, the businesses that have found a new normal will be stronger in the future.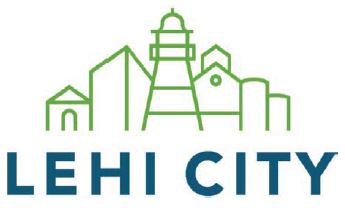 Growth is still the No. 1 concern facing Lehi City and is a focus for 2021. With the completion of the I-15 Tech Corridor freeway expansion in November 2020, traffic flows have drastically improved. This still puts stress on arterial roads and highlights the need to constantly monitor and plan for future expansion. As part of this planning process Lehi City will complete a general plan update in 2021. The General Plan focuses on areas of growth for the city. It identifies what type of growth (i.e., housing, retail, commercial, resort, industrial, etc.) should occur and allows the city to forecast needed water, sewer, storm drain, pressurized irrigation and transportation systems. This update is critical for Lehi's future growth.
Upon completion of the General Plan, the city will turn its focus to updating the Master Transportation Plan. This plan looks at traffic modeling to determine if the road systems can handle the anticipated growth. If not, the road either becomes a priority for upgrade or other transportation solutions are identified. Lehi City is also working with Utah Transit Authority and Mountainland Association of Governments on an anticipated Bus Rapid Transit line. UTA has approved the final alignment from the Point of the Mountain through Lehi that includes six stops located in key growth or business-heavy locations. This could reduce up to 10 percent of the current traffic on I-15. Infrastructure is key but it can be the stumbling block to development for any city.
For 2021, one of the city council's priorities is park development. Lehi City has recently seen progress in the planning and development of the Dry Creek Reservoir and recreation area, mountain biking trails, a regional baseball complex and the Willow Park campground and leisure park. These facilities will enhance the quality of life for residents and are expected to bring in regional tourists for recreation, sports and leisure activities.
As Lehi City continues to look to the future, the city is moving forward with a fiber optic network. This network would connect all of Lehi with fiber optic capability. The intent is not to compete with private business but allow private business access to the network. This will allow Lehi residents and businesses the opportunity to choose the best provider for their needs. The last year has shown the need for reliable and fast Internet services. Construction should start in spring of 2021 with completion anticipated by 2026.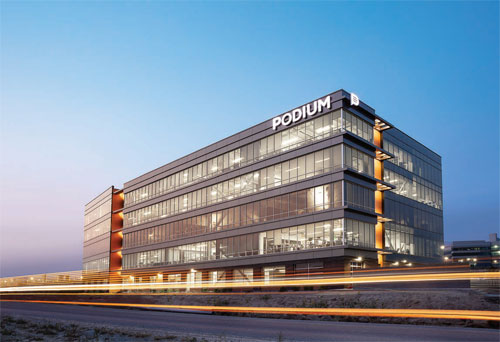 The new headquarters building of software company Podium is an example of the strong economic development in Lehi.
Lehi City and the surrounding communities continue to stay at the forefront of growth. Population is growing at an average 5 percent to 7 percent pace. This continues to push single- and multi-family unit developments. Even with COVID-19, Lehi saw over 800 building permits issued for 2020. This is anticipated to grow for 2021. Commercial development slowed for 2020 as developers are waiting to see how the market reacts to a new normal. So far, 2021 has shown a slow increase in lease space occupancy and business relocations from outside the state. Lehi should see an increase in commercial development in 2022. Planning to improve transit-oriented development, connectivity and quality of life show that Lehi is prepared for success in 2021 and beyond.
Marlin Eldred is the economic development director in Lehi, where he is responsible for business retention and recruitment, downtown revitalization and community engagement. As the president and CEO of the Economic Development Planning Group, he worked with numerous rural communities and counties throughout Utah. He was also the community and economic development director in Davis County and the administrator of the Council of Governments. Prior to his service to Davis County, Eldred served as the economic development director for the city of Jerome, Idaho. He and his wife, Jill, have four children and two grandchildren.