By Chuck Leonhardt
Northern Utah is positioned to pull out of the pandemic in better shape than most areas as we take on the challenges dealt in the past year.
Our opportunities are immense. With unsurpassed quality of life and a strong business climate, employers from around the world are locating and growing in the region. Our infrastructure is poised for growth and we have a proven track record of working collaboratively to ensure that our businesses have the resources they need for success.
The business backbone in Northern Utah is strong and resilient. For decades, we have been the hub for perhaps the most powerful economic engine in Utah and even the Mountain West — Hill Air Force Base (HAFB). Adding to that, our business culture is based on innovation and hard work, which has spawned a network of world-class manufacturers, strong financial services, an incredibly capable construction sector and many entrepreneurial small businesses that keep our economy healthy. Given the diverse business makeup in the area, the economic fluctuations that could leave businesses wilting, are not as present in Northern Utah. Over the long term, our economy has proven to be more stable than the national average, which translates to an excellent place to grow a business and live.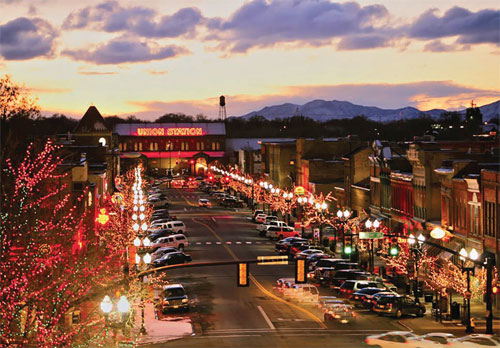 Historic 25th Street in Ogden at sunset.
It certainly doesn't mean that we don't have our challenges. Perhaps our most significant challenge right now is attracting and retaining a skilled workforce, particularly attracting 18-to-30-year-old workers to fill private- sector jobs. We are taking a balanced approach by creating tapped-in employment and training solutions created within K-12, technical colleges and the regional universities. We're now seeing progress and employees are poised for rewarding career paths. Companies are working with educators to create internships, apprenticeships and paid positions to enable employees to work while training and preparing for careers. These are fantastic opportunities for a workforce that needs immediate, good-paying jobs as well as a pathway to a successful lifelong career. Additionally, companies that require employees with unique skills, including engineering, are attracting talent from other states.
In the wake of potential financial ruin caused by the pandemic, our financial institutions are leading the path in processing paycheck protection loans which have been a major factor in stabilizing our economy. In addition, our state, counties and local cities are working together to administer federal CARES grants in an equitable and impactful way. It's a perfect example of how our businesses and governments work together. For chambers of commerce, we're working collectively as a voice for business and leveraging the strength of business across the state and region to ensure business needs are met. With a new governor in place, we're hopeful that he will fight for business first — knowing that it's the primary driver to getting our economy back on its feet.
Northern Utah has always been considered the "Crossroads of the West." That sentiment remains true today. As we look deep into an online economy, we're seeing tremendous growth in our regional logistics companies. They are locating here to move products throughout the western United States, using Northern Utah as their hub. It's a trend we see continuing. Whether the products come across the globe or from within the state, consumers are reliant on successful logistics systems to get what they need. While it brings more business relevancy to our region, it shines a light on the need to create a sustainable transportation system.
Added to business needs for transportation, we are addressing population growth in the area. You need to look no further than Highway 89 and I-15 that connects Northern Utah to Salt Lake City to see the need for expanded highway service. Due to the increasing population base and growing workforce in the area, our roadways are feeling deep pressure.
We have immediate needs at I-15 at Roy City to address the business growth at HAFB and expanding population to the west of I-15. The Utah State Legislature has provided some relief to the area through a bond that will provide approximately $250 million to the 5600 Interchange project in Roy.
To further address the area's transportation needs, UTA continues develop the area's public transportation system, including new bus routes, FrontRunner expansion and a new Bus Rapid Transit (BRT) system, all of which are designed to connect our communities and enable people to get to work, go shopping, attend school and take part in activities. For the longer term, the development of the West Weber Corridor connecting Davis, Weber and Box Elder counties will help relieve pressure along I-15.
Respecting business growth, Northern Utah is attracting corporations and small businesses alike. At the one end, Northrop Grumman has established its foothold and is growing quickly at the Roy Innovation Center as part of the $13 billion contract with the Air Force, a contract that will modernize the country's intercontinental ballistic missile system. This is bringing additional workforce to the area as well as attracting similar businesses to support the program. It's a major element to the Northern Utah economy that will positively impact the area for years into the future. We're also seeing continued growth at the new Business Exchange along the Ogden River and an abundance of activity at Business Depot Ogden.
At the other end of our growth, small businesses are surging in the tech sector, such as IT, as well as the creative industry. As an example, the downtown Creative Arts District is attracting local artists and those from around the country to locate in Ogden. The recent groundbreaking of the new Dumke Arts Plaza on 25th Street in Ogden is another pinnacle project to provide vibrancy, community unity and a stronger economic foundation to the downtown area.
Of course, we have other pressures that are common along the Wasatch Front, including the creation of affordable housing options, water preservation and air quality, to name a few. However, with measurable economic growth and collaborative leadership within business, government, education, healthcare and nonprofits, the positive momentum will help us come out of the pandemic strong and ready to provide a higher quality of life for residents.
For the past five years, Chuck Leonhardt has been the president and CEO of the Ogden-Weber Chamber of Commerce where he guides Northern Utah's largest business association of more than 700 organizations that represent approximately 30,000-plus employees. He has a bachelor's degree in marketing from Utah State University. He was marketing director at Utah State University, assistant vice president of marketing and communications at Gonzaga University and vice president of university advancement and president of the UNC Foundation at the University of Northern Colorado.