By Richard F. Brunst Jr.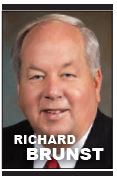 It was a year for the ages. In 2020 we had a "black swan" event in the spread of the coronavirus throughout Orem, Utah, America and the world. A black swan is a rare swan that you can neither predict nor prevent.
I am so sorry for all those who have lost family members to the disease, as well as jobs and businesses. But we have had a fair share of "white swans" arrive in Orem to help improve it.
This past year, Orem's sales tax receipts actually increased and are up year-over-year. Our population grew in number. And we have had many new businesses set up shop in our city. In fact, it seems that Orem is a prime location for people who love ice cream. We have had three new ice cream restaurants open up this past year. We have had Handel's Homemade Ice Cream, Sweet Rolled Tacos and Leatherby's, who for many years was located in Provo, come to town.
Good things continue to happen at the University Place Mall. Dillard's is moving out of Provo and building a new full-size store at the mall. The Marriott Courtyard hotel has left Provo and is building a new a five-story hotel at the mall. A new five-story parking garage is being built with an additional four-story office building on top of it. The parking garage will be screened with beautiful vistas together with a new large LED advertising sign on it. Also. the Hale Centre Theatre is continuing to work on funding a new building at the mall in the future.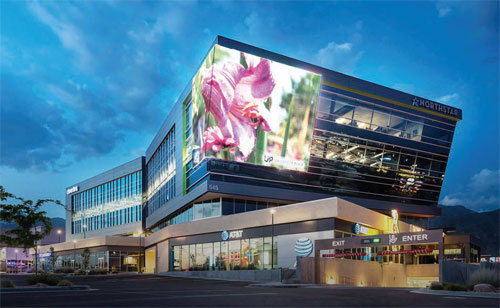 Shown from the southwest corner, the newly rebuilt University Place Mall in Orem is touted as an example of the future of shopping centers in America. What started as a mall is now a city center with shopping, grocery, restaurants, entertainment, outdoor green space, offi ce, hospitality and more — a regional destination to live, work, shop and play.
A longtime business in Orem, the Golden Corral restaurant, recently demolished their old building and have built a new state-of-the-art facility just east of their old location. Ken Garff Nissan has added a new building and more space for the retail sales of cars. On the city side, the new 500- seat Orem Library Hall is completed and will be open soon. Also, the rebuilding of the Orem City Recreational Center will be done in April. It will include new changing areas for families and individuals together with new exercise equipment and racquetball courts. It will also have an elevated track with a view out to the mountains, as well as a walking ramp going up with an adult slide going down. It will be beautiful.
At Utah Valley University, the Green on Campus Drive student housing complex will be completed this year with great access to the main campus for student living. And the new pedestrian bridge is now complete and open. This is an 1,100-foot steel bridge, the largest in the state of Utah. It is 15 feet wide with a heated roof and heated floor that will connect from the Orem FrontRunner station to Utah Valley University on the other side of the freeway. It will now make it safer and more secure for students to walk directly over to the main campus of the university. The new Keller Business Building is under construction and should be finished later this year, as well.
The new Orem Temple of The Church of Jesus Christ of Latter-day Saints is well underway and should be completed in late 2022. The area where the new temple is located is within the boundaries of 250 acres that Orem annexed into our city several years ago. Development in this area is beginning to take hold.
On 2000 South and Geneva Road, a new convenience store and gas station has been approved and will soon be built. Also new housing and light industrial developments are planned out for this area. Orem recently purchased the 9.5-acre former Hillcrest Elementary School site and is planning a new park there. Also, Orem has received a donation of a 10-acre area for a soccer park from the IHC Orem Community Hospital.
Orem has five new residential subdivisions being built and a new 110-unit affordable housing condo project has been approved in the city.
Orem has worked hard to keep a balanced budget with reserves. We have master plans set up for all of our utilities and have reserves in all of them for future infrastructure projects. One such project is a new 10-million-gallon water tank to be built on the west side of the city, by the Orem Community Park. This will help meet the water demands of a growing city. Utopia Fiber will be completing the buildout of fiber connectivity in Orem in the next two years.
Orem is continuing to resurface and rebuild our road infrastructure and thanks to new funding, Orem has the ability to stay up with keeping our roads in good condition and up to date. The city cemetery has opened up the new addition that has been planned for over many years and is now taking burials. Orem has added many new police cars and a new ladder fire truck for the protection of its citizens. Over the past several years Orem has been replacing all of its streetlights and stop lights with LED lights that are brighter, last longer and cost half as much to operate. Orem should complete this changeover during the upcoming year.
On a personal note I have decided not to seek a third term as the mayor of Orem. It has been a great experience, and much has happened since I was first elected. Our mall, through a public-private partnership, received some tax incentives that allowed for a $500 million investment to build it into a mixed-use facility. Many malls across the country are struggling. The University Place Mall in Orem, though, is thriving with 1,000 new apartments leased out, new office buildings leased out, a new park at the mall and many new stores, including Trader Joe's, Al's Sporting Goods, Tucanos and Los Hermanos restaurants and Dillard's
Our mass transit line, that had been planned for eight years and was stalled with a lack of funding, was repositioned and fully funded, and is now a great asset to the city, known as UVX. In the process, the University Parkway was widened and re-landscaped and is beautiful. Midtown Village, which was once a failed condo project that sat vacant for five years, has now been redeveloped and is fully leased with some of our most popular restaurants in Asados, Yummies and True Religion. It is now known as Midtown 360 with a beautifully landscaped deck on top and 360-degree views of Orem.
Our sales tax revenues are up over 25 percent. Our roads that were underfunded and in need of repair are now fully funded for the future of the city. UVU, which was in need of on-campus housing, now has a new student housing complex built on Campus Drive that is fully leased. A Kmart store on State Street that was vacant for many years has been purchased and refurbished by NPS, a great business that we appreciate coming to our city. We have built new parks, a dog park, an all-ability park, a splash pad and soccer park, a bike skills park, new pickleball facilities and a new foosball facility in our city.
While it takes a lot of work and the meeting of challenges to make progress, it has all been worth it. Orem is a beautiful place to live that is moving forward. At the same time, we have put in place laws to keep our neighborhoods intact and great places for strong residential housing and living, while also allowing for high-density along major roads.
I am proud of what we have accomplished and love the many improvements to our city. And it is the strength of our residents and families that make Orem the wonderful city it is to work, play and live in, now and for the future.
Richard F. Brunst Jr. is in his second term as mayor of Orem, having been first elected in 2013. A graduate of Brigham Young University, he owned Western Pipe Coaters & Engineers Inc. for 31 years. He also founded two other companies, Associated Appraisers and Recycle Technologies. He served a mission for The Church of Jesus Christ of Latter-day Saints to Sweden. He and his wife, Tammy, have both served for many years with the Boy Scouts of America, both receiving the organization's Silver Beaver award in 2014. The couple has lived in Orem since 1992 and has four children.