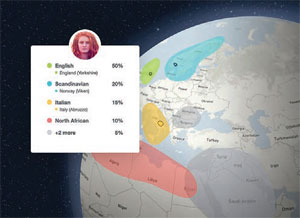 MyHeritage, an online genealogy platform with web, mobile and software products based in Lehi and Tel Aviv, Israel, has released Genetic Groups, a major enhancement to the service's DNA ethnicity estimates. Genetic Groups identifies ancestral origins with a high resolution of 2,100 geographic regions, more than any other DNA test on the market, the company said. Genetic Groups is a free addition to MyHeritage DNA test results for all new and existing MyHeritage DNA customers.
Genetic Groups provides greater granularity than standard ethnicity breakdowns by segmenting larger ethnic groups, such as Scandinavians, into smaller groups that share a common historical background. Populations that lived together for centuries, originating in the same small locations or migrating together to new lands, often formed unique genetic signatures. The MyHeritage DNA test detects these signatures among people who descend from these groups.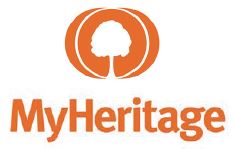 For example, beyond learning that they have Scandinavian origins, a user can now find out that they are Danish. Not only that, but they may now learn where exactly in Denmark their ancestors came from, including locations such as the Faroe Islands or Western Greenland. They may also find that their ancestors were Danish settlers in Minnesota, for example. There are 187 groups that MyHeritage detects from Scandinavia and 54 groups from neighboring Finland.
"We are truly excited to bring Genetic Groups to MyHeritage users and the passionate community of genetic genealogy, as a wonderful new tool for tracing family history," said Gilad Japhet, founder and CEO of MyHeritage. "Being the international market leader in consumer DNA testing, especially in Europe, allowed us to develop this fascinating feature, which will help millions of people learn more about their origins with exceptional depth and resolution. Genetic Groups provide us with new insights and a renewed appreciation for our ancestors, the paths they traveled, and the lives they lived, to make all of us who we are today."
The MyHeritage science, research and development and product teams spent three years aggregating and analyzing massive data sets to bring this project to fruition, the company said. They examined the DNA matches within a huge reference panel of 1.7 million DNA kits on MyHeritage and developed algorithms to cluster the DNA kits into groups based on millions of DNA microsegments, inherited from each group's founding mothers and fathers.

Pleasant Grove-based Carketa Inc., developer and marketer of software tools for control of inventory flow for automobile dealers, has added the Carketa Digital Condition Report to its suite of "acquisition to sale" applications. In today's market, dealers buy cars from auto auctions remotely. With the new condition reporting app, consumers can buy remotely also, the company said. "Carketa is the only solution in the auto industry providing real-time quality rating built into a condition report. With Carketa's accuracy rating, a consumer has confidence in [the] dealership. Dealers can sell remotely on any ad platform," said Carketa CEO Brady Thurgood. Carketa's Digital Condition Report is a 200-plus-point inspection system detailing a car's current mechanical and cosmetic condition woven into the recon process, which is controlled by the Carketa Recon module.
Park City Group (PCG), a Park City-based supply chain technology provider, has released a new cost-effective platform for sourcing, distribution, inventory control and grant management for critical emergency management supplies such as personal protective equipment (PPE). PCG has also developed an online PPE MarketPlace to help organizations struggling to find reliable PPE suppliers with reasonable pricing and attainable minimum order quantities. The PPE MarketPlace will allow orders of items such as masks and gloves from smaller agencies and organizations to be aggregated, satisfying the minimum-order quantities required by suppliers to keep costs reasonable. "Our ReposiTrak supply chain solutions and MarketPlace sourcing tools resolve the long-standing issues that vex emergency management, health and safety leaders at a time when resources are stretched thin and the need is urgent," said Randy Fields, chairman and CEO of Park City Group.

Provo-based Xant, developer of sales management software, has released Shared Records, a capability addition to its sales engagement platform. The product gives sales teams the ability to automatically assign customer relationship management records as either "shared" or "personal" and is powered by Playbooks' automation Robots. Xant has taken a different approach to automation with Robots, said Mark Littlefield, vice president and head of product at Xant. "Whereas many treat automation as a way to email spam, we treat it as an enhancement to improve engagement and sales. The basics of Robots include auto-enrolling records, opportunity funnel progression, prioritizing tasks, triggering reps to customer events and performing reliable data entry. With Shared Records, we're bringing teams the flexibility to compile records into shared folders or assign them to the right reps so they can accelerate their speed-to-lead and their time-to-value."

Salt Lake City's ReposiTrak, a provider of retail management software, has entered the quality-management space with the introduction of its app-based Active Quality Management System to its suite of products. The new system will enable retail trading partners to automate internal safety and quality recordkeeping easily, accurately and affordably, the company said. Complementing its existing compliance solutions suite, ReposiTrak's app-based Active Quality Management System "allows quality and safety teams at manufacturing and distribution operations to simplify the tedious, error-prone manual recordkeeping processes required for critical controls, such as temperature checks, swab testing, sanitation and pest control and equipment inspections," a ReposiTrak release said. The iPhone- and Android-compatible app also affords quality and safety managers with the flexibility of deploying it on company-provided devices or via a "bring your own device" approach for staff to use their own mobile phones.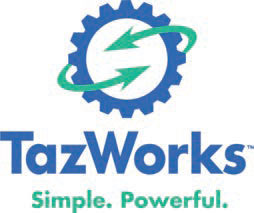 TazWorks, a background screening platform for consumer reporting agencies (CRA) and background screening professionals, has released its next-generation application programming interface (API), TazAPI Advanced. TazWorks' new API is designed to give HR technology companies, third-party developers and independent CRAs the ability to efficiently create their own custom front-end experience on top of TazWorks' background screening platform. As part of the general release of TazAPI Advanced, the company also announced the availability of several new integrations developed using its basic program, including ICIMS Prime, MeasureOne, Greenhouse and PageUp. "It has been amazing to watch the evolution of how searches come through our platform," said Kary Burns, TazWorks marketing vice president. "We are seeing a shift where CRAs and screening agencies are offering their services through an integration with the client's preferred HR or property management software."