Molly Mazzolini, partner and director of brand integration at Infinite Scale, received the Salt Lake Chamber's Athena Leadership Award at the recent 2020 Women & Business Conference.
The award is presented annually to an active member who demonstrates creativity and initiative in business, provides valuable service by devoting time and energy to improve the quality of life for others in the community, and assists women in reaching their full leadership potential, the chamber said.
At the same event, six women were recognized with Pathfinder Awards, which recognize community leaders for their work to "create new paths," and promote the development and recognition of women in business. Recipients are Allyson Bell, Silvia Castro, Darla Gill, Beth Holbrook, Abby Murtagh and Heidi D. Ruster.
The Athena winner, Mazzolini is Infinite Scale's strategic branding expert, responsible for promoting not only the Infinite Scale brand, but also the multifaceted brands of its clients. Mazzolini also specializes in sponsor platforms, public relations and sports marketing. Her experience includes: the University of Utah Athletics Department (Rice-Eccles Stadium treatments), Brigham Young University Legacy Hall (Hall of Fame), Super Bowl XXXIX-XLIII (look and decor) and the 2002 Olympic Winter Games (sponsor integration and brand management).
Mazzolini graduated with a bachelor of arts degree in communication from Loyola University and a Master of Professional Communication from Westminster College.
Bell is chief of staff at the office of U.S. Sen. Mike Lee. She has served as a chief adviser to Lee since his swearing- in in 2011. In her current role as chief of staff, Bell oversees all aspects of the senator's official activities — from the legislative agenda and external relations to staff and constituent outreach activities.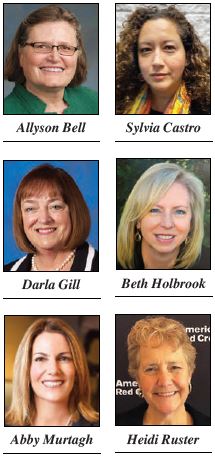 For more than three decades, Bell been involved in a multitude of roles in government service, political campaigns and public policy initiatives. Previously, she was a successful business owner, providing public affairs, strategic consulting and event management services to corporations, government agencies, nonprofit groups and political campaigns. She has repeatedly been tapped by clients to oversee all aspects of major projects and events, such as the State of Utah's Hosting Program for the 2002 Winter Olympics in Salt Lake City and the National Governors Association's 2011 annual meeting.
Castro is executive director of the Suazo Business Center, a nonprofit dedicated to the economic empowerment of the minority community. In the past fiscal year, the organization served more than 2,600 clients.
Castro has over 20 years of experience working with enterprises and organizations of all sizes, including government under Gov. Jon Huntsman Jr. and Salt Lake City Mayor Jackie Biskupski. She holds an MBA with an emphasis in international business from the University of Utah and a BA degree in international business from Westminster College.
Gill is a co-founder of Merit Medical Systems and now serves as ambassador for the company, representing Merit in several community, philanthropic and scientific organizations. Since 1988, she has served as Merit's executive vice president of marketing and sales in a variety of capacities, as well as a director on the company's board.
In 2006, Gill was appointed executive vice president of human resources and organizational development, and from 2007-09, she was executive vice president of marketing. From 2009-18, she was president of Merit Endotek. She has a degree in business administration and is an inventor on several medical device patents.
Holbrook is a member of the Board of Trustees of the Utah Transit Authority. Her career started in the financial sector, then she established a real estate firm and went back into the financial sector, working in business development. She then went to work in the public sector for a private company.
Holbrook was first elected to the Bountiful City Council in 2007. She is a former president of the Utah League of Cities and Towns. Since being appointed to the UTA Board of Trustees, Holbrook has worked to increase community engagement throughout Davis, Weber and Box Elder counties. She serves on the Economic Development Corporation of Utah, Envision Utah, the Utah Association of Special Districts Boards and the Housing Commission. Holbrook earned a political science degree from the University of Utah.
Murtagh is general manager of the Hilton Salt Lake City Center. She has spent her entire career in the hospitality industry, beginning with an entrepreneurial catering service in her small home town of Dover, Pennsylvania, and progressing to resident manager of the Waldorf Astoria New York before arriving at the Hilton Salt Lake City Center. Murtagh received her bachelor of science degree from the Cornell University School of Hotel Administration. She currently serves as board chair of the Salt Lake City Downtown Alliance and as secretary/treasurer of Visit Salt Lake.
Ruster is regional CEO for the American Red Cross' Utah/Nevada region. She has been active with the Red Cross since 1992 as a volunteer and employee and has engaged in several other nonprofits throughout the country. She served in the Navy and grew up living many years in Europe and throughout the U.S. with her father in the U.S. Air Force and husband in the U.S. Navy.
Ruster is actively engaged with Rotary SLC and volunteers as a tutor at Franklin Elementary and adaptive ski volunteer with the National Ability Center. Ruster earned her MPA at Bowie State University and BS t the University of Maryland.