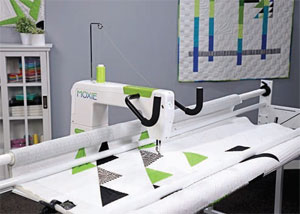 North Salt Lake-based Handi Quilter, a manufacturer of longarm quilting machine systems and a member of the Premier Needle Arts family of companies, has launched its newest machine, the Moxie by Handi Quilter. The new machine is now available at the company's more than 400 authorized retailers in the U.S. and Canada and at online retailers.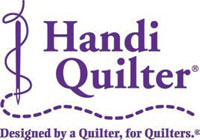 "We know that quilters want to finish their own quilts," said Brenda Groelz, vice president of marketing and education at Handi Quilter. "But they're tired of pushing a large quilt through the tiny throat of their home sewing machine. With the ease of use of the 15-inch Moxie on our HQ Loft Frame, every quilter can enjoy free-motion quilting and can own every stitch of her quilt from start to finish."
Utilizing Handi Quilter's engineering and technology platform, the Moxie provides quilters a simple and easy approach to finishing quilts, Groelz said. The Moxie stitches at speeds up to 1,800 stitches per-minute, enabling quilters to finish their quilts quickly.
"Regardless of where the purchase is made, new owners will have the support of a local HQ retailer," said Darren Denning, president of Handi Quilter. "Moxie is a feature-rich, high-quality longarm machine system that is affordably priced. When you add on the industry-leading Handi Quilter training and education, the result is happy, confident quilters who can finish their own quilts."
Getting started on the new machine is easy, said Ashton, thanks to Handi Quilter's partnership with BILT, an app that provides animated 3D assembly instructions for the frame and machine. BILT's technology provides a simple-to-use interface, making complicated processes easy to digest and understand. Handi Quilter is the first quilting and sewing company to partner with BILT, whose instructions do not stop with assembly. Quilters can reference the app in the future for reminders about loading their quilts and threading their machines.
"We are thrilled to be partnering with an industry-leading company and look forward to helping provide additional solutions for Handi Quilter consumers in the future," said Nathan Henderson, CEO of BILT Inc.

Customer experience management company Qualtrics, based in Provo, has introduced a comprehensive healthcare solution for community hospitals. Now in use at 400 hospitals and health systems, the software fulfills regulatory requirements plus real-time patient, employee and community experience programs. "The patient experience, from scheduling to care delivery to the post-care process, is critically important for community hospitals. Their care teams need immediate insights to deliver the best patient experience," said Patty Riskind, global industry leader for healthcare at Qualtrics. "With Qualtrics, community hospitals can listen, understand and act by leveraging Qualtrics' workflows, advanced analytics engine and closed-loop feedback — all on one single platform." The system enables community hospitals to consolidate existing programs into one that results in improved care delivery, increased employee engagement, enhanced community trust and cost savings, Riskind said.
Orem-based Avetta, a provider of supply chain risk management software, has launched Avetta Financial Risk, a tool for evaluating and monitoring the financial health of a companies' supply chains by providing financial data for supplier evaluation. Using these scores, organizations can build compliance standards to manage potential risks. "In order to build a more resilient supply chain, our customers can now determine contractor and supplier reliability," said Taylor Allis, chief product officer of Avetta. "Assessing financial stability — locally or globally — is critical in evaluating project risk. With Avetta Financial Risk, companies can better ensure continual operations by intelligently managing the safety, sustainability and financial health of their supply chain network." Integrated with information services company Experian, Avetta Financial Risk provides a supplier risk rating using Intelliscore Plus and Financial Stability Risk Score.

Salt Lake City-based Foldax, a designer and manufacturer of heart valves, has received U.S. Food and Drug Administration approval to expand the U.S. clinical study of its Tria surgical aortic heart valve, which incorporates a new proprietary biopolymer called LifePolymer. The next stage of study enrollment is expected to begin within the next month. "We are excited to expand enrollment in this U.S. clinical study to gain additional clinical experience with the Tria valve," said Dr. Frank Shannon, chief of cardiovascular surgery at Beaumont Hospital in Royal Oak, Michigan, and head of the Foldax medical advisory board. "The Tria valve with its biopolymer leaflets represents the first new material for heart valves in decades and offers the potential for significantly better durability than tissue valves, while eliminating the need for lifelong blood thinners that comes with mechanical valves."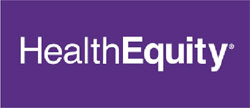 Consumer-directed benefits administrator HealthEquity has released the 14th edition of The Complete HSA Guidebook, an educational tool that helps organizations and individuals improve their health and financial well-being through the better understanding and adoption of health savings accounts (HSAs). HealthEquity is based in Salt Lake City. First published in 2004, the guide is written by HealthEquity founder Steve Neeleman, with contributions from attorney Hazel Witte and the late Sophie Korczyk. "We're pleased to share the latest edition of The HSA Guidebook at a time when it has the greatest relevance to Americans," said Neeleman. "This comprehensive guidebook exists to help employers understand the power of HSAs and empower consumers to save more, spend smarter and better connect health and wealth." The new edition includes updates on the latest healthcare reform and tax changes.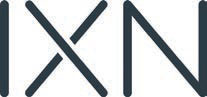 Lehi's IXN Tech has announced that its new LifeDX platform has been launched with Pacific Life Insurance Co. — the first insurance carrier to adopt the program. LifeDX is a multi-carrier platform that provides an application programming interface (API) solution for quotes and application submissions for the life insurance industry. Kevin Pohmer, CEO of IXN, said, "The LifeDX API framework is what our industry has needed for a long time — a standardized and secure central API-centric solution that makes it easier and faster to securely ingest data from multiple carriers to deliver real-time to our customers and in turn to deliver back to carriers. We're excited to see the innovation this platform encourages in this industry, because until now, sharing data between organizations has been a time-consuming manual process."

Sunrise by Lendio, a developer of bookkeeping applications based in Lehi, has released its first mobile app. Sunrise: Invoices & Payments is designed to ease the day-to-day management of small-business bookkeeping, the company said. Free to use, the app enables mobile invoicing and billing, receipt capture, payment processing, expense cataloging and more. "Even before the onset of the COVID-19 pandemic, small-business owners consistently pointed to cash flow as one of their biggest operational hurdles," said Brock Blake, CEO and co-founder of Lendio. "Now, more than ever, saving time and keeping track of financial health is vital to America's small businesses. Sunrise and its app can help business owners save time, keep a closer eye on their cash flow and even help them apply for future capital."