By Rick Child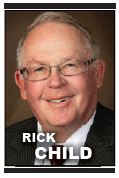 Every other year we send out a survey to our residents to get their perspectives on city services and the development of our community. Early this year we evaluated the results of our 2019 survey and were pleased with what we found. Incredibly, all 35 city services were rated higher than in 2017 — quite the feat considering that our 2017 ratings were our previous best.
When asked to rate their quality of life in Springville, 94 percent of respondents rated their quality of life as "Good," "Very Good," or "Extremely Good." Conversely, zero percent answered that it was "Extremely Poor" or "Poor." The Daily Herald's "Best of Utah Valley" poll gave Springville "Best City to Live In" for 2020. Additionally, Springville took home the honors for best library, museum, recreation center, police department, golf course and canyon park.
In short, people love living in Springville. We've known that to be true since our survey began in 2007. Our community has been good — and it keeps getting better.
Springville businesses have played a critical role in shaping our community and serving our residents. Art City staples such as Reams Springville Market and restaurants along Main Street, including the Art City Trolley, La Casita and Joe Bandido's, have served generations of residents and visitors. They contribute to the "small-town feel" that our residents love. When our residents were asked what they love most about our community, the most common answers were along the lines of "peaceful," "quiet" and "friendly."
Despite the "small-town" reputation, Springville's population continues to soar. The past 25 years have seen our counts more than double. Burgeoning commercial and residential development on the west side of the city has shifted the population center toward I-15. The 123,500-square-foot Smith's Marketplace and 204,000-square-foot Walmart Supercenter — now three and 19 years old, respectively — on the west side of 400 South, anchor a variety of developments that didn't exist just a couple of decades ago.
The present promises to be a period of historic growth, as huge projects are in various stages of completion and interest is being shown in all of the city's remaining developable properties.
Wavetronix has completed its first manufacturing building at Hobble Creek Square, a 68-acre global headquarters adjacent to I-15 at 600 North. With a second building under construction and more planned, this land provides the company with room for anticipated future growth. Wavetronix creates innovative tools that make the world's roads safer and more efficient. Their advanced radar offers unmatched performance and is changing the intelligent transportation systems industry by raising the standard for excellence in vehicle detection at intersections and roadways around the globe.
Springville City has adopted the Main Street South Gateway Zone to enable the redevelopment of the former Allen's grocery store and other buildings comprising an entire block of Springville's downtown. The zone provides for retail, office, residential and civic space to anchor the intersection of Main Street and 400 South.
Bonneville Equipment, a local Kubota equipment dealer, is beginning construction on a new first-class sales and service facility adjacent to 400 South to the west of I-15. This new facility will be designed to Kubota brand standards and increase Bonneville Equipment's ability to serve customers throughout Utah, Sanpete, Juab and Millard counties.
A new commercial development called Spring Pointe Exchange is a 17-acre flex/R&D community located at 550 North and 2250 West. The campus of six multi-tenant buildings, ranging from approximately 20,000 to 43,000 square feet, will be the home of many Springville businesses in the near future.
Additional projects in progress include a 10-acre Peterbilt facility, a five-acre Best Vinyl facility, a three-acre CR Doors facility and Evans Legacy Park (14 acres) and Powerhouse Industrial Park (30 acres). The list goes on and on. Meanwhile, transportation committees are meeting to discuss how to improve the connectivity of our community and the MAG long-range plan includes plans for the FrontRunner to go through and have a station in Springville.
Our canyon is home to the "Best of State" Hobble Creek Golf Course (which is having its best year ever) and 400 acres of parks for camping and recreation. Kelly's Grove, Rotary Park and Jolley's Ranch have thousands of visitors every summer.
Camp Jeremiah Johnson continues to be operated by the Boy Scouts of America. Wayne Bartholomew Family Park at the mouth of Hobble Creek continues to be a hit with residents as it provides opportunities to swim, fish and enjoy the beach. The city council recently approved the purchase of an additional 72 acres of property near Rotary Park which promises additional opportunities for recreating close to home.
With steady increases in population and countless projects on the slate, we are increasingly less "small" and "quiet," but our friendliness and charm are well-intact. We are eager to see what the next several years hold for our bustling city. One thing is certain: The future is bright and busy.
Rick Child is a lifelong Springville resident and has been serving as mayor since 2018. He is the president of Child Enterprises Inc., a construction company that has been business since 1974. He served on the Springville City Council for six years prior to becoming mayor and has also served on the Water Board for more than 10 years and as a member of the Utah Masonry Council. Child is a Vietnam veteran and BYU graduate.