By Jenney Rees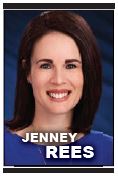 Nestled at the mouth of American Fork Canyon on a mountain bench, Cedar Hills provides a beautiful view of the surrounding mountains, Utah Lake and Utah Valley. Because of the location, residents enjoy access to plenty of outdoor recreation opportunities. While Cedar Hills is one of the few cities in Utah County that doesn't have much room for additional growth, city officials and staff continue to plan for the future while also working to preserve the unique community features that our residents enjoy. I am happy to report on six key areas that we are working on as a city.
Economic Development
We are grateful for the commercial and home-based businesses that are in Cedar Hills. Through them we have found partners who desire to participate in the community and have done so in a variety of ways, such as contributing to our annual Family Festival and other events held throughout the year. I am often told that Cedar Hills has the nicest commercial area in the county. While part of that may be due to our design standards for our commercial zone, it's also because the businesses that have located here have expressed a desire to be engaged in the community and seek opportunities to give back, creating a feeling of partnership with the city. As north Utah County has continued to grow, so has our commercial area. This year will include the opening of three new businesses and with approximately 10 acres still available for commercial development, we are seeing increased interest from businesses THAT are considering Cedar Hills for their next location.
Open Space
From the time of incorporation in 1977, the residents of Cedar Hills have valued open space. The General Plan was first adopted when Cedar Hills was a town and in the opening paragraph it states, "The town sits on elevated hills and plateaus which provide striking vistas and is also in close proximity to majestic mountains and a beautiful canyon. For nearly 150 years, the peacefulness and beauty of this setting has drawn numbers of people to live here. The overall goal of Cedar Hills is to guide development in such a manner that allows for residents to enjoy the physical and human atmosphere of living in Cedar Hills, without changing the atmosphere to such a degree that its appeal is lost."
As city officials, we have strived to remain faithful to those original goals. While only two square miles, our city boasts a beautiful 18-hole golf course, nine parks and over six miles of trails, which connect our parks and schools, creating opportunities for families and individuals to walk or bike throughout the city. This summer we opened Harvey Park, which, at 12 acres, is the largest park in the city. Located along the Murdock Canal Trail, this park features basketball and pickleball courts, a baseball diamond, plenty of field space, a playground, a splash pad, pavilions and other amenities. It has quickly become a favorite location for many in Cedar Hills and the surrounding communities.
Budgeting for now and the future
It is the goal of staff and elected officials to maintain the city's financial health. Using conservative budgeting principles, the city is on sound financial footing. We recently paid off an infrastructure bond nine years early. We were able to fund our new park with existing money in the Capital Projects fund and we currently boast an AA+ bond rating. For the past six consecutive years, the city has received the Certificate of Achievement for Excellence in Financial Reporting from the Government Finance Officers Association for its comprehensive annual financial report. The Certificate of Achievement is the highest form of recognition in the area of governmental accounting and financial reporting and its attainment represents a significant accomplishment by a government and its management. The city has also received annual budget awards for the past 18 years. This comes from the diligent efforts of our finance team and sound budgeting principles adopted by the city's elected officials and staff.
Public Safety
Based on statistics provided by the FBI's Uniform Crime Reporting Program, Cedar Hills is consistently rated among the safest cities in Utah. We contract with American Fork for police and fire services and appreciate the relationship we have with these agencies. In addition to providing public safety services, both participate in a variety of community outreach programs which provide an opportunity for members of our community to engage with public safety officers in a relaxed environment, building trust and increasing understanding of what our police officers, firefighters and EMT personnel do for our city.
Growth
While Utah County is one of the fastest-growing counties in the state, Cedar Hills is almost built out. However, we are committed to doing our part to address the needs of a growing population. To help create affordable housing in our community, we updated our Accessory Dwelling Unit ordinance, eliminating all associated impact fees and reducing the registration fee from once-per-year to once-per-homeowner, making it more affordable for residents to own and operate an ADU. We have reduced regulations for home-based businesses in order to allow residents to use accessory buildings for business purposes, with the hope that doing so will provide opportunities for residents to bring in additional income for their families, especially as technology provides more opportunities to work from home. In 2018 we created a PD-1 zone south of Walmart, which allowed for some of the highest density in our city, and a developer is currently building 80 homes conveniently located near our commercial zone and North County Boulevard.
Community
We are fortunate to have an amazing staff and incredible community members who contribute in many ways. One of my favorite quotes is "Volunteering is the ultimate exercise in democracy. You vote in elections once a year, but when you volunteer, you vote every day about the kind of community you want to live in." I strongly believe this to be true and see it in action in our city. Every year we have many volunteers who serve on various resident-driven committees to plan and implement several annual events. We also have many who help beautify the city on our annual Day of Service and who volunteer as families for our summer Family Festival.
I appreciate that we have engaged citizens who show up for each other, who share their ideas and feedback, and who contribute to making Cedar Hills a wonderful place to live. We will always be a bedroom community but for most of us, that is exactly why we choose to live here. Being 20 minutes from Provo and 45 minutes from Salt Lake, we are close enough to larger cities for whatever things we need while still enjoying the small-town atmosphere that Cedar Hills is known for.
Our growing commercial zone, ample open space, conservative budgeting principles, dedicated staff and community engagement have all contributed to making Cedar Hills a thriving city. I am optimistic about the future and look forward to working closely with our team, our citizens, and our business partners in keeping Cedar Hills one of the best-managed cities in Utah.
Jenney Rees was elected mayor of Cedar Hills 2017 after serving as a member of the city council for six years. Before her election, she was the chief of staff for MediConnect Global, a healthcare information technology company. She has a bachelor's degree in business management and a master's degree in public administration.