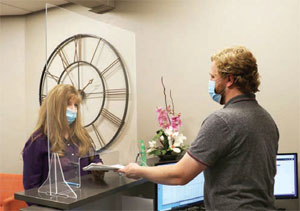 MityLite, an Orem-based manufacturer of commercial furniture, has launched a new line of Protection Shields to help protect the public from contact interaction and the spread of infection. The shields are designed for use in hotels, restaurants, education and government offices, retail checkout counters, medical offices and business areas.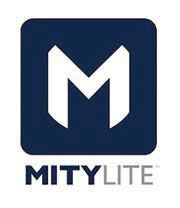 "Right now, with the current challenges with COVID-19, having memorable gatherings, which is part of our mission, is very much a challenge," said Alexei Dobsky, vice president of operations for MITY Inc. "In response to this, we are excited to offer countertop shields. We are now working through everything that needs to be done to offer these and other helpful products in our manufacturing facilities. We want people to make meaningful connections with one another in a safe way and we are proud to be finding solutions to do this."
The countertop shields are specifically made to protect employees and customers from airborne, virus-containing droplets caused by speaking, sneezing, laughing or coughing. Using the product will help minimize the risk associated with face-to-face interactions in public places, MityLite said.
"Countertop shields are necessary for our customers in a wide span of industries so they can safely continue doing business in this new normal," said Spencer Posey, vice president of research and development at MITY Inc. "We offer several models of countertop shields, and this new design is sleek with minimal parts. It's also extremely cost-effective. These acrylic shields can be easily set up, and we offer numerous options such as having the shield sit flush with the counter or having a 2-inch gap at the bottom for the transfer of items."
Mity said that the clear safety partitions are minimally intrusive and made from heavy-duty acrylic. Some models also feature an aluminum frame. The shields are easy to clean and sanitize with common products. Multiple size and style options are available, and the shields are designed for easy setup, takedown and storage.
Founded in 1987, MityLite is part of the MITY Inc. family of product brands serving the business marketplace in hospitality, public assembly, higher education, government, restaurant and healthcare. The company employs about 250 people in its operations.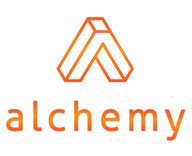 Alchemy Technologies, a financial technology infrastructure company based in American Fork, has launched the next generation of its Lending Platform operating system that combines brick-and-mortar operations and online lending operations in one software solution. The company said it has also migrated all of its existing customers and loans into the new lending system. "Not only did we bring [our clients'] operations to the 21st century, our technology also allows [our clients] to acquire customers from new channels." said Timothy Li, CEO of Alchemy. "This solution enables our brick- and-mortar clients to continue their operations even during a shutdown scenario due to COVID-19."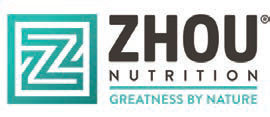 Park City's Zhou Nutrition, a nutritional supplements company, has debuted a new line of nutritional water enhancers. The company said the enhancers, available in six flavors, support a variety of wellness needs, from hair and skin health to memory and stress management. "We're excited to launch our new water enhancers, which truly offer one of the easiest ways for people to incorporate our powerful formulas into their daily lives," said Cait Probst, creative director for Zhou. "The line will allow more people to experience the benefits of our high-quality, lab-verified products, whether they're looking for a quick energy boost, sleep support or healthier hair."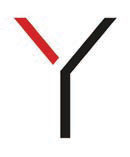 Brydge, a Park City designer and marketer of design-focused peripherals for the computer market, has introduced a new line of MacBook vertical docks. Other than re-branding, specific improvements include a refined spring force for sleeve movement, precise connection and chassis protection for the MacBook ports, the company said. "Since our acquisition of Henge Docks in September 2019, we've been hard at work reengineering and expanding our vertical dock line," said Nicholas Smith, co-CEO and founder of Brydge. "Our new range is better than ever, allowing users to manage connections with ease and create a sleek and minimal desk space free of clutter."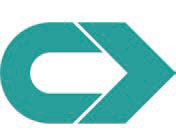 Lehi-based Carrus, an online healthcare training and professional development provider, has introduced new software programs designed to help furloughed healthcare workers and others return to work quickly. The programs also enable hospitals and health systems to provide expanded skills training to their employees. These accelerated programs are available through CareerStep, the health training division of Carrus. "Helping people improve their lives and get back to work quickly is a driving principle at Carrus, and we are honored to be a part of each person's story as they gain new skills that are in demand for high-growth healthcare careers," said Misty Frost, CEO of Carrus.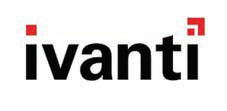 Ivanti, an IT automation and cybersecurity company based in Salt Lake City, has unveiled Ivanti Neurons, a new hyper-automation platform that empowers organizations to proactively, predictably and autonomously self-heal and self-secure devices and self-service end users. Ivanti Neurons augments IT teams with automation bots that detect and resolve issues and security vulnerabilities while improving the accuracy, speed and costs of services IT delivers. "As remote becomes the next normal, Ivanti Neurons enables organizations to heal and secure devices and deliver a seamless 'work from anywhere' employee experience," said Nayaki Nayyar, executive vice president and chief product officer of Ivanti.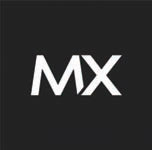 Lehi-based MX, a data platform in the financial technology category, has launched Path by MX, which the company said is a simpler, faster and more secure way for financial institutions and fintechs to connect new services, apps, cores and systems. Path is a data connectivity application programming interface that allows organizations to move beyond the constraints of legacy systems which cause slow innovation, time-consuming and costly upgrades and inflexible contracts. "With Path, financial institutions and fintechs can enjoy the flexibility of more modern cores without multi-year migrations that slow down innovation," said Brandon Dewitt, co-founder and chief technical officer of MX.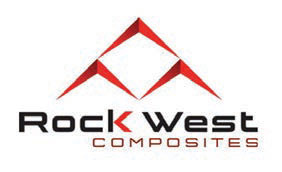 Rock West Composites, based in Salt Lake City, has announced the expansion of its sandwich panel lineup with the addition of new aluminum honeycomb core panels. They are offered in versions with carbon fiber composite and aluminum skins and offer high strength, high stiffness and low coefficient of thermal expansion while retaining their lightweight properties. They can be used for aerospace and other applications, such as dimensionally stable platforms, or be machined to shape stiffen other structures. "We have had multiple requests for carbon fiber skin/aluminum core sandwich panels and we are being responsive to this growing demand," said Dave Erickson, general manager of Rock West's Salt Lake City facility.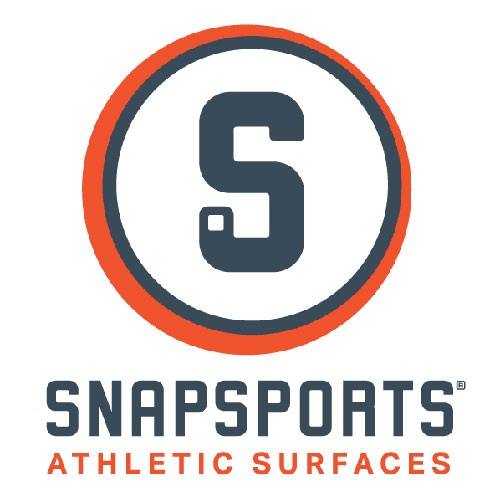 SnapSports Athletic Surfaces, a sports court manufacturer based in Salt Lake City, has released its new Outdoor Revolution PS pickleball surface, an innovation to their modular outdoor sports flooring line-up. The multi-patented and patent-pending Outdoor Revolution is the first modular system engineered specifically for pickleball play. Working in collaboration with professional and recreational pickleball players, SnapSports developed the new product using PST-2, a patent-pending material that improves grip, added cushion and a better angle of restitution. "We have a long history of inventing and developing industry changing products over the last 30-plus years and this new product is one of the most exciting to date," said Jorgen Moller, CEO of SnapSports.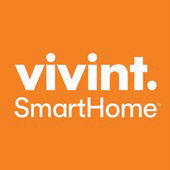 Provo's Vivint Smart Home has announced the integration into its smart home system of myQ smart garage technology from the Chamberlain Group, makers of the Chamberlain and LiftMaster garage door opener brands. Now Vivint customers with a myQ smart garage can control, secure and monitor their garage using a single Vivint Smart Home app. "As the garage is an important extension of the home, securing it is an essential part of our smart home offering," said JT Hwang, chief technology officer at Vivint Smart Home. "Chamberlain's innovative leadership in smart garage access solutions and impressively large customer install base, makes them an ideal partner."