The Governor's Office of Economic Development (GOED) board is undergoing some changes, including the departure of its chairman who has served on the board for more than two decades.
Jerry Oldroyd served on the board for 21 years, most recently as chairman. His time on the board also included serving as chair of GOED's incentives committee. Oldroyd has served as senior counsel at the law firm Ballard Spahr.
Carine Clark will replace Oldroyd as chair. She has more than 20 years of experience in the technology sector and has been president and CEO of Banyan, MaritzCX and Allegiance Software. She also serves as chair of Silicon Slopes Commons.
Also leaving the board is Lorena Riffo-Jensen, who has served as director of external affairs, government, community relations and engagement, and member communication at Molina Healthcare of Utah and Molina Healthcare of Idaho.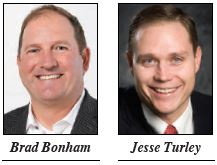 New board members are Brad Bonham and Jesse Turley. Bonham is the founder and CEO of Walker Edison, one of the nation's fastest-growing e-commerce dropship furniture companies. Bonham has a 100 percent CEO rating on Glassdoor.com. Turley is a private banking client advisor.
"We thank Jerry Oldroyd and Lorena Riffo-Jensen for their dedicated service as members of the GOED board," Val Hale, GOED executive director, said in a prepared statement. "Jerry, as board chair, has devoted many hours, and we know Carine will do great things as the new board chair. We also welcome Brad and Jesse in their new roles. Their diverse experience will be an asset to the state as we continue to grow Utah's robust economy."
At his final board meeting earlier this month, Oldroyd praised the board and its membership.
"This is probably, I think, the best board in the state, simply because of the quality of the people that have been on the board through the years," he said. "And, really, a lot of the pillars of the community have been here through the years."
Oldroyd thanked the board, GOED staff and the Economic Development Corporation of Utah. "What you guys do is fundamentally important to the state and I appreciate your commitment to Utah," he said to the board.
The board approved a motion thanking Oldroyd "for his thoughtful leadership for 21 years and for making Utah a better state."
"It's been a great experience for me," he said. "I've enjoyed it. I've had an opportunity to work with four governors, [and] I think it's seven directors and a lot of really, really good board members. So, I'm the one who should be thanking you, thanking the four governors who have put me in this position."
The GOED board consists of 15 members appointed to four-year terms by Utah's governor with the advice and consent of the Utah Senate. The GOED board helps promote and encourage the economic, commercial, financial, industrial, agricultural and civic welfare of the state. GOED provides resources and support for business creation, growth and recruitment, and drives increased tourism and film production in Utah.