Carmen Harra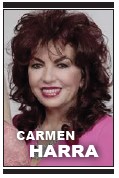 It's that time of year when the holidays role around that many people who are single really crave the companionship of another person. One of the most common places people find love is in the workplace. But is that a good idea?
When it comes to office romances, it can work, if company rules allow. But keep these five things in mind:
Separate business and pleasure. Once you enter the doors of your workplace, your partner should become your coworker and nothing more. Pay attention not to act like a couple at work, as this can be distracting and cause your peers to feel uncomfortable. Shut out all relationship matters until the moment you both leave work. Forget the fact that you had a fight that morning.
Don't bring stress from home into the workplace but also don't bring stress from the workplace into your home. This requires some discipline but dissociating these two elements will benefit both your job and your love life.
Use your connection to your advantage. You will feel more comfortable around your significant other than other peers, of course. Use the spark that already exists between you to excel in your work duties. You know exactly what your partner is good at or what he or she may have trouble with. Aid each other in projects and tasks, from reminding your partner about a deadline to giving them ideas about a presentation. This doesn't mean that you'll perform your partner's work for him, but that you should support each other in the office just as much as you do outside of it.
Be aware of your behavior. Understand that your significant other will be much more attentive to you than to others. Your partner may see you innocently flirting with a peer and become jealous when anyone else wouldn't notice. Or, your partner may get upset that a coworker is treating you badly, whereas other peers would remain oblivious to the unfair treatment. Heightened sensitivity is one of the obstacles of workplace dating. Be aware of your actions so as not to create drama that seeps from your job into your relationship.
Don't volunteer information. Once your relationship becomes serious, you'll have to be open and honest with your superiors. But as much as your boss will have to know the truth, your peers have to know nothing. Your private life is just that: yours and private. You don't need to brag to all the ladies around the office that you're dating handsome Hank, why, or for how long. Don't make the workplace a gossip hall about your romance; external influences can ravage a perfectly good relationship. Never divulge personal details about your significant other to your coworkers, as it can be both embarrassing and damaging to your partner's career.
Set up a Plan B. As much as you both may be in love today, there's no telling what tomorrow can bring. You and your partner need to be on the same page in case the relationship ends. You can't be expected to quit your job just because you broke up. Come to terms on how you would handle a separation if it ever comes to that. If you feel it's necessary, you can even write up an agreement and sign it to ensure you'll both stick to your promises.
Carmen Harra is a Ph.D., clinical psychologist and author of four books on relationships.