By Diana Telfer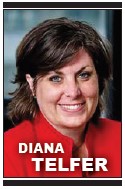 Before becoming a family law attorney, I worked in the business sector for 15 years. Most of my colleagues believed they successfully separated their personal and professional lives. However, studies have shown that the status of an employee's marriage or personal relationship significantly impacts their employer.
A Minneapolis-based study by Life Innovations Inc. found that employees who are stressed in their relationships have higher absenteeism rates, which hurts a company's overall productivity. This study also found that employees who have gone through divorce lose more than 168 hours of work time annually. A different study estimated that American businesses lost $6 billion as a result of decreased productivity from relationship and marriage difficulties. Another study found that divorce costs the nation approximately $33.3 billion annually.
The impact of divorce on business cannot be ignored. Employees struggling with their relationships need support. John F. Kennedy once said, "In a time of turbulence and change, it is more true than ever that knowledge is power." Educating employees on their options when facing divorce is a key component of any employer support program.
Do-It-Yourself Divorce
A 2006 survey conducted by the Utah state courts found that 47 percent of divorce filings in Utah involve two unrepresented parties. Many couples either cannot afford an attorney or are afraid that hiring an attorney will create more conflict. The Utah court system offers an online service that allows individuals to fill out forms that, once completed, will provide all the documents needed to finalize their divorce.
PROS: This process is inexpensive and relatively easy to complete. If the issues in the divorce are not complex or the marital estate is relatively small, this may be a viable option.
CONS: The forms are often incomplete. Too often parties include language that conflicts with the boilerplate language in the court forms. This makes the final documents confusing and difficult to enforce. Correcting such errors is more expensive than if an attorney had been retained to draft the original divorce documents.
Mediation
A mediator is a specially trained individual who helps parties find a common ground and facilitates reaching a settlement. Mediators cannot represent either party or give legal advice. If a couple is not able to reach an agreement on their own, a judge will require the couple to attempt at least one round of mediation before scheduling trial. It is important to find a mediator that is adequately trained and experienced but also fits the needs of the situation. For instance, for couples wanting to maintain control over their resolution and find creative solutions, they will want a mediator who is trained in facilitative, transformative or insight mediation.
PROS: The majority of contested divorces or paternity actions resolve in mediation. If an individual is represented by an attorney, the attorney also attends mediation. Attorney-mediators or retired judges turned mediators will have the knowledge of the law and requisite training that is needed to successfully reach a resolution. Retired judges often use a more directive approach, meaning they will more readily offer their opinions, including whether a particular position will succeed or fail in court.
CONS: Unfortunately, the mediation profession is not regulated, meaning there is no association overseeing practicing mediators. Any person can claim to be a mediator even if they have no training. Non-lawyer mediators are not allowed under Utah law to draft divorce documents.
Collaborative Divorce
Collaborative divorce is a relatively new approach for couples to resolve their disputes respectfully — without going to court — while also working with trained professionals. The collaborative process involves a complete paradigm shift from the traditional approach to divorce or separation. Rather than focusing on what each party's rights and obligations are under the law, settlement is negotiated based on the interests and needs of not only the couple but also their children. The essence of collaborative divorce is to offer spouses or partners the support, protection and guidance of their own attorneys, who are committed to staying out of court. Additionally, collaborative divorce allows couples the benefit of utilizing professionals, including financial specialists, divorce coaches, child specialists and other professionals, who all work together as a team in helping the couple reach their best potential outcome. Couples and their team of professionals are committed to maintaining open communication, information-sharing, complete transparency and exploring solutions that satisfy the needs and priorities of the family.
PROS: The most significant benefit of the collaborative divorce process is that the couple maintains total control throughout the process and makes the final decisions with the assistance of specially trained attorneys and other professionals, who are working as a team toward a mutually created settlement. Costs are manageable and usually less expensive than litigation because the team model is set up for the financially efficient use of experts. The timetable for finalizing the divorce is solely up to the couple.
CONS: If the couple is not able to reach an agreement, the attorneys are required to withdraw and each spouse or partner is required to retain new counsel.
Traditional Litigation
Traditional litigation is the model that is most represented in the movies. When parties are unable to reach agreements on their own then a judge is required to make the final decision. In litigation, the court controls the process, which is based on an adversarial system. There are significant delays in getting hearings and a trial scheduled. If the marital estate is complicated, then separate experts will have to be hired to support the litigant's position. If parents cannot agree on custody and parent-time, a custody evaluation may be needed. Hiring these experts is extremely expensive and often delays final resolution.
PROS: If one spouse or partner refuses to cooperate, the other spouse or partner can obtain a final resolution and is not held in limbo.
CONS: Litigation is expensive. Because of the adversarial nature of the process, the family is often traumatized. It is expensive. While parties hope to have their day in court, each party is usually upset with the final resolution and feels they have not been heard.
Recognizing that a marriage or long-term relationship is ending can be frightening. Change is hard. The unknown is unnerving. However, staying in an unhealthy relationship takes its toll not only on the individual and the family unit but also on employers. Knowing there are options that support families in transitions without the trauma of a nasty court battle can ease an employee's stress.
Diana Telfer is a family law practitioner at Clyde Snow in Salt Lake City.