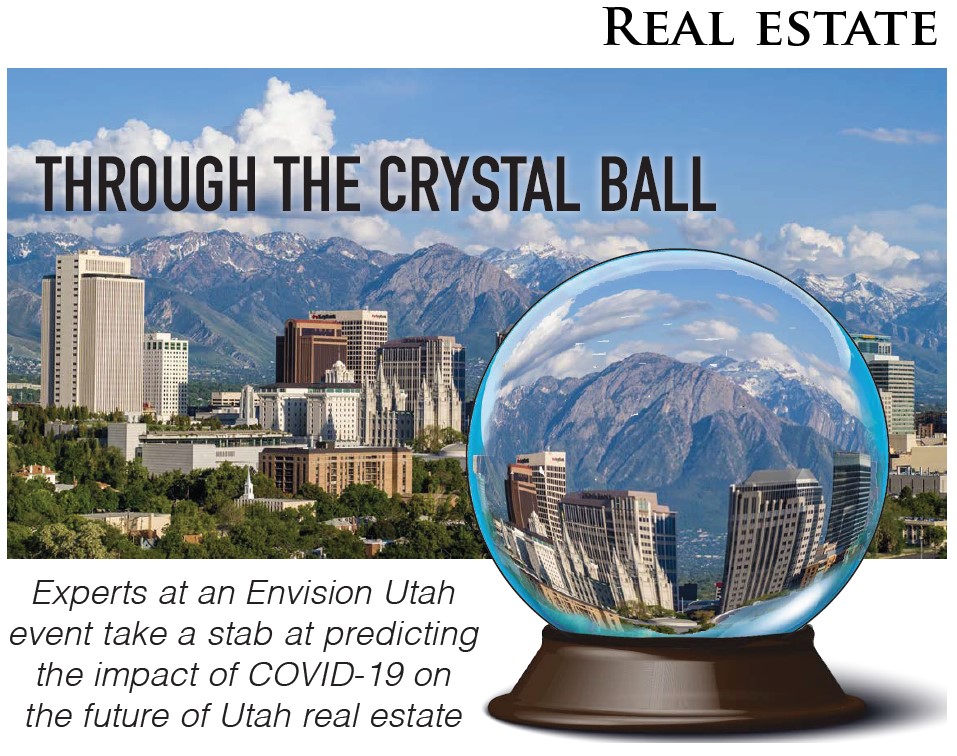 By Brice Wallace
A few economic experts and a government official spent one recent afternoon looking into the proverbial crystal ball, trying to predict the impacts that COVID-19 will bring to Utah's future.
Some changes will be long-term and structural. From a real estate standpoint, speakers at Envision Utah's spring luncheon foresee more density in housing, warehouses becoming more common near residential areas as e-commerce companies try to quickly deliver orders to their customers, homes that accommodate sometimes-in-the-office workers, homes closer to the office for workers unwilling to make long commutes, and possible commercial real estate impacts.
Pandemic or not, some things won't be changing anytime soon, according to Taylor Mammen, CEO of RCLCO Fund Advisors (RFA). Those include high housing costs and traffic congestion. What can be done to address those issues?
"I oftentimes just simply say, Nothing,'" said Mammen, whose company advises institutional investors on all aspects of their complex real estate investment portfolios, from strategy development to underwriting and asset management.
"There's nothing that you can do about these things, or at least you don't want to know or pursue those things that would actually address the cost of housing as well as traffic in the way that a lot of people are thinking about it, which is to go back to some past that is unlikely ever to be feasible in Utah again."
It is unlikely that entry-level homes in Utah will be single-family homes with a yard, and it is just as unlikely that anyone will commute 60-70 miles or live in one county and work in another with any kind of reasonable commuting distance, he said.
RFA is predicting that about 20,000 new housing units per year, on average, will be built along the Wasatch Front over the next three to four decades.
"That development will likely be denser than what it has in the past — again, largely because of a lot of these affordability issues [and] potentially some demographic changes as well — with a large segment of that being both townhomes and small-lot single-family units as well as condos and apartments."
But even with that denser growth, expect the metro area geography in Salt Lake and Utah counties to expand significantly. That much population growth potentially could consume 140 square miles by the year 2050.
"That's about the same size, a little smaller, than the land areas of Salt Lake City and Provo today. So, significant," Mammen said. "That's a significant amount of land that the market will likely want to consume, and the state has a choice of how it consumes it."
But housing that is denser— often a dirty word for communities along the Wasatch Front — need not be ugly, according to Nico Larco, a professor of architecture and urban design at the University of Oregon, where he is the director of the Urbanism Next Center and co-director of the Sustainable Cities Institute. Several developments across the country have been designed to accommodate density while also incorporating elements of greenery and open space, he said.
"Density doesn't need to be New York City skyscrapers, these canyons within cities," he said. "There's a whole range of density that feels very comfortable … that is completely livable and feels great."
Like all markets, the housing market fluctuates, so it's possible that it will be easier and cheaper to buy a home in the future than it is today, but Mammen projects the current situation "likely endures for a while."
"The base level of housing never goes back to where it was in the '80s and '90s, and that likely means that housing consumers might have to make different choices than their parents did — either drive a lot further than their parents might have in order to find a place that they can qualify to purchase, or choose a different type of housing. … We're already seeing the market make those types of decisions in Utah today," he said.
How cities develop going forward remains a question. While the beginning of the pandemic led to a belief that people were moving out of cities, a more-accurate assessment is that people moved out of the most expensive cities, or, more accurately, people did not leave cities as much as 18-to-34-year-olds stayed clear of moving into them, according to Larco.
"That may not seem like a much of a surprise, but it also makes us wonder about what the long-term effects of this are going to be," Larco said, adding that that shift could reverse as people are attracted by cultural and people-gathering options offered by the inner cities.
"When that happens, this whole demographic is going to shift back into cities," Larco said. "I am not sure about the whole narrative that seems to be a whole lot in the media about this being the end of cities. In fact, I think quite the opposite."
Another lingering question is how remote work will affect both commercial and residential real estate. Larco said that in March, 21 percent of the U.S. labor force was working from home. While remote work was a trend in place before COVID-19, the pandemic accelerated its pace, according to Natalie Gochnour, an associate dean in the David Eccles School of Business and director of the Kem C. Gardner Policy Institute at the University of Utah, as well as the chief economist for the Salt Lake Chamber.
"We've all learned that we can work in a variety of locations," Gochnour said.
"I think we're very fortunate in Utah, in the capital city, to have these incredible downtown [commercial] projects that are paid for and under construction right now, and I think they'll do quite well. But moving forward, we do have to ask questions, right? If the workforce is working at home two to three days a week, does that change the demand side of the equation for commercial real estate in office buildings? I think it does," she said.
Likewise, fewer hotels might be developed if the curtailment in business travel continues to be a trend, she added.
Brad Wilson, speaker of the Utah House of Representatives and president and CEO of residential homebuilder Destination Homes, said Utah's strong population growth rate will "cover up" some commercial real estate disruptions. But "less formality" is needed for the way people work, he said. Telecommuting should be embraced because workers want more flexibility with their time and have less tolerance for long commutes to the office for a meeting, he said.
The notion of a 3-2-2 workweek (three days in the office, two working at home and two days off) "is going to be a very common rhythm for a lot of people moving forward, and that is going to be a big disruption across the state," Wilson said.
Larco foresees potential disruptions also in the retail real estate realm. He wonders how much land will be needed for malls and strip malls in the future, given the growth in e-commerce. More online shopping could lead to warehouses being built close to consumers, who will crave short delivery times for their orders, he said.
Several speakers said Utah has a choice about how it is developed in the future.
"I think about traffic and transportation relatively simplistically, which is that there is no possible way to build your way out of traffic once it exists within a metropolitan region," Mammen said. "The traffic is just because people want to be there, so if you add more lanes to the freeway, that just simply allows more people to come and then make that commute, and it facilitates the development of new housing and so on."
While often viewed as a statewide or even regional situation, the questions posed by Utah's population growth and its impacts on the state can be addressed with thoughtful design, planning and zoning, Larco said.
"If you're planning on growing through sprawl," he said, "you'll be in for a whole host of headaches in terms of transportation, land consumption, natural resource consumption, all the traffic that's going to be generated from that, and the quality of life that's going to come with that."