By Brice Wallace
Rick Vogel has been involved in several mixed-use development projects with massive scale. One's focus was to create an economic restructuring in China. Another used a new baseball stadium to spur new neighborhoods in downtown San Diego. He's now working on a $1 billion project in downtown Los Angeles with a goal of revitalizing the city's urban core.
But the senior vice president for The Related Companies says mixed-use projects don't have to be monstrous.
"I believe in dense environments," Vogel said during a webinar about best practices in developing large-scale mixed-use projects, presented by ULI (Urban Land Institute) Utah. "You could have a mixed-use project that is very low density. Just go to any suburban community with an effective town center and you'll see a great example.
"All you need in your town center is single-story storefronts that attract great retail, restaurants and entertainment uses, with some residential up above it to make sure there's enough foot traffic to keep the sidewalks busy."
That foot traffic is key to making any mixed-use project work, regardless of its scale, he said, stressing that residential components drive that traffic.
"In my opinion, the best spaces around the country are the ones that have a vibrant feel, which means you've got to have people living there. Residential is going to be key to this. You know, you've got to be able to create enough supply in residential to accomplish the demand you need to get that foot traffic going."
Office space is less important because it is used only during the day but "gone" at night and on weekends, "but you also need to account for the fact that people like walking to work now," he said.
Vogel likened the challenge of developing a mixed-use project to a puzzle or Rubic's cube. Developers need to solve the puzzle about having people "on the ground, 24/7," he said.
On the massive project in China, his company studied peak demand at different times of the day for different types of people: hotel visitors, office workers, residents, shoppers and diners among them. "Let that daily foot traffic demand be the backbone of your design for what you're creating," he suggested. "Start with that."
The components of a mixed-use project — retail, residential, office, hotel, entertainment — must be complementary, compatible and mutually supportive, he emphasized.
"I've done a lot of stand-alone projects as well, but the real art of mixed-use is in integrating various uses to try and create a synergistic effect," Vogel said.
A project with great retail elements can attract residents. One with a lot of office space can attract retail. One with restaurants can attract hotel patrons.
"And if all of them work together, [they] create a 24/7 environment that spans the otherwise quiet hours of a project to create a really special place," he said.
If the mix is right, he added, "you then get what would we simply call a synergistic effect where you can achieve higher than market rate compared to the individual components and standalone buildings in the form of rates and sales proceeds."
During his hour-long presentation, Vogel also touched on the need for flexible zoning because elements of projects often change to meet market conditions, the importance of making projects a public-private partnership, the use of design elements to tailor projects to be more attractive, the importance of development agreements to protect developers from future changes in politics and regulation, and the need for public input on projects.
Large projects often generate public controversy because of their scale or sometimes the overarching goals they want to achieve, he said. But getting the affected neighborhood involved early can reduce the public blowback. The large project in Los Angeles has had zero public opposition because of that early input, he said.
"It sounds risky, and it is, but at the end of the day you'll be happy with the product," he said.
As for ideas about what projects fit and would work in Salt Lake City, Vogel suggested developers look at ULI studies of different cities and visit those cties.
"I would encourage everybody in Salt Lake who's doing this for the first time, get on a plane after you're vaccinated and fly around the go visit some of these great town centers," he said, which often have "really creative solutions" but "not huge scale."
"Single-story retail storefronts, two or three levels of residential on the top, and go see what they did to make it work. It has everything to do about the scale, the thoughtfulness, the design and thinking about the pedestrian environment."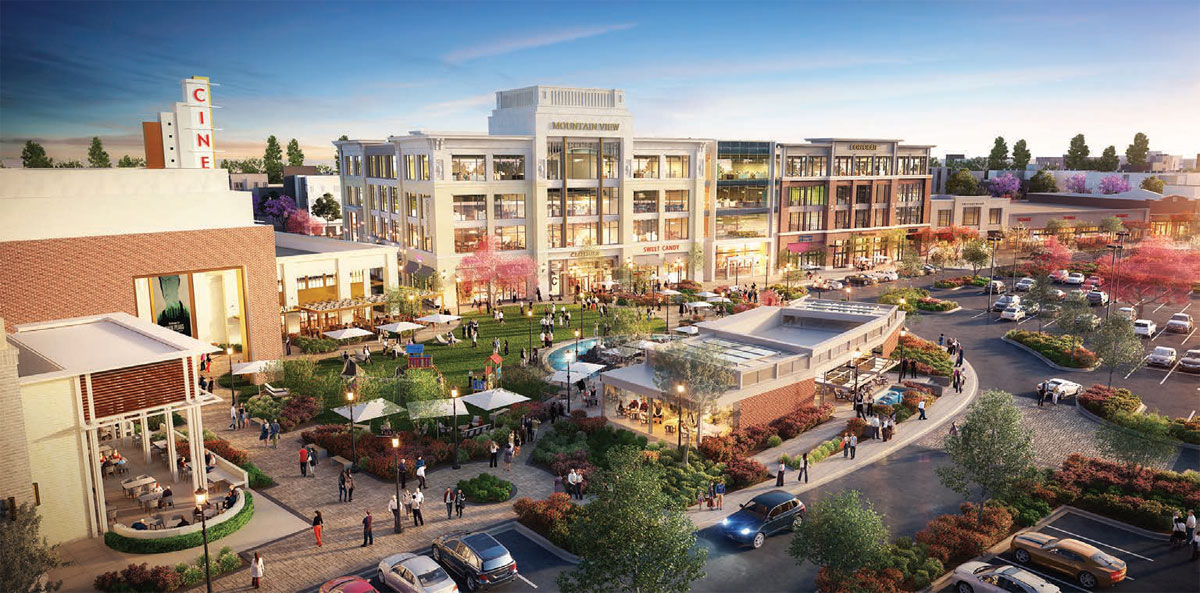 CenterCal Properties' Mountain View Village mixed-use project in Riverton