By Synde Jacques
Chichén Itzá near Cancun, Mexico, is one of the most impressive sites of all of the Mayan ruins, a World Heritage site that receives more than 1.5 million visitors each year. Think of the incredible humans that designed and constructed these architectural wonders without the benefit of modern construction equipment. Can you even imagine? They must have been so smart, innovative and imaginative.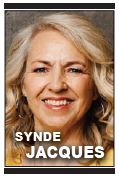 And there are also the modern amazing wonders like the Burj Khalifa skyscraper in Dubai, the tallest manmade structure in the world; it is twice as tall as the Empire State Building. An average of 12,000 workers per day worked on that building for six years.
But just as impressive to me are the hard-working people who daily build our communities for us. I have been privileged to work with many modern construction workers who I admiringly refer to as "humans in hardhats." They may not be building skyscrapers, but they are spending long days and often nights building our roads, bridges and buildings and most of them are doing it without a college degree. Just because they work hard, it doesn't mean they aren't smart.
Often, when I am having conversations with those that work in construction, I hear positive things like, "I love working with my hands," "I love being outside," "I love building things for others to enjoy," or "I love that the work I do is something different every day." But then it makes me sad when I also hear, "The worst part about working in construction is that my neighbors and some of my friends look down on me because they think I'm not smart enough to do something else." I even know successful owners of construction companies that don't feel like they "measure up" in their own neighborhoods just because they don't have a college degree.
I believe that it is time to reevaluate how we think about the individuals who build our communities and raise the level of respect and appreciation for all that they accomplish.
Do you enjoy:
- Taking a shower?
- Having a toilet that flushes?
- Driving on paved roads and structurally sound bridges?
- Turning up the air conditioning?
- Having schools, offices, churches and hospital buildings?
- Playing or watching football, baseball, volleyball, golf or pickleball?
All of these comforts and many other elements of our everyday lives are made possible because of blue-collar workers. It's not right that these hardworking people are often looked down upon.
A recent news story reported on the discipline strategy used in a local high school. It was basically a three-strike system. When a student receives that third strike, as a punishment, they are sent to the CTE (career and technical education) class to learn carpentry skills. We should not be teaching our students that it is a punishment to learn skilled trades.
Instead, we should respect and appreciate those who build things with their hands, and we should encourage our students who don't fit the traditional college model to learn carpentry or plumbing or cosmetology or culinary skills.
Here are a couple of things you can do to help raise respect for our "humans in hardhats":
1. Reexamine your own biases and beliefs about those who work in construction and commit to being more thoughtful and appreciative of all the things that they build that you enjoy.
2. Help us break the all-too-popular paradigm that people can only be successful if they have a college degree. Each individual has different strengths, there is not one right path for everyone and there many ways to build a successful life.
Of course, some career choices can only be obtained with a specific college degree. But learning a skilled trade can even help you pay for college, if you participate in an "earn while you learn" program that can provide skilled trade training and pay college expenses with a good job while attending college. Technical schools can be a great option to earn while you learn. My youngest daughter completed a nine-month pharmacy technician program while in high school and is earning a great salary while she attends college.
Another option is to enter into an apprenticeship program. The construction industry estimates that there is currently a shortage of 1.5 million people needed to fill essential positions, and these jobs are available and waiting for workers. If a high school graduate chooses construction and "on the job training" over attending a traditional college, in four years, their average salary will be $10,000 more than the average college graduate and they will bypass the $38,000 student debt with which the average college student starts their career.
There are many lucrative careers in construction. Would you be surprised to learn the average construction superintendent makes $10,000 per year more than the average computer programmer?
As I have worked in the construction industry, I have asked others why we can't get more workers into construction. During a conversation several years ago, one of my good friends who is the president of a large home-building company responded, "I know you have three daughters. I also know that if one of your daughters brought home a boyfriend who said he was never going to go to college because he wanted to attend a technical school and work in the trades, you would be thinking, 'This boy is not good enough for my daughter. My daughter deserves someone who is going to college and will be successful.'"
I told him that I disagreed. In the past, I might have preferred a boyfriend with a college plan, but I have so much admiration for the people in the trades that I respect them just as much as those who choose college as their route to a career.
Fast-forward to current day. My daughter's boyfriend attended a technical school while he was in high school and has worked in the trades. He is now 23 years old and has not been to college, but last summer he bought his first home, putting $30,000 as a down payment. He is successful, he has a great career plan and he is definitely "good enough" for my daughter.
If you know youth and young adults who like to work with their hands, help them realize they can have a lucrative, successful career in the trades.
No matter how old you are, where you live or what you do for a living, I hope you will join with me in increasing the level of awareness for those that support human life by building our communities. Please commit today to raise the level of respect and appreciation for our hardworking friends — the humans in hardhats.
Synde Jacques is a civil engineer turned CEO, consultant and professional speaker. She is a TEDx speaker and her most popular keynote subjects are "Building What Matters" and "The Trusted Leader."