By Chris DeHerrera
The workplace has been radically changed by the COVID-19 pandemic, creating a critical gap that must be addressed during America's comeback: the mass exodus of women from the American workforce. According to a U.S. Bureau of Labor Statistics (BLS) economic news release published on April 2, the data revealed that employment of women on nonfarm payrolls by industry sector decreased by 5 million women who have lost or left their jobs in the past year. In December 2020 alone, the U.S. economy lost 140,000 jobs, most of them previously held by women.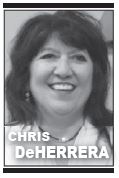 A recent study by BLS, issued in September 2020 and titled "COVID-19 Recession is Tougher on Women," by Eleni X. Karageorge, shows working women are experiencing the worst effects of the recession because, first, the industries they tend to work in are harder hit by the effects of the COVID-19 pandemic, and second, the shutdown of schools and day care have made it harder for parents — women especially — to keep working.
The data speaks for themselves.
Even though the construction industry has already recovered three-quarters of the jobs lost during 2020, workforce shortages in construction are a constant concern. The construction industry will require qualified talent to rebuild our economy and crumbling infrastructure. With vaccinations underway and increased optimism about the prospects for construction in 2021, there is no better time for women to consider construction as a long-term career choice — especially in Utah where the construction unemployment rate has been the lowest in the nation several months running and currently hovering at 3 percent.
Construction offers many career opportunities in the office or on the job site with competitive salaries — especially compared to other industries. Data from BLS "Report 1084," issued December 2019, shows that while women in the U.S. workforce earn an average of 81.1 percent of what their male counterparts make, the gender pay gap in the construction sector is almost nonexistent, with women earning an average of 99.1 percent compared to men.
Politics aside, women played a vital role in the workforce during World War II by fulfilling jobs vacated by men who were off fighting the war. To say their role to the country was vital is a gross understatement of their contribution to America during that era. Women kept the American economy and war efforts going and women's role in the workplace were changed forever.
Women returning to the workforce will be vital in ensuring America's comeback. At Associated Builders and Contractors, Utah Chapter we are committed to recruiting and upskilling women so we can continue to develop a diverse and inclusive construction industry.
Chris DeHerrera has been president and CEO of the Associated Builders and Contractors of Utah for the past 10 years and currently sits on both state-appointed and voluntary advisory boards for the state of Utah. She can be reached at 801-294-5211 regarding job opportunities within the construction industry.