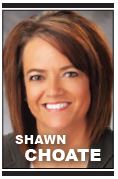 By Shawn Choate
Maintaining the physical, emotional and mental well-being of employees during tough times
Human resource professionals will tell you that boosting the physical, emotional and mental well-being of employees is essential in normal circumstances and is even more important in times of uncertainty and trouble. So, meeting demands to create happy, safe workplaces in 2020 has been particularly challenging.
Since March, businesses across Utah, the U.S. and the world have put much time and effort into creating safe workspaces — helping employees set up workstations at home, shifting office workspaces for social distancing, offering masks and providing sanitizer and cleaners. All of those efforts are extraordinarily important in mitigating the physical health risks related to COVID-19.
The Kaiser Family Foundation reported in July that 53 percent of adults in the U.S. related that their mental health had been negatively impacted due to worry over the coronavirus, up 22 percent from March. In Utah, that stress was compounded by an earthquake, windstorms and political unrest.
When worry consumes one's thoughts, it makes it difficult to function, personally and professionally. Here are five tips for business owners and HR directors, to support employee needs and boost morale and engagement as the pandemic continues:
1. Build relationships
It's easy to get into a habit of asking employees, "How are you?" It's a good question, but use it as a starting point into more meaningful conversations. Ask additional, detailed questions, such as, "What are you struggling with today?", "What is your goal this week, and how can I help you achieve it?", "What would you be proud to accomplish this week?", and "What do you need to be successful at home and at work right now?"
Be authentic. When employees trust their managers and employers, the more likely they are to open up about challenges they're facing and to ask for help. Be prepared to have difficult conversations and know that some employees will hold back. For those who aren't comfortable talking to their managers or coworkers about their problems, be sure to provide resources through an employee assistance program, a health insurance provider or a community resource. Prepare a toolkit of information and phone numbers to call to get help. Just make sure employees have someone they can reach out to for assistance, if they need it.
Also, even though it feels clichéd, tell employees, "It's OK to not be OK," and that they're not alone in feeling that way.
2. Study and understand generational needs
Hand-in-hand with building relationships, employers also need to know what motivates employees and what guides their daily routines and actions. A one-size-fits-all management approach no longer exists, because baby boomers, Generation X and millennials all have distinct viewpoints, work styles, communication styles and values.
Managing a diverse workforce, especially during a pandemic, can be challenging, because each employee needs a little something different. It can also be encouraging, particularly when you focus on the strengths that each generation brings to the table — their unique ways of analyzing problems, tackling challenges and approaching projects.
Ask employees how they like to be motivated and communicated to, listen to their answers, observe their work habits and routines, and, of course, embrace their differences and support their needs.
3. Promote flexibility and encourage self-care
The pandemic has presented a number of new work-life challenges. Many employees are working from home, as are their spouses, and their children are doing schoolwork online. The typical 8-to-5 day has become increasingly difficult and many employees find it challenging to balance work, children, home school, lunch and more.
Flexibility goes a long way in helping employees offset the demands of work. Many employees enjoy being able to do their jobs at a different time. For example, some now work in the evening, after they've helped their child with school during the day. Others work earlier in the morning, to get a head start before needing to help an elderly family member.
Too often, employees take care of everyone else's needs, and forget to take care of themselves at the end of the day. Make sure your employees are taking time to get the care they need. For example, Bank of Utah has instituted Lunch and Learns, live video chats featuring information on stress management, breathing techniques and even chair yoga demonstrations. The videos are recorded and can be viewed anytime.
4. Celebrate successes
and give thanks.
This year hasn't offered many opportunities to be celebratory. It's been a trying, exhausting year, but find something to praise. Hitting any milestone, small or big, during a pandemic is worthy of celebration — think of the dedication employees have shown to make that happen.
If employee appreciation days or weeks get derailed, find new ways to show thanks, such as hosting virtual contests or games. You might consider talent shows, costume contests, "Jeopardy" games and more, just to give employees an opportunity to stop for a minute, to have fun, to interact with one another, and to say thank you.
Start a gratitude email series and ask employees to share good news, then share out that good news. It's an uplifting, easy way to spread positivity.
5. Breathe
That's easier said than done this year for HR professionals and employees. However, stop for a moment. Hit pause. Take a deep breath in and slowly let it out. Things are going to get better over time and you're doing your best to keep your people happy, healthy and safe.
The pressure to remain operable — and profitable — has been immense in 2020. Business owners have felt it. Their employees have felt it. Investing in healthiness and techniques that will help you manage through these times is a must. And just remember: Nurturing a positive work culture goes a long way in retaining satisfied, productive employees — in normal times and during a pandemic.
Shawn Choate is the vice president of human resources at the Bank of Utah in Salt Lake City. She is also the legislative director for the Utah affiliate of the Society for Human Resource Management and has worked in human resources for over 20 years.