By Brian Somers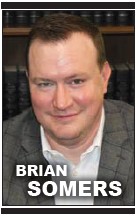 In December 2017, Pres. Donald Trump signed Executive Order No. 13817 which directed the Secretary of the Interior to identify minerals that are "essential to the economic and national security of the United States," have supply chains that are "vulnerable to disruption," and that serve "an essential function in the manufacturing of a product, the absence of which would have significant consequences for our economy and our national security."
The resulting report from the Department of Interior identified 35 "critical minerals" that met the criteria laid out in the president's executive order. Those critical minerals are: aluminum, antimony, arsenic, barite, beryllium, bismuth, cesium, chromium, cobalt, fluorspar, gallium, germanium, graphite, hafnium, helium, indium, lithium, magnesium, manganese, niobium, platinum group metals, potash, the rare earth elements group, rhenium, rubidium, scandium, strontium, tantalum, tellurium, tin, titanium, tungsten, uranium, vanadium and zirconium.
On Sept. 30 of this year, the president signed a follow-on executive order, "Addressing the Threat to the Domestic Supply Chain from Reliance on Critical Minerals from Foreign Adversaries" (13953).
This executive order noted that: "These critical minerals are necessary inputs for the products our military, national infrastructure and economy depend on the most. Our country needs critical minerals to make airplanes, computers, cell phones, electricity generation and transmission systems and advanced electronics. Though these minerals are indispensable to our country, we presently lack the capacity to produce them in processed form in the quantities we need. American producers depend on foreign countries to supply and process them. For 31 of the 35 critical minerals, the United States imports more than half of its annual consumption. The United States has no domestic production for 14 of the critical minerals and is completely dependent on imports to supply its demand."
The order also noted that the United States formerly had substantial critical mineral production capacity, but that domestic mining and processing has fallen victim to the "aggressive economic practices of certain non-market foreign producers." In other words, many foreign countries are directly and indirectly subsidizing their own mining and processing operations and flooding the market with mineral commodities with artificially low prices in order to displace competitors and control supply chains.
Many of these "non-market foreign producers" also do not abide by the same environmental, labor and health standards as producers in the U.S. and other democratic countries. So, today we not only lack truly free markets for critical minerals but we also have "global dependence on minerals produced in countries that do not endorse and pursue appropriate minerals supply chain standards, leading to human rights violations, forced and child labor, violent conflict and health and environmental damage," as the order notes.
The president determined that the lack of domestic production and processing capacity, and the reliance on foreign supply chains, constitutes an "unusual and extraordinary" threat to the "national security, foreign policy and economy of the United States." The order directs various cabinet agencies to construct plans to "broadly enhance" domestic mining and processing capacity.
Utah stands ready to play an outsized role in re-establishing our country's ability to produce its own critical minerals. Utah has been blessed with one of the most diverse and abundant mineral estates anywhere in the world.
A recent report produced by the Utah Geological Survey found that Utah has known resources for 28 of the 35 critical minerals on the Department of Interior's list. Eighty percent of the minerals deemed critical for our country's economic and national security could potentially be produced here in Utah. This includes 22 of 31 critical minerals where the U.S. imports more than half of its annual consumption and six of the 14 critical minerals where the U.S. is completely reliant on foreign production.
A number of critical minerals are currently being produced on a commercial scale in Utah, including beryllium, magnesium, lithium, helium, platinum/palladium, rhenium, uranium, vanadium and potash. Some of these critical minerals are primary production targets. Others are byproducts of other mineral production or processing, such as lithium, which is a byproduct of magnesium production; and platinum, palladium, and rhenium which are byproducts from the production of copper, gold, silver and molybdenum at Rio Tinto Kennecott's Bingham Canyon Mine.
Many other critical minerals have known occurrences in Utah and could be produced if market manipulations by foreign actors were resolved or other actions were taken to increase domestic demand and consumption. These include: aluminum (from alunite), fluorspar, indium, antimony, arsenic, barite, bismuth, germanium, gallium, manganese, rare earth elements, scandium, tellurium, tungsten, cobalt, tin, titanium, zirconium and hafnium.
The majority of the above-listed minerals have had historical production in Utah. In some cases, production was minor. For some minerals such as bismuth and manganese, Utah was a leading producer.
Occurrences in Utah of some of the above-listed critical minerals are relatively minor. However, many of the resources are substantial. For example, Utah has the largest known alunite deposit in the U.S. and Utah has enough indium to supply total current U.S. consumption for at least 14 years, according to estimates from the Utah Geological Survey.
The uses of rare earth elements (REEs) have grown significantly over the past number of years. REEs are used in hundreds of products, particularly in smart phones, computers, electric and hybrid vehicles and a number of critical national defense systems.
In the early 1990s, the U.S. had nearly the same level of REEs production as China. However, China now completely dominates the REEs market and REEs production, processing and supply chain issues have featured in a number of recent international trade disputes. Given the importance of REEs and China's dominance, the U.S. and other allies are working to reinvigorate REEs production and processing.
Utah has a number of exciting developments on the REEs front. Initial studies have been conducted which show that REEs may be producible byproducts of beryllium mining in Utah. A team of researchers and industry experts led by the University of Utah is working to isolate REEs from coal, coal byproducts such as fly ash and oil shale and other unconventional hydrocarbon resources — all of which Utah has in abundance.
Also, a potentially game-changing REEs project has just come online at the White Mesa Mill in San Juan County. The White Mesa Mill is owned by Energy Fuels, which is the largest domestic producer of uranium in the U.S. White Mesa is the last conventional uranium mill operating in the country and is responsible for nearly all of Utah's uranium and vanadium production in recent years.
Monazite is a mineral which is produced in the U.S. and which contains high concentrations of REEs. Monazite also contains uranium and other radionuclides (radioactive forms of elements), which makes it very difficult to process. Currently, monazite is processed almost exclusively overseas.
However, processing uranium and managing radionuclides is what the White Mesa Mill was designed to do, which means that it might be the missing link in re-establishing a domestic REEs supply chain. As part of a pilot-scale project, in the past few weeks, workers at White Mesa processed one metric ton of monazite. After recovering the uranium and isolating other radionuclides from the monazite, the mill produced a clean REEs concentrate.
Energy Fuels hopes to begin commercial-scale production of REEs in the first quarter of 2021. Because Energy Fuels is leveraging existing, licensed facilities, this REEs production might be among the lowest-cost in the Western world — and happening right here in Utah.
With known resources for 28 of the 35 critical minerals, current production of nine critical minerals, 19 more which are developable and/or had historical production, and with major advances on the REEs front, Utah is truly poised to become the crossroad of a reinvigorated domestic critical-minerals supply chain.
Brian Somers is the president of the Utah Mining Association in Salt Lake City.