By Scott Anderson
Banks and their employees across the country play pivotal roles in our communities. We engage in local leadership, we are facilitators of economic growth and together we can be agents of change. Over the years, banks have helped bolster economic inclusion, enhanced diversity within their workforces and opened doors of opportunity for all. But banks — like other industries — can still do more.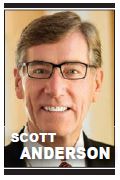 Across the country, a long-needed national reckoning on race has produced tensions boiling over into widespread protests not seen since the 1960s. There is a recognition that systemic racism is a problem. It's not just a problem that policy makers and law enforcement must address. It's also something we as corporate citizens must address and strive to improve.
Banks are uniquely positioned to demonstrate leadership in diversity, equity and inclusion efforts. We are connectors and we can use our roles to invite and inspire other leaders to take up the responsibility to foster more inclusive workplaces and to elevate women and people of color in our ranks. We can do this collectively by increasing representation in senior leadership positions and boardrooms, and growing retention rates at all levels of our organizations.
An Urgency to Bolster Diversity and Inclusion
The tragic killings of George Floyd, Ahmaud Arbery, Breonna Taylor and too many others have accelerated the need for business leaders to help bring about change for the better.
In June, American Bankers Association (ABA) chair Laurie Stewart and ABA president and CEO Rob Nichols urged banks to join their efforts in increasing opportunities for all. "This is the time for our industry to reassess what we are doing to support and lift up all communities in this country. America's banks demonstrated how capable, caring and committed they are when they prioritized the well-being of their employees and customers during the pandemic. We must similarly step up and prioritize the needs of those harmed by systemic inequities," Stewart and Nichols wrote in an open letter to bank CEOs across the county.
I was personally touched by the moving testimony of fellow banker Angela Underwood Jacobs during the June 10 U.S. House Judiciary Committee congressional hearing on police reform. She is a regional manager and senior vice president at California Bank & Trust, a Zions Bancorporation affiliate. She was the first African-American woman elected to the city council of Lancaster, California, and was a former congressional candidate. Her brother, David Patrick Underwood, was a federal protective service officer shot and killed on May 29 in Oakland while guarding a federal building during protests over the senseless death of George Floyd.
"As a nation, as a people, we must come together to defeat fear, hatred, prejudice and violence. I want to ensure the memory of my brother Patrick is a catalyst against injustice," Underwood Jacobs said to the committee. Besides paying tribute to her brother during her emotional testimony, she said four things are needed to reduce racial tensions and improve the lives of citizens of color. They are: education, jobs, housing and listening. Bank leaders and all business leaders can help support these efforts. All of us need to be part of the solution by listening more, talking less and educating ourselves to understand other perspectives.
Recognizing Biases to Improve Our Leadership
Focusing on diversity, equity and inclusion is critical in the professional development of our future leaders, at banks and other organizations.
Employees of all industries can enhance their role as leaders by recognizing what unconscious bias is and how it can impact their work environments. For example, Zions Bank senior leaders took a mandatory three-hour unconscious bias training from Dr. Susan R. Madsen, inaugural Karen Haight Huntsman Endowed Professor of Leadership at the Huntsman School of Business at Utah State University.
"The fact that bias is natural does not give us a pass. It means we need to manage it," Madsen explained to us in our training. She notes that awareness of our unconscious bias can help us fundamentally rethink our approach as leaders and hiring managers.
Unfortunately, workplaces can also be a place for microaggressions. That's why banks are developing employee training courses and videos about microagressions to help employees better understand activities they may be engaging in that may, even unknowingly, hurt others.
Fostering Inclusive Workplaces
During an all-employee call in July, Zions Bancorporation Chairman and CEO Harris Simmons laid out his vision for an inclusive workplace. "We want this to be the kind of organization where people of all different backgrounds feel welcome, respected and loved," he said.
As a bank CEO, I know the onus is on me to ensure Zions Bank is creating a more engaged, diverse workforce and building talent pipelines that can uplift families through the generations. For me, it starts with being an ally.
It means we're creating programs that provide opportunities to rising star bankers early in their banking careers — giving them exposure to senior leaders, mentoring opportunities, sponsorship and skill development.
In my role as chair-elect of the American Bankers Association, I'm going to keep having these conversations with industry leaders, encouraging them to build diverse, equitable and inclusive workplaces that best represent the communities they serve. We're increasing the resources and industry-leading practices to help banks, large and small, as they recruit, train and advance employees through their careers.
We must hold ourselves and our management teams accountable, building into performance expectations and bonus compensation the support for diversity, talent development, succession planning and engagement in diversity events.
Creating Opportunities Beyond Our Banks
At the same time we're doing more to support diversity internally, we likewise can create new lending opportunities that offer more access to capital for businesses owned by women and people of color.
If 2020 has taught us anything, it is that leadership development in an equitable way has never been more urgently needed. We need to do more. And I know we can. The outlook is bright. I'm excited for the future of the industry and what we can achieve as we continue to innovate ways to elevate the roles of women and people of color in our banks. In doing so, our industry can do more to help create prosperity for all.
Scott Anderson is president and CEO of Zions Bank and was elected chairman-elect of the American Bankers Association in October.