By Garry Barnes
The financial world as we know it suddenly changed with the outbreak of COVID-19. To what extent, we do not know, and we may not know for some time. The situation remains fluid without a clear view of the future.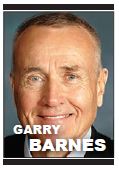 One of the biggest challenges faced by small business today is recognizing and adjusting to a financial market that is in a constant state of unrest. Financial markets are generally considered to be volatile, consistently changing and evolving. But to what are we evolving to?
Currently, there are many uncertainties in the economy, but one thing we can be assured of is nothing will be normal at least for a while. Recognizing the unprecedented financial disruptions experienced so far in 2020 we can only conclude we must deal with the hand we were dealt. With that thought in mind, the obvious question is what are the current economic conditions and what can we expect in the next couple of years?
The Federal Reserve has stated, "We expect continued GDP growth over the near to medium term, but it will take several years before output catches up to its potential level absent the virus." It might be too early to identify specific trends that will shape the economy but there appears to be some degree of cautious optimism at least in certain segments of the economy.
Whatever the existing economic environment, most business advisors agree that one of the important ingredients of success for any small business is having access to adequate capital. As a firm grows, so does its reliance on finding new sources of capital. Money is the beginning and the end. No matter how revolutionary or trendsetting an idea may be without money, there are no computers, no sales programs or telephones. Money is the life's blood to a business. Or as the saying goes, "Cash is king."
Normally, business capital is needed for three fundamental reasons: First, to fund the firm's growth requires working capital to support accounts receivables, inventory and meet short-term debt. Second, cash is needed to fund the acquisition of capital assets such as fixtures and equipment. Third, it's necessary to purchase large assets, including commercial real estate.
The ability to access reliable sources of capital is fundamental to the continued development and success of any small business. Yet finding a reliable source of debt capital may be one of the biggest challenges management faces.
Essentially, there are two fundamental sources of capital for most businesses: equity and debt. For purposes of this article, we will discuss the latter, debt. Borrowing is a process considered by many to be an art — an art that can easily be learned. Some experts say 80 percent of success is presentation, which suggests that if one follows an accepted application process, the greater the prospects a loan request will be approved.
Most businesses depend on suppliers and vendors to provide their products and services on the best terms available? Likewise, a business needs its bank to provide credit facilities (loans) to maximize the company's growth and profitability. Before contacting the bank for a loan, it is advisable to do some advanced planning and identify specific business credit needs and justification as to why the loan is a reasonable request and the evidence the company can pay back the loan.
How do you do this? Put it in writing! Use graphs, pictures, charts, color — anything that will help tell your story. This project does not have to be a novel, but rather seven to 10 pages including your financial information, which can adequately convey a convincing and well-thought-out plan. A big part of successful negotiation is based on the quality of the presentation.
A poorly structured loan can cause hardship on the borrower, including cash flow issues, unnecessary costs, and, in extreme cases, it can cripple the company's future potential growth.
If you have not spent the time and effort necessary to develop a business plan/loan package, you may not be ready to negotiate any type of credit for your company. Many business loan requests are declined — not because they are bad loans but because they are inadequately prepared and poorly presented.
A good business plan/loan package should include who you are, what you do, where your business is now, where your business will be in the future and how you will get there. A typical loan package may appear as follows:
1. Company name, organizational structure and ownership.
2. Type of business/industry and a brief economic overview of the industry.
3. Amount of the loan. How many dollars are needed? Never ask how much you can borrow.
4. General statement regarding your loan request — the purpose of the loan. How will the loan proceeds be employed — to provide working capital, purchase equipment, acquire a new building? Be specific.
5. Repayment terms. How long will you need to repay the loan based on projected cash flow?
6. A description of product/service. Be thorough, but brief.
7. Your marketing/sales strategy. How is the product sold? What is your trade area? What is your expected annual sales volume?
8. Resume of management and owners. Describe all relevant experience, training, skills and knowledge that will add to management's operating expertise.
9. Financial statements to include:
• Company balance sheet (three years, if available).
• List of all debt, including lender, amount, term, payment amount, interest rate and collateral.
• List of capital assets in detail.
• Aging of receivables and payables.
• Profit and loss statement (three years, if available).
• Tax returns (three years, if available).
• Pro forma statement (minimum one year by month).
• Personal financial statements and tax returns on all principals.
10. Exit strategy, including alternative plan if business revenue is not sufficient to repay the debt as programmed and a plan of how both parties get out unharmed. Several alternatives should be considered.
The protocol is important in all business activities and equally applies to establishing and maintaining a successful banking relationship. If you adhere to the following list of dos and don'ts, you can be assured of developing and maintaining a strong relationship with your banker.
Do:
1. Make an appointment and provide sufficient time to present your financial needs.
2. Be on time.
3. Support your request with a well-prepared business plan and financing package. Provide all facts in writing.
4. Ask questions about the bank's policies and expectations.
5. Sell yourself. Dress and act professionally.
6. Be flexible in your request, consider other alternatives.
7. Provide information on progress and problems associated with the company, products or management.
8. Require involvement from your banker.
Don't:
1. Be impatient. Allow the bank sufficient time to respond.
2. Telephone for interest rates. Interest rates are based on perceived risk, preparation and maintenance cost.
3. Ask how much you can borrow. There is no way to answer this question until the lender has reviewed the necessary financial package.
4. Change banks solely for the interest rate.
5. Surprise your bank. Always keep your banker informed of situations that may affect your ability to meet your financial obligation.
6. Make promises you cannot keep. If in doubt, re-examine your situation.
7. Make false statements about other banking alternatives. Never bluff.
8. Be overly optimistic about future sales and profits.
The credit function is a technical, sophisticated procedure, which requires a combined effort of all parties involved. If the borrower is familiar with the process, develops insight into the company's needs and selects an aggressive, creative banker, success is assured.
Stay positive, even in these dark times. Do not complain, provide solutions. Remember above all else, we will get through this. Quoting Babe Ruth: "It is hard to beat the person who never gives up!"
Good Luck!
Garry Barnes is a free-lance writer and director at PW Partners Consultancy in Salt Lake City. He is also managing director of FBO Sales in Scottsdale, Arizona. He is former president and CEO of banks in Arizona, California and Utah. He has taught at the university level and is a frequent writer/lecturer on banking, finance and real estate matters.