By Derek Knowlton
When the COVID-19 pandemic hit the United States in March, daily life was fundamentally changed in a matter of days. Events were canceled, many businesses were shut down and uncertainty crept into every aspect of our lives. As families across the country shifted into some sort of survival mode, personal finances emerged as one of the essential services needed to face the crisis. With a long-standing commitment of service to their members and the community, credit unions stepped in to help consumers weather the storm.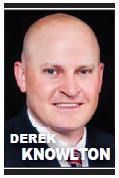 With the unprecedented economic upheaval, many families' financial goals shifted from such items like planning vacations to bolstering emergency savings accounts. From March to April, consumer spending declined nearly 7 percent and spending moved from nonessential items to essential goods and services. As a result, some essential sectors saw incredible growth while other sectors were nearly wiped out. Additionally, as families were quarantined within their homes, online shopping use spiked. According to the U.S. Department of Commerce, between April and June, consumers spent nearly $212 billion in ecommerce, a 32 percent increase over the previous year.
This move to essential services and online transactions can be clearly manifest through transactional data. Spending at grocery stores and large big-box retailers saw a large increase in March 2020 as people prepared to be isolated in their homes. The run on toilet paper and bottled water was an overreaction of the need to prepare for the unknown.
Other sectors were hit hard by the change in consumer spending. Restaurants were closed or severely limited in their ability to serve. Spending at these locations dropped nearly 40 percent in the early stages of the pandemic. Travel was almost completely halted and cruise line spending went negative as consumers refunded all future cruise plans. In the latter half of 2020, consumer spending at restaurants has rebounded and is similar now to pre-pandemic levels. However, travel spending is still significantly below the pre-pandemic levels and has been much slower to recover.
As the government scrambled to pass legislation on economic relief, many small businesses turned to their credit unions for guidance. When the Paycheck Protection Program (PPP) was passed by Congress, very little specific information as immediately available for panicking businesses. It was up to the lenders to make sense of the program and put together an application and disbursement program. In what would typically take months to build, PPP application systems were brough online within only days. Financial services institutions, including credit unions, worked around the clock to bring everything together for the businesses that needed their PPP funds. Thousands of small businesses were given much-needed assistance.
Many consumers became worried about making loan payments as unemployment rates rose. Many credit unions and banks implemented programs to allow skipped or deferred payments on loans. Foreclosures were postponed and policies were updated to allow time for recovery. This meant many families could have extra time to figure out how to navigate this new economy without fear of default.
As a response to the economic impact of the pandemic, interest rates have dropped to historic levels. Once again, credit unions were there to help as thousands of homeowners rushed to refinance their homes with favorable rates. Mortgage operations personnel began working feverishly to keep up with the demand for real estate loans. In many cases, the ability to lower their monthly payment was a way for families to face the economic uncertainty.
As an essential industry, credit unions have been dedicated to helping their members navigate the unforeseen path of this pandemic. However, they have also been tasked with striking a balance between providing excellent and timely service to their members while protecting their employees at the same time. In many cases, non-members-facing employees were sent to work from home, while the branches and other service centers were upgraded with sanitation stations, social distancing protocols and Plexiglas barriers. Once again, a process that would typically take months to plan and complete was done in only days.
Much like other businesses, an emphasis on online services was implemented by many credit unions. Lobbies were initially closed and then opened on an appointment-only basis. This moved many members to online channels and call centers. Data shows that online transactions have increased significantly, and consumers' usage of online banking mobile apps increased 34 percent in 2020. Mobile check deposits rose sharply as well as ATM transactions as members began to use online and digital means to manage their finances. Consumers have been moving into digital banking for years, but the pandemic accelerated that growth in 2020.
The pandemic is not over, and no one knows what the future will bring. We continue to face economic uncertainty as our society figures out how to move along with the coronavirus. However, after seeing us weather the storm in the initial months of the pandemic, we can be confident in our abilities to adapt and thrive. Businesses both big and small, across various industries, pulled together to help where they could. Credit unions were not unique in this, but because of their long-standing commitment to service, their response was quick and powerful. Nothing about this pandemic and our response to it has gone perfectly, and mistakes have been made on all levels. However, great individual efforts to help others can be seen everywhere you look. That gives hope for the future as we move forward collectively.
Derek Knowlton is the chief marketing officer for University Federal Credit Union and has worked in the credit union industry for 17 years.