Industrial Real Estate: As the economy recovers from the coronavirus pandemic, one real estate sector stands to benefit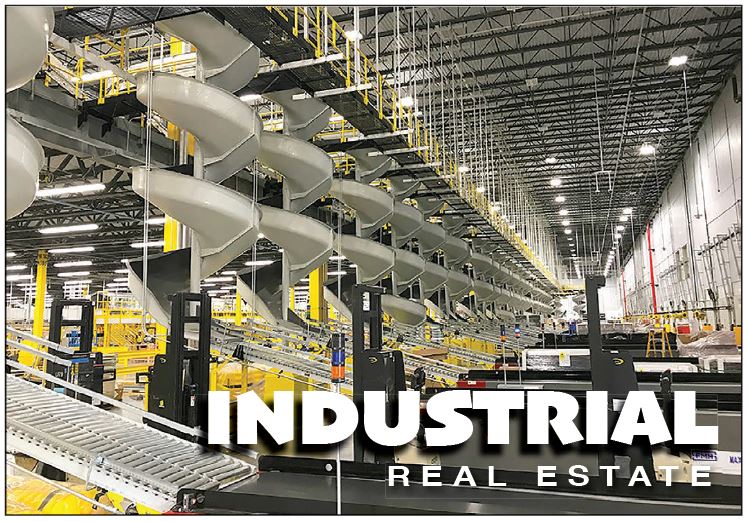 By Tim Raccuia
Utah's industrial real estate market is at a crossroads — literally and figuratively — at a unique point in time as the economy recovers from the impacts of the coronavirus pandemic.
With more consumers physically distancing themselves from retail brick-and-mortar stores and shifting their purchases online, industrial real estate demand is emerging as a bright trend. That's because online retailers need roughly three times the distribution center space compared to traditional retail stores, or 1.2 million square feet per billion dollars of online sales, according to logistics industry reports.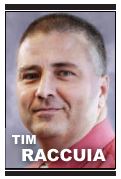 Among the most attractive submarkets for industrial real estate is Salt Lake City's Northwest Quadrant. It enjoys a favorable situation because of its large swaths of available land for the development of industrial parks, coupled with proximity to I-80 and the Salt Lake City International Airport, which opens its new terminal after $4 billion in improvements this month. Because Salt Lake City is equidistant from the Port of Seattle, the Port of Oakland and the Port of Los Angeles, it offers potential for greater efficiencies as an inland logistics hub. It is situated within a day's drive to over half of the continental U.S. Once completed, the Mountain View Corridor will allow transportation south from the quadrant to bypass I-15, adding more efficiencies.
Industrial Construction and Supply
The commercial real estate firm JLL estimates the U.S. will add another billion square feet of industrial real estate by 2025. Prior to 2020, JLL reports 3.5 percent of industrial leasing was related to e-commerce, but that ballooned to 50 percent of warehouse leasing this year as more shoppers clicked "buy" online.
Right now in Salt Lake City, there are 7.3 million square feet of active industrial construction in progress, or 5.3 percent of the market, according to CBRE's second quarter report. In the airport and California Avenue submarkets combined, more than 2.7 million square feet was under construction in the second quarter.
Industrial real estate buildings typically include warehouses with a small amount of space for offices. Tenants often include food manufacturers, logistics companies, beverage distributors or tile and marble dealers.
CBRE's report notes that most of the current industrial construction is speculative, though larger leases are likely to be announced shortly after projects are completed in the coming quarters. While this construction growth impacts market availability, "net absorption should continue to grow for the remainder of the year and into 2021," according to the report.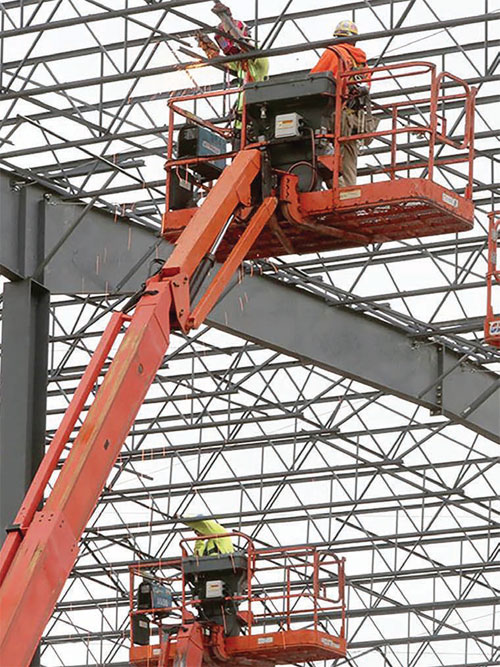 Industrial real estate supply usually boils down to user requirements, which typically include:
• Amount of clear ceiling height, to allow for unobstructed movement of freight and forklifts within the facility.
• Number of dock-high doors where trailers pull up to load or unload.
• Number of drive-in or grade-level doors, which allow access for forklifts and other vehicles.
• On-site trailer parking.
• Access to high-traffic corridors. Because industrial can be a location-driven product, the lack of access to a main thoroughfare or freeway will limit the user pool.
All of these factors may vary among industrial spaces depending on when the properties were built. Often, older properties don't have the ceiling clear heights or the configurations that today's tenants seek to meet their capacity needs.
Spec Construction
With speculative construction, it's not as simple as "if you build it, they will come." Several variables must be considered before breaking ground:
• Location: Is sizeable land available that's zoned for industrial use?
• Square footage: Will the building configuration and size meet the future tenants' needs?
• Cost: What is the combined cost of land acquisition and "vertical" construction, and can you generate enough rent to cover these costs plus debt service and still provide positive cash flow?
• In many cases with spec construction, developers must charge higher lease rates than the market average to cover land purchase and vertical costs, especially as those costs have been driven up by a shortage of skilled labor, higher raw materials costs and changes to building code.
For example, lease rates for new, well-located product might be priced at 52 cents to 55 cents per foot per month, compared to the current market average of 47 cents to 49 cents per foot per month.
Industrial Real Estate Financing
Creditors may offer comparatively more liberal underwriting parameters for industrial building construction, requiring both lower equity injections and performance metrics, such as debt coverage ratio (DCR). That's because these deals have seen stronger tenant demand, such as retail, office or hospitality. Industrial construction might require as little as a 25 percent equity injection and 1.20 DCR, for example, compared to 30-35 percent equity and 1.30 DCR for commercial real estate in general — or even more for hospitality construction.
With "spec" construction of industrial buildings, creditors typically require that the developer secure contracted rents equal to or greater than their pro forma. The creditor will consider whether the developer's (and appraised) pro forma net operating income (contracted rents less operating expense) for the property is sufficient to cover the debt service before extending the credit required to get the project started.
From the first quarter to the second quarter of 2020, lease rates increased two cents to 53 cents per square foot NNN while vacancy, now at 3 percent, continues to decrease, demonstrating demand, according to the CBRE report. As other real estate sectors may face headwinds in recovering from the economic challenges of the pandemic, demand for industrial real estate is expected to continue in Salt Lake City for the foreseeable future.
Tim Raccuia is senior vice president in Zions Bank Real Estate Banking. In March, he was honored as Commercial Lender of the Year (over $75 million) by the Utah Chapter of CCIM.
---
Salt Lake City's tech market is definitely punching above its weight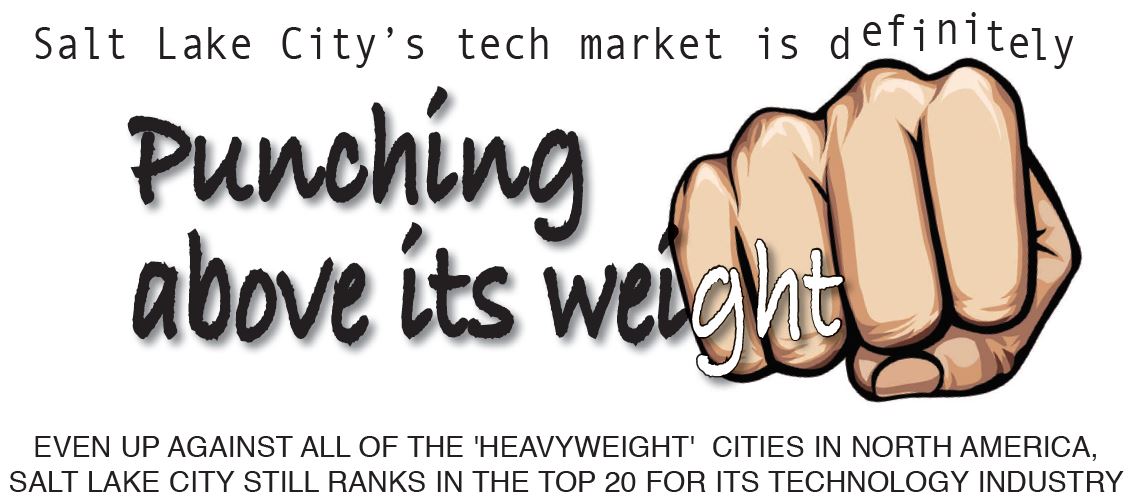 By Lloyd Allen
EVEN UP AGAINST ALL OF THE 'HEAVYWEIGHT' CITIES IN NORTH AMERICA, SALT LAKE CITY STILL RANKS IN THE TOP 20 FOR ITS TECHNOLOGY INDUSTRY
In July, commercial real estate firm CBRE published its "Scoring Tech Talent" report, an annual publication which ranks 50 North American markets according to their ability to attract and grow tech talent. Year after year, Salt Lake City — which for purposes of this report includes Utah County as well as Salt Lake County — has been growing its tech influence, and for the second year in a row has landed in the top 20, earning the 15th slot on the list.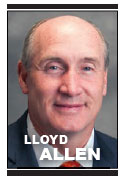 Considering that this report takes into account every office market in the United States and Canada, you can see how Salt Lake City punches above its weight when it comes to tech strength. But what are the facts behind Utah's tech success?
Let's take a look:
As an attractive market for both employers and employees that has high-quality lifestyle and talent, Salt Lake City achieved robust investment throughout the previous economic cycle — particularly when it came to tech growth. Salt Lake's tech employment growth of 42.7 percent from 2014 to 2019 placed the market second on the report in terms of growth behind only Vancouver, British Columbia, which grew tech jobs at a rate of 47.9 percent.
Of the 32 "large" tech markets included in the report, Salt Lake City is the smallest, with a tech labor pool of 51,220. In previous years Salt Lake has been identified in the report as a "small" market (markets with a tech labor pool of less than 50,000), but the 42.7 percent change in growth achieved since the 2019 report pushed its reclassification to a large market on the 2020 report. This robust growth in local tech employment is one of the most significant factors in the area's success.
Though tech employment growth has an impact on a city's rankings, tech labor concentration — or the percentage of total employment — is also a contributing factor in how "tech-centric" the market is and its growth potential. Salt Lake City's tech talent labor pool amounts to 5.2 percent of the overall area's workforce, which is above the national average of 3.7 percent. This higher-than-average concentration of qualified tech employees certainly bodes well for the market.
Closely related to the area's tech labor concentration is the fact that Salt Lake stands out among largest North American tech-talent labor pools for its combination of high tech-degree completions and low cost of living. Though living costs have been increasing across much of the country, by comparison the Wasatch Front still has a relatively low cost of living.
What other data points were factored into the report when determining a market's ranking? The report utilized CBRE's Tech Talent Scorecard to distinguish the top-ranked markets. This scorecard is determined based on 13 unique metrics, including growth, tech talent supply, concentration, cost, completed tech degrees, industry outlook for job growth, and market outlook for both office and apartment rent cost growth. When taking all of these factors into consideration, many of the markets you might expect to see at the top of the list landed in the first five slots — the San Francisco Bay Area; Washington, D.C.; Seattle; Toronto and New York City — all large markets with a tech labor pool of more than 100,000. It is worth noting that of the top 15 markets included in the report, Salt Lake City has the lowest tech talent labor pool (51,220).
Based on the details emphasized throughout the report, here are a number of noteworthy Salt Lake City tech highlights:
• The average annual operating costs of running a tech business in Salt Lake City are slightly below average for the companies in the study, ranking No. 33 on the list.
• Salt Lake is considered to have high-quality labor at a moderate cost, making it a competitively balanced market when it comes to tech labor.
• Salt Lake City's five-year tech talent growth rate of 42.7 percent is second only to Vancouver at 47.9 percent, pushing the market into the "large tech labor pool" category.
• Salt Lake City has below-average costs of living, landing at No. 32.
• The Salt Lake City market area is a net producer of tech talent, adding more tech graduates (22,361) in the past five years than tech jobs it created (15,320) — a deficit of 7,041 and what the report labels a "brain drain."
• The market area has experienced a 6.3 percent increase in its millennial population since 2013.
Now keeping in mind that this is a backwards-looking report, we know that the pandemic has impacted the entire economy, and although tech is well-positioned to maintain its market share, there are yet-to-be-seen factors that will continue to play out in the future.
On an encouraging note, the report outlines how tech-talent jobs are positioned to weather COVID-19 and related shutdowns and the ensuing recession because, more than ever, companies across all industries need the technical skills that this talent base offers. Many tech products and services such as streaming, remote communications and social media are now in higher demand to support remote work and social distancing. Tech employment has shown it can withstand economic shocks. In the 2008-2010 recession, tech-talent employment declined by 0.5 percent while overall U.S. employment registered a 5.5 percent drop. These positive fundamentals have forged a sure foundation that will be key to continued strength in the Salt Lake tech market as it navigates the current economic uncertainty.
Upon the report's release, Colin Yasukochi, executive director of CBRE's Tech Insights Center, noted, "We expect that most tech-talent markets and professions will thrive after the pandemic subside, and many that facilitate remote work and tech services such as e-commerce, social media and streaming services may have even greater growth opportunities accelerated by the COVID-19 disruption. Markets that have strong innovation infrastructure — leading universities and high concentrations of tech jobs — will lead the next growth cycle."
So, in a nutshell, the strength of the local tech market lies in the very fabric of the Utah economy. It's the local colleges and universities that produce highly skilled graduates. It's the business-friendly government that doesn't over-regulate companies and encourages an entrepreneurial spirit. It's the relatively low cost of living combined with an elevated quality of life that attracts — and keeps — a qualified labor pool.
And that's just the beginning. Though Utah's relatively small population keeps us at the back of the line in some arenas, when it comes to tech, we have earned heavyweight status.
Lloyd Allen is the managing director and principal broker of CBRE's Salt Lake City office.
---
MOBILE COMPUTING: Take your real estate business on the road

By Bahar Ferguson
Mobile computing has come a long way since the days when a computer took up an entire floor. Now the computers in our pockets can run almost everything we need to run a business. Still, it is sometimes important for people who are constantly on the run from location to location to be able to use something that has a larger screen and more functionality than a basic app. In order to work from location to location like a real estate mogul would need to, there is an important checklist of items that we need to consider.
Each of these are important in their own way and build off of the step before: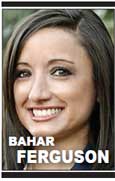 The first thing to consider is the platform we are working on. Mobility means that you can't be hauling a desktop from location to location; especially some of the high-end desktop computers can have cases that on their own weigh 10 pounds to 15 pounds without anything in them. Instead, a focus on lightweight laptops and tablet computers is needed. The specifications of these lightweight laptops and tablets can be lighter than normal desktop computers because we are only accomplishing certain things with them. Namely, we normally aren't running major graphicly intensive programs or running complex mathematical simulations of astronomical bodies. The ultimate in freedom of mobility is what many affectionately call a "laplet" — the hybrid of a laptop and a tablet. The two top choices are items from the Microsoft Surface line or members of the iPad Pro line. Both are awesome options for mobile computing power of a laptop in the body of a tablet.
The next thing to consider in the quest to technologically upgrade is bringing the Internet to your device. As a gateway to everything from your company's website to the real-time status of your competitors, it has become an incredibly crucial and dynamic tool that deserves to be in everyone's toolbox.
Sometimes a house you are trying to sell comes pre-established with Wi-Fi and all it takes is a quick password and you are connected. If this isn't available, most laptops and tablets can connect to a mobile hotspot network produced from your phone. Fair warning, though: Sometimes this can be an expensive option, so be sure to consult your carrier for specific information on how data and hotspots work for your unique case. Some tablets are even able to generate their own mobile hotspots if needed or they may have access to a mobile carrier network.
Mobile hotspots are useful; however, it isn't always the best option as mobile hotspots can be unpredictable or unreliable, depending on the scenario and network capabilities. Keep this in mind when you are attempting to transfer large documents, sync large amounts of data or use a VPN to access those files from servers or computers at the office. Try to limit downloads to the basic necessities and wait for large downloads and database synchronization for a time when you have a stable connection or stable wireless connection. That way, it prevents you from having only partial downloads, corrupted downloads and other problems. It would be tragic if you were to discover that listing you had for a perfect house didn't show up because the database only showed half of your list.
For a quick security win, never connect to a free open (meaning that it doesn't have a password) Wi-Fi connection. When you connect to a Wi-Fi hotspot that doesn't use a password, hackers could be creating that hotspot and acting as a "man in the middle" stealing passwords, credit card information and any other sensitive data that you are transmitting over the Internet. If you are constantly on the go, this can be tempting, especially if you have a large download that won't work over a mobile hotspot, but I promise it is much better to be safe than sorry when it comes to Internet security.
At this point, with a laptop or tablet and a stable Internet connection, you can effectively be working from any location or any home you want to show off to potential buyers or investors. Still, there are other things that can be added for convenience and practicality. While these are optional, they may be recommended by your IT team.
Now that we have a mobile platform to work in any office, home, car, or apartment under the sun, we need to make sure that we are still able to access our office resources like servers, active directories and databases. To do this, as long as you have a mostly stable Internet connection (something that you can use a mobile hotspot for), you can turn on a VPN to connect yourself to the office. VPNs function much like a tunnel or bridge between yourself and the office. You can be across town showing off that fantastic three-bedroom, two-bath on half an acre of land and still be able to access the Excel sheet that shows how many other buyers are looking at this exact home that is stored in the office server.
Looking at the fantastic mobility options found in tablets and laptops, occasionally you might end up in an area or situation that could result in a stolen computer or tablet. This could be devastating to lose all that important data. Encryption can help protect it so that if there is ever an issue where unsavory individuals steal your belongings, you won't have them looking though the pile of important information you have stored in there.
There are several ways to do this, but the most recommended ones would be Bitlocker for Windows 10 Professional operating systems and Filevault for Mac operating systems. These two methods are very similar, but the end goal is to prevent people from accessing a computer's data without your permission. The protection gained is something that is hard to ignore and even harder not to justify, as it takes moments to set up Filevault and a lunch break to set up Bitlocker (Bitlocker can take upwards of 24 hours to officially encrypt the data although most is done in the background without you needing to notice). Once this encryption is done it would take a supercomputer over 80 years to brute-force its way in and steal your data. For such a simple process it seems like it would be an amazing win against stolen data.
We covered a lot in this article — mostly what you need for being able to do work on the go. Boiling it down to the bare-bones basics, you need a computer that you can take on the go. Laptops and tablets are best for this. Those computers need to connect to the Internet. Standard Wi-Fi is the best for this since you are moving around and can't just be tied to an ethernet cord connecting you to the wall. Worst-case scenario, you can utilize a mobile hotspot but those have their own unique challenges to consider. After connecting to the Internet, you need a VPN connection to make sure that your data is safe and that you can access the data from around the city, state or world. There are lots of other special steps that you can do for extra comfort, productivity and security but these are the basics of what is needed for you to get out there and conquer the real estate world using cutting-edge technological advancements.
Bahar Ferguson is the president of Wasatch I.T., a Utah provider of outsourced IT services for small and medium-sized businesses.
---
Mark Walter: Southern Utah loses a pillar in the real estate industry
By Jon Walter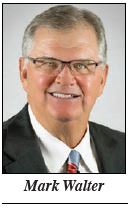 In 1975, at the age of 22, Mark Walter married his Dixie High School sweetheart, Valene Leany, and began a real estate career in Southern Utah that would become legendary. Mark spent the next 45 years shaping the Southern Utah landscape and improving peoples' lives in the community.
Real estate didn't come easy. Mortgage interest rates rose from 9 percent in 1975 to 18 percent in 1981. While selling real estate, Mark and Val ran a small motel, worked side jobs, went to school and somehow made it all work.
Like other companies in the early 1980s, Mark's real estate brokerage, Walter and Associates, was struggling. The recession of 1981-1982 was considered by some the worst recession since the Great Depression. The solution was Walter and Associates and four other leading real estate firms in the community came together in an unprecedented merger. Mark Walter, Clark Houston, Lowell Frei, Ron Lemmon and Sam Sampson created a real estate partnership under the new name ERA Brokers Consolidated in August 1982 that has outlasted all of its peers.
Lemmon said, "Mark was a man of integrity. He was always concerned about the welfare of other people, especially those at the office. Everyone remembers him as a fun-loving guy, but his interest in each individual was what defined him."
Ownership evolved some over the years and Walter and Thayne Houston became best friends and business partners as ERA Brokers Consolidated opened offices across Southern Utah and into Mesquite, Nevada.
Thayne Houston couldn't say enough good things about Mark. "Mark Walter was a fantastic business partner. He always gave 110 percent in the partnership and did way more than he needed to. He liked to be involved and contribute in the community; he was amazing with people. Mark made everyone feel welcome and included in everything he did."
In the 1990s, Mark was actively involved in brokering both residential and commercial real estate transactions. His signature commercial project was the development of the Boulevard Office Park on 200 East and St. George Boulevard. Mark's vision and commitment to the project resulted in a timeless Class A office park with a glass and red brick structure. Mark and Valene partnered with their friends Hyrum and Gail Smith, Joseph and Katie Smith, and Larry and Stacie Shurtliff on the development. Gail said of their dear friend Mark, "His fairness, honesty and integrity are his most distinct attributes and are becoming harder to find these days." Mark also worked closely with the Smith family to assemble the ground for the Tuacahn Center for the Arts and Stone Cliff.
Starting in 1998, Mark developed over 3,000 acres of mountain property on Highway 89 near Bryce Canyon with his parents and siblings. These developments include Paunsaugunt Cliffs, Casto Canyon and River Ranch.
In 2001, Mark saw the need for an exclusive commercial brokerage in Southern Utah. Mark was a founder in NAI Utah Commercial Real Estate Southern Region, now NAI Excel. Mark acted as its principal proker for the next 19 years. He personally assisted his friends and clients in many hundreds of transactions over the years.

Stephen Wade said about his good friend, "Mark's personality was always upbeat. He was fun and an exciting person to be with. He was innovative in real estate and kind to people. He always knew what was going on in the community."
Over the years, Mark was president of the Chamber of Commerce, Business Person of the Year, president of the Board of Realtors, Realtor of the Year, district chairman for the Boy Scouts of America Snow Canyon District, Silver Beaver recipient and served on numerous committees, councils and boards.
Longtime friend Vardell Curtis said, "Mark was one of the first Board of Realtors members I met nearly 25 years ago after accepting the opportunity to go to work for the Washington County Board of Realtors. He put his arm around my shoulder and said, 'If you ever need anything, call me.' He instantly became my mentor and my example of what a professional should be. And true to his word, he was always there when I needed advice or encouragement. But most importantly, he was my friend. I think people need to know that the Washington County Board of Realtors stands on the shoulders of our early leaders and Mark Walter was one of those giants."
Land developer Lori Burgess added, "Mark Walter set the gold standard for real estate in St George. He was an example to us all."
Starting in 2004, Mark's sons Neil, Matt and Jon began working with him in the business. Together with Thayne Houston, they expanded offices further to Salt Lake and Las Vegas. Mark left a legacy of friendship, integrity and positivity. The company Mark helped found now includes 12 office locations from Salt Lake to Las Vegas with over 500 real estate agents and staff. It completes over $1 billion in real estate transactions annually and manages over $350 million in real estate assets for its clients.
Mark Walter passed away on Aug. 11 at the age of 67 from kidney cancer after being diagnosed only three weeks earlier.
Mark was known for his energy and enthusiasm. His voice and presence filled the room and his knowledge of real estate and local markets was unparalleled. Mark was continuously involved in his companies and the community until the time of his diagnosis. Above all, Mark was a friend to everyone. He really said, "I never met a person I didn't like."
Longtime neighbor and friend Steve Caplin said, "Mark Walter is a pillar in the Southern Utah community and his influence continues through the people he has impacted over several decades. Mark was trusted and loved by everyone because of his integrity and charity. There is really no way to measure the great good he has done for our community."
This article was authored by Jon Walter, Mark Walter's son, along with contributions from other Walter family members, friends and business associates.