By Tulinda Larsen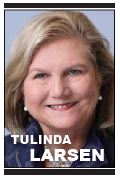 The Utah Advanced Materials and Manufacturing Initiative's (UAMMI) mission is to support Utah's small businesses in advanced materials manufacturing, which includes composites, fiberglass and carbon fiber; and advanced manufacturing, which includes 3D printing and additive manufacturing. Founded in 2015, UAMMI is a federal- and state-funded initiative to bring together public, private, community, industry and education partners to assure growth and sustainability of Utah's advanced materials and manufacturing industry.
Utah's rich history in aerospace and defense manufacturing began more than 50 years ago with the manufacture of high-performance, lightweight components for strategic missile programs. Today those composite materials, made of fiber and resin, are used to produce products that are stronger and lighter than metals at equivalent weight, and have become integral to the state's supply chain.
Defense manufacturing companies such as Albany Engineered Composites, BAE Systems, Boeing, L-3/Harris, Northrop Grumman and Lockheed Martin proudly call Utah home for key manufacturing facilities. Specialized Utah companies such as Hexcel, Borsight, Janicki Industries, ACT Aerospace, JBT AeroTech, Kihomac, Parker Hannifin, Conductive Composites, Petersen and Williams International are contributors to the growing labor market.
For example, in Salt Lake City, Northrop Grumman builds and tests navigation systems, gyroscopes and accelerometers for commercial and military aircraft from its new, 52,000-square-foot Navigation Systems Division. The facility is home to an engineering, manufacturing and support staff of about 750 workers. At its 19-acre West Jordan location, the composite horizontal stabilizer parts are built for the 787-9 Dreamliner aircraft.
Hexcel, also based in Salt Lake City, is a leading supplier of carbon fiber, honeycomb and other composite materials for the commercial aerospace industry and for more than 100 space and defense programs.
Rockwell Collins, located in the University of Utah Research Park, has a long successful history of developing advanced simulation solutions for both military and commercial aerospace applications. By applying its expertise in simulation systems, the company has developed next generation CORE simulation architecture, which leverages advanced technologies and a modular design to maximize life cycle value and enhance training effectiveness. A highlight of the CORE simulation architecture is a highly configurable tool suite that provides the freedom to easily customize training for multiple situations.
In Ogden, Williams International, a jet engine manufacturer, operates one of the most modern and efficient gas turbine design-to-production operations in the world. The company produces jet engines for corporate aircraft manufacturers, including Cessna, SyberJet, Pilatus and Beechcraft, as well as military missile systems. In Clearfield, the Northrop Grumman Innovation Aerospace Structures division has grown its contract with Airbus to manufacture and supply composite stringers and frames for the Airbus A350 XWB-1000 variant aircraft. Northrop Grumman has already delivered more than 10,000 parts to Airbus.
In Park City, Triumph Gear Systems manufactures and supports power drive and actuation systems for commercial aviation and military applications. In Provo, Duncan Aviation operates a full-service maintenance facility that provides avionics, accessory, engine and airframe technical support for government, business and other service providers.
In Layton, Kihomac manufacturing is at the forefront of the aerospace and commercial industries through metals, composites and rapid prototyping capabilities. Kihomac pivoted quickly to respond to the need for COVID-19 PPEs and within a few short weeks, stood up a fully functioning and registered medical manufacturing facility known as Kihomed, manufacturing nasal swabs, face masks and face shields.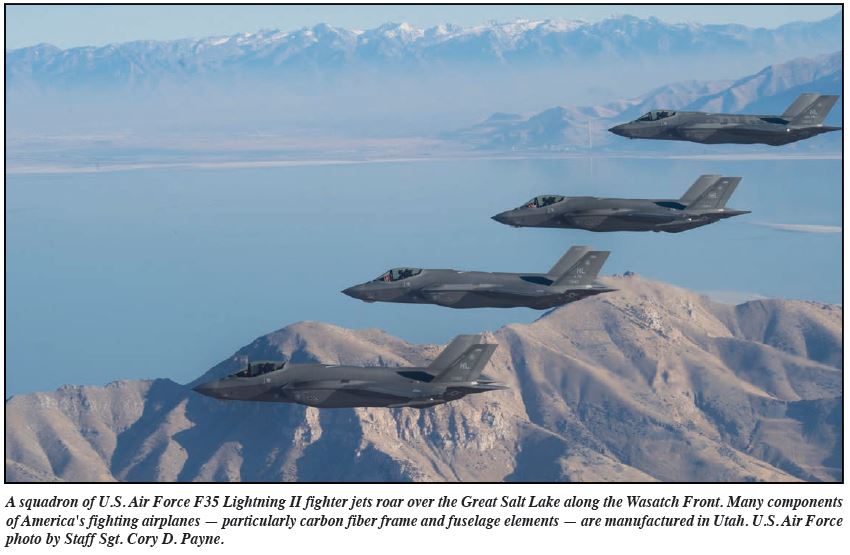 In Cedar City, SyberJet Aircraft has a 30,000-square-foot completion and delivery center. Situated at the Cedar City Regional Airport and adjacent to the headquarters of SyberJet's parent company, MSC Aerospace, the completion center will serve as SyberJet's primary focal point for customer interface, including marketing, sales, customer service, pilot training and aircraft delivery. Together with Metalcraft Technologies, another MSC Aerospace subsidiary, this family of aerospace companies is producing the world's fastest and longest-range light business jet, the SyberJet SJ30. The company also supports the manufacture and assembly of aircraft components for many leading commercial and military customers and expects to grow its Utah workforce to approximately 1,200 people over the next decade.
Utah's strong commitment to the aerospace and defense manufacturers recently earned our state the designation as a Department of Defense (DoD) Manufacturing Community, which results in federal funding that will further accelerate the work of manufacturers. The Governor's Office of Economic Development and UAMMI led an impressive team of industry, military, academic, legislative and academic supporters to receive the designation of a Defense Manufacturing Community. Utah is one of only six states to receive that designation. Our state now becomes part of the DoD Defense Manufacturing Community, which supports long-term investments that strengthen national security innovation and expands the capabilities of the defense industrial ecosystem.
Over the next five years, three areas will be targeted to prepare for the future of defense manufacturing.
The first area, workforce development, is the core of the Utah Defense Manufacturing Community. Workforce development and training initiatives are designed to strengthen the collaboration between industry and education in response to current and future talent demands of the defense manufacturing industrial base. Current estimates show that as many as 6,000 workers will be required to support the Ground Based Strategic Deterrent program, a land-based intercontinental ballistic missile system that replaces the ICBM program.
To meet the ongoing workforce demand, Utah is starting as young as kindergarten to inspire our students to work in the field of defense manufacturing. Utah leverages success with the Utah Aerospace Pathways Program, where high school students are trained in advanced manufacturing, including working with composites, to be hired by our aerospace and defense manufacturing industry.
The second area of focus is supply chain development. CONNEX, an online supply chain tool, was designed five years ago to make Utah's advanced materials industry more globally competitive. CONNEX has the capability to diversify and connect Utah companies into new markets, allowing Utah manufacturing companies to share their capabilities, certifications, machinery, materials and workforce expertise. This online database tool assists manufacturers across the state of Utah to visualize and shorten supply chains, identify risks and threats in the supply chain, and find alternate suppliers. CONNEX is being expanded to an estimated 4,000 Utah suppliers in its database with direct connection to the national Manufacturers Marketplace, which includes more than 135,000 companies. Other states across the nation are adopting the CONNEX platform, including Florida.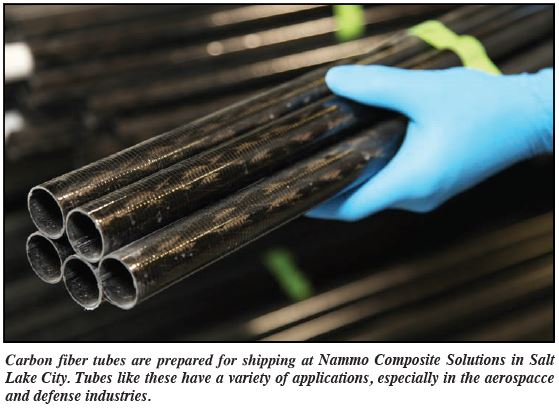 The last area of focus will be working closely with our smaller businesses and incubators to provide mentorship and accelerate their growth by increased awareness of resources. Among programs offering excellent resources are the Utah Industry and Innovation Center, which assists small businesses statewide to apply for federal Small Business Innovation Research and Small Business Technology Transfer, which grants funding for defense manufacturing companies. Another great resource is the Small Business Administration Regional Innovation Cluster program, which works closely with small businesses to increase their capabilities in defense manufacturing.
Utah's advanced materials and manufacturing companies will continue to grow and support aerospace and defense manufacturing, especially as world events require an increase in national defense preparedness.
Tulinda Larsen is the executive director of the Utah Advanced Materials and Manufacturing Initiative, whose objective is to elevate Utah's advanced materials manufacturing industry. UAMMI is a member of the Utah Industry Resource Alliance (UIRA).