"If I have to read another story about the impact of COVID-19 in Utah, I'm going to _____________." (Reader: fill in the blank).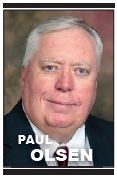 We cannot seem to get past a lot of bad news about this pandemic. Everyone is keeping fingers crossed that returning to school will not mean returning to an earlier phase of recovery. We are all impacted at home and at work. A look at the manufacturing industry sector may be informative.
The second quarter months of April-June focused on job losses and skyrocketing unemployment claims. A closer look at the employment impacts show that for some industry sectors the impact was catastrophic. The leisure/hospitality services sectors took a direct hit, for example. But other industries were less impacted, some barely scathed. And construction and two other sectors have actually grown.
See the graphic at the bottom of the page.
What the Statistics Say
The Department of Workforce Services released its Employment Summary for June, stating, "Utah's nonfarm payroll employment for June 2020 contracted by an estimated 2.8 percent, with 43,100 jobs sidelined compared to the June 2019 employment." In the same release, Chief Economist Mark Knold said, "Businesses continue to bring back furloughed workers. Across the past two months, just under half of the COVID-idled workers have been returned to work. These gains, in turn, have cut the unemployment rate in half in two months."
Looking at the Utah manufacturing sector, a 1.4 percent decline was reported, which translates to 1,900 jobs. That would put manufacturing jobs under the 2019 mark of 136,893 but above the 2018 figure of 132,798. And with furloughed jobs returning as noted by economist Knold, the impact appears to be dissipating. However, we do not want to get too far ahead of ourselves; impacts may still be felt in the months ahead. Because of the lag in data availability, only a few indicators are available to measure the COVID-19 impact. More data will be released after this article goes to press. One potential factor is a disruption in the global manufacturing supply chain.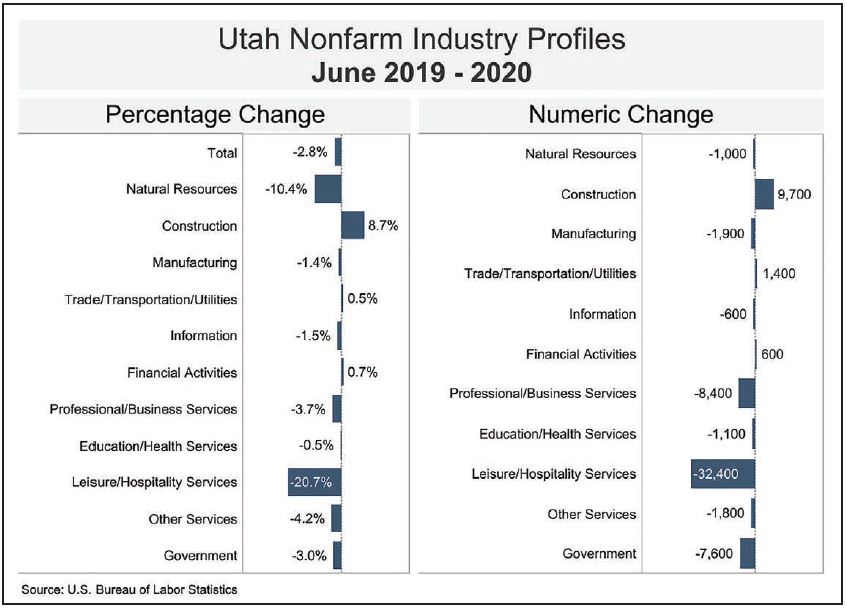 A study conducted in April by the Utah Advanced Materials & Manufacturing Initiative (UAMMI) reached out to 144 Utah advanced materials and manufacturing companies to learn about COVID-19 effects on this group of manufacturers. The findings were summarized in seven themes:
1. Companies with large government defense contracts have been mostly protected. For those companies, production is stable and in some cases is increasing. However, all reported that they had to make workplace adjustments.
2. Aerospace suppliers are continuing production; however, their future is uncertain.
3. Recreational manufacturers had to pivot.
4. Companies making PPEs cannot keep up with demand.
5. Accounts receivable impacted cash flow.
6. Projects have been delayed for nearly all companies.
7. Receiving supplies, except for PPEs, has not typically been a problem, but there have been delivery delays.
When asked about customer demand, the responses were nearly split between seeing no reduction in customer demand (47 percent) and seeing reduced customer demand (44 percent). Nearly 7 percent reported seeing an increase in customer demand.
Stay Strong, Utah
The state of Utah has made available to all Utahns some great resources and guidelines to help individuals, families, communities and businesses navigate through this pandemic. The anchor site for this information is www.coronavirus.utah.gov.
Of note for manufacturers and all businesses is the "COVID-19 Business Manual (updated)." This 55-page manual includes subjects such as testing, employees who are positive, protecting operations, and keeping the business open. Also included are guidelines on the FFCRA rules, cleaning, PPE and symptom checking. It contains many useful graphics. This manual can be downloaded from the state website: https://coronavirus-download.utah.gov/business/COVID-19_Business_Packet_8_6_2020.pdf.
Another good resource found on the website is called "Utah Leads Together 4.0," which is Gov. Gary Herbert's task force plan to mitigate the economic consequences of COVID-19. "Utah leaders remain confident that as the COVID-19 pandemic ends, Utah will emerge even stronger. The Utah Leads Together plans provide clarity, confidence and context for that recovery," the governor said. This fourth volume presents Utah's economic recovery and revitalization plan. It, too, can be downloaded from the state site.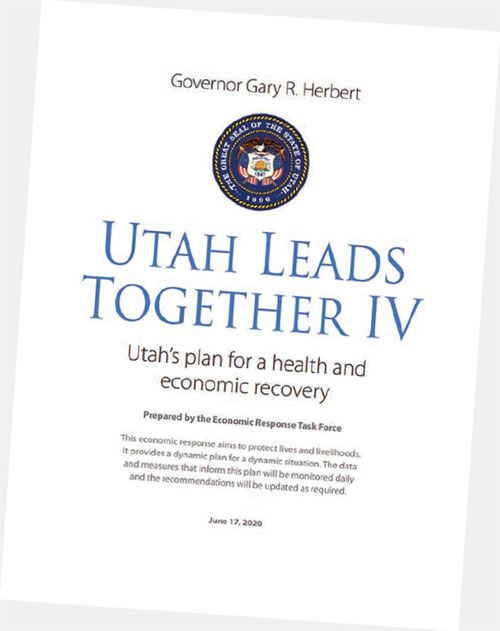 What's Next
Many years ago a local musical play was written to commemorate the founding of a Sunday school in the Salt Lake Valley by Richard Ballantyne, an early Utah pioneer. One of the songs in the play contained the line, "…willingly, because we have to." Maybe we can adopt the same attitude now in our present circumstances. We may not want to do the things we are asked to do; we may not personally agree with all the measures being taken. We are still learning what it takes to see us through this pandemic — so let us do it willingly — because we have to.
At present, the impact of COVID-19 on the manufacturers of Utah appears to be low. No major shutdowns or layoffs have occurred. Further impact is still possible as time and economic indicators will reveal. Staying the course with precautions and best practices learned during the past months will see us thorough the pandemic.
Author's Note: The author wishes to acknowledge the loss of lives and private tragedies brought about by this pandemic. No economic outlook or analysis can ease the pain of human loss suffered by many. Our condolences to all of you.
Paul Olsen has been involved with manufacturing in Utah for four decades. He finds himself in the higher-risk category of COVID-19 susceptibility.