By Ryan Loftin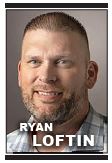 Ever heard the old saying, "If you bought it, a truck brought it"? Even in this digital age of drone delivery, this saying still rings true. According to the Department of Transportation's Bureau of Labor Statistics, approximately 75 percent of all goods in the United States are transported via truck. The majority of commodities — everything from toilet paper to gasoline — are brought to consumers across the nation courtesy of the hard-working trucking industry.
Never in our lifetimes has this truth been more apparent than in current pandemic living conditions, where access to basic goods and commodities has been limited due to panic buying. While consumers were clearing shelves, truckers were working overtime to move product to where it was needed most.
Nights, weekends and holidays, the trucking industry supplies a nonstop supply chain citizens depend on to obtain the products they need. But this luxury of constant delivery for consumers comes at a cost to trucking businesses — and some of these costs keep going up.
With the hefty costs associated with running a trucking business — think expenses like trucks, trailers, fuel, repairs, and more before payroll — you may be surprised to know that one of the most costly line items is trucking insurance.
Truckers are required to have at least a $750,000 liability limit, but you would be hard-pressed to find a trucking company with a customer contract that allows them to carry less than $1 million in liability coverage. Most owners will also carry workers compensation, cargo insurance, property insurance and health insurance. All of these lines of insurance coverage have had a steady increase in cost over the past several years.
Trucking operations are now also being required to carry an excess or umbrella policy. Certain shippers will not even consider offering work to a trucking company that hasn't increased their liability limits up another $1 million, $2 million, and even upwards of $10 million or more on certain contracts. The costs keep mounting on what could be considered one of the lifelines of the American economy. These business owners are scratching their heads, wondering how they can afford to keep their trucks running to provide goods and services to the American consumer.
Why are trucking companies being hit so hard? Claims. Insurance carriers are raising rates as the amount of claims and costs of claims continues to rise. The number of claimants seeking legal representation after an accident is on the rise. Costs to repair damaged vehicles, whether they be large or small, are on the rise. Medical bills for injured parties are on the rise.
A recent article in the Wall Street Journal discussed the increasing cost of insurance due to the demand for higher limits and the increase in the number of large verdicts, warning trucking companies, "If you cannot demonstrate that you're obsessed with safety, you may not get renewed."
This insurance dilemma poses a major challenge for our truckers — from the local one-man rig to large trucking companies who operate out of multiple states throughout the country. They simply cannot operate profitably if they can't afford their insurance policy, let alone operate if they can't receive an offering of insurance coverage from a reputable insurance company.
So, how can a trucking company get the lowest possible rates for the coverage they need to cover their business and their contracts? It all goes back to the need to demonstrate that they are obsessed with safety.
Here are some quick tips from an insurance producer who works solely for the trucking industry:
FMCSA Scores: Tediously check your Federal Motor Carrier Safety Administration scores. In fact, assign a person in the company to continually check these scores. Why so important? Being aware of your status allows you to improve your status. Each FMCSA score category is given a certain threshold, and if the company can keep all their performance scores under that threshold, you will see your roadside inspections decrease, allowing your insurance underwriter to have a better outlook on you company.
Reward Employees: As you watch your scores, you'll be able to recognize good work coming from your service technicians and drivers. Recognize and reward those actions to promote a continued flow of that type of work, resulting in positive scores. Investing in small incentives or rewards for employees will pay big dividends in the insurance rates you can expect with good FMCSA scores.
Driver Training: Hiring and training new drivers is a constant in the transportation industry — and it takes work. But it also makes all the difference in making a driver comfortable in their role. Comfortable, prepared drivers feel less stress and make fewer errors. Don't make the common mistake of skipping vital education steps and just hand over the keys to get the work done. Take time to ensure that each driver is familiar with the equipment and the type of cargo they will be hauling. Discuss routes, best practices for schedules and company standards for transport and delivery.
Create a Culture of Safety: Instill in your drivers that a strong culture of safety exists in your organization. Hold regularly safety meetings, reward ideas that promote safety and document safety exercises and trainings with signatures of attendance and acknowledgement. Copies of your policies and procedures that your drivers sign should be provided to your insurance underwriters. This effort shows your commitment to be safer than the average transportation company.
Embrace Technology: The transportation industry is constantly evolving thanks to advancements in technology. There is great value in collision mitigation and avoidance systems, onboard cameras and telematics. Invest in the systems that make sense for your fleet. An easy investment for any trucking business is dash cameras. Video evidence can exonerate truckers from what could become huge claims and payouts based originally on word alone. The opposite can also be true, but even in that scenario, it allows the owners to know what is happening in their trucks and make adjustments that eliminate that driving behavior from their organizations. If you have not yet invested in technology, start inquiring about it now.
Today, the average consumer may think a bit differently, perhaps with more gratitude toward the sacrifices of those working in the trucking industry. As things show up safely and on time for our families and businesses, let's give that recognition to the professionalism of our truck drivers, who have most definitely stepped up when our country needed them most.
Ryan Loftin is a specialist in transportation risk for Beehive Insurance in Salt Lake City. He has worked in trucking insurance for 15 years and helps trucking organizations across the country find competitive coverage for their trucking needs