By Bahar Ferguson
With our current events, the trucking and shipping industry has been incredibly important for our day-to-day lives. When the initial shock hit everyone, grocery stores were emptied, and stock was put on back order. But with how efficient our trucking distribution is, it didn't take long for things to start coming back in stock. Transporting goods across the country can be a tough business, but as with any job, technology can help even out the bumps.
One of the biggest problems facing the trucking industry today is a shortage of reliable workers. Everyone has heard of the self-driving cars that Google and Tesla have started working on. It may seem like something that's far from being a widespread technology, but it could be closer for the transportation industry than we think. Autonomous vehicles have short- and long-distance radars, cameras, sensors, 3D mapping and other detection methods. It may take some time for these autonomous vehicles to become widely available, but they are coming. Just think of all the features that come in new cars. Cars can automatically steer for you to keep you in your lane, you have cruise control which will keep you at a constant speed and they even have built-in sensors that stop your car when it gets too close to another object. All of these features are precursors to automatic driving cars.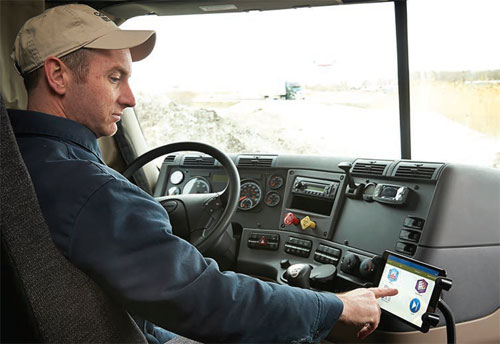 Even without having access to the self-driving vehicles, these features can make a huge difference for truck drivers. It can be hard when you're driving those long hours not to get distracted and it's features like these that help keep drivers on track. Visibility is greatly reduced in a semi-truck, so having these alerts can really help, especially the blind spot warning alerts for lane changes. While these features greatly increase safety, most trucks that are on our roads today were manufactured before this technology was widely available. Luckily a lot of companies, such as UPS, are retrofitting older trucks with these safety features. When you're delivering to residential communities it's definitely important to have these collision-mitigation systems.
Another feature that is less widely integrated is the dashcams. A dashcam can be used to monitor the actions of the drivers. Dashcams can track things like speed or reaction time to gauge how safely your drivers are operating. These cameras are great for reducing liability in an accident as well. Anyone can claim they weren't the one driving poorly, but video evidence can show the truth of any incidents.
There are a lot of challenges that face anyone working in the shipping industry. Anyone who has ever ordered something for delivery wants to have a way to track their shipment. Luckily, with GPS tracking, anyone can track the movement of their trucking fleet. And you definitely don't want to forget about software to help you manage all this tracking information. There are lots of affordable software options out there to help you manage your fleet. They have all kinds of features such as route planning, maintenance and tracking.
Another great benefit of GPS is truckers being able to navigate the highways to get to their destination. Often, roads can be closed due to certain driving conditions or perhaps an accident. Using GPS maps that pull data in real time, you can foresee delays in advance and plan accordingly.
Another kind of application that is frequently being implemented is automating the freight-matching process. Think of these applications as the Uber for trucking and transportation. Basically, shippers can input what they need transported and to where and drivers can pick up extra loads to make sure their trucks are at maximum capacity. Even if there are multiple different loads in the truck, with RFID technology it's easy to scan the cargo to make sure it gets to the right place. This automation cuts down on wasted time and fuel. Not only will it save money but its also quite a bit more environmentally friendly.
More and more people are wanting companies to have environmentally friendly practices. This leads us to electric trucks, which are in the development process and may soon be available to integrate into your fleet. While it may not be very cost-effective to convert your fleet just yet, the savings in fuel would pay off the initial investment.
Finally, one thing that can help improve the work of truckers is satellite Internet. Spending large amounts of time away from home can be hard on your mental health. It's important to stay in touch with friends and family. Satellite Internet can help keep employees connected to the rest of the world even while out on the road. It may even come in handy when truckers get stuck while out of cell range. Often, on the long empty stretches of highway, you may not have access to use your cell phone, but you should have access to satellites.
Our trucking industry is working hard during this current crisis to make sure our stores are stocked and people are getting the essentials delivered to them. The trucking industry is on the precipice of a huge change. While the industry may be slow to fully integrate these systems, they will have a huge impact on how we transport goods.
Bahar Ferguson is president of Wasatch I.T., a Utah provider of outsourced IT services for small and medium-sized businesses.