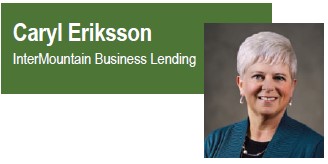 By Caryl Eriksson
You would be surprised how many businesses in Utah have benefited from the U.S. Small Business Administration's 504 financing program.
The 504 loan, created 60 years ago by Congress and administered by the SBA, has operated in the shadow of the larger, more popular 7(a) loan guarantee program. The 504 program got somewhat of a boost in April 2018 when the SBA introduced a 25-year product. Prior to that, 20 years was the longest term for a 504 loan. Coupled with historically low interest rates, the 504 has seen a resurgence in the past two years.
Just what is a 504 loan?
The program was established to provide long-term financing for small businesses — specifically for the purchase of real estate, equipment and other fixed assets. There are three parties involved in the transaction: the borrower, a private lender (usually a bank or credit union) and an SBA-approved certified development company (CDC). CDCs were established in the act creating the program specifically to administer 504 loans.
Typically, the 504 program works by distributing the loan among the three parties. The business owner puts a minimum of 10 percent, a conventional private lender puts up 50 percent and the certified development company puts up the remaining 40 percent. Leveraging this program allows borrowers to take advantage of 10-, 20- or 25-year loan terms, low interest rates and a 10 percent to 20 percent down payment, depending on the loan purpose.
Examples of what SBA 504 loans have been used for in Utah include dental and doctors' offices, local restaurants, small manufacturing facilities, dance studios and gymnastics academies, assisted living facilities, hotels, landscaping services — even title companies.
Why would 504 be a good option for me?
If you are ready to purchase or build your own building or looking to expand or modernize, SBA 504 loans have immediate and long-term benefits geared toward small businesses. Some of the benefits include:
• 90 percent financing. This means more cash remains in the business for daily operations.
• Longer loan amortizations with no balloon payments (in fact, the SBA loan payment decreases every five years).
• Truly fixed interest rates.
• A local certified development company, who is your contact, will be there for you throughout the term of your loan.
Basics of SBA 504 Eligibility
• A business is considered "small" and qualifies if it has a tangible net worth not more than $15 million and net income of $5 million or less after federal income taxes averaged over the past two full years.
• 504 loans are typically structured with the CDC/SBA providing 40 percent of the total project costs, a participating lender covering up to 50 percent of the total project costs and the borrower contributing 10 percent of the project costs. There are specific circumstances where a borrower will be required to contribute up to 20 percent of the total project costs.
• Loans cannot be made to businesses engaged in nonprofit, passive or speculative activities.
• Loans must benefit the operating business. Income properties and non-owner-occupied buildings do not qualify (apartment complexes, strip malls for lease only, etc.).
• 504 loans need to provide some aspect of economic development. This means jobs must be created or the project must meet another community development or public policy goal. There are several ways a business can satisfy these requirements, and most qualify. The current guideline if a business wants to qualify on a job-creation basis is one job for every $75,000 provided by the 504 loan.
• There is no maximum project size. However, the maximum 504 loan amount is $5 million. Small manufacturers or specific types of energy projects may qualify for up to $5.5 million.
• The project assets being financed are used as collateral. Personal guaranties from owners of 20 percent or more of the business are also required.
How 504 Loan Funds May Be Used
Funds provided by 504 loan projects must be used for fixed assets (and certain soft costs), including:
• The purchase of existing buildings;
• The purchase of land and land improvements, including grading, street improvements, utilities, parking lots and landscaping;
• The construction of new facilities or modernizing, renovating or converting existing facilities;
• The purchase of long-term machinery; or
• The refinancing of debt in connection with an expansion of the business through new or renovated facilities or equipment.
• In some specific cases, a 504 loan may be used to refinance existing debt on fixed asset, and there are opportunities to include a portion of financing for working capital or inventory.
504 Loan Example
Total costs for a $1 million project may include the following (eligibility requirements apply to both the 504 loan and the participating lender loan):
• Building purchase.
• Land.
• Renovation.
• Furniture and equipment.
• Soft costs (appraisal, architect fees, interim interest).
• Total $1 million.
Loan Structure
• $500,000, first lien with participating bank or credit union, covering up to 50 percent of the total project cost.
• $400,000, second lien with 504 loan; 10-, 20- or 25-year term; fixed rate; obtained through a CDC covering up to 40 percent of the total project cost.
• $100,000, borrower contribution of at least 10 percent of total costs.
Truly, if you need financing for fixed assets for a small business, the SBA 504 loan is the loan to use. More money stays in the business. Longer terms allow for manageable monthly payments on a long-term asset. Interest rates are historically better than market rates — and are exceptionally low right now. This is a "win-win-win" program — win for the small business, win for the lenders and win for the community.
About CDCs
A certified development company is a nonprofit corporation that promotes economic development within its community exclusively through 504 Loans. CDCs are certified and regulated by the SBA. They work with SBA and participating lenders to provide financing to small businesses, which in turn, accomplishes the goal of community economic development.
There are over 200 CDCs nationwide, each having a defined area of operations covering a specific geographic area. The area of operation for most CDCs is the state in which they are incorporated. To find a CDC in Utah, go to https://www.sba.gov/offices/district/ut/salt-lake-city.
Caryl Eriksson is vice president and chief operations officer at Utah Certified Development Co. in Ogden. She has been with CDCUtah since 1993 and has worked in marketing, origination, closing, funding, servicing and liquidation. She chaired the Logistics Committee for the National Association of Development Companies and has participated in SCORE, SBDC and other speaking and training events.