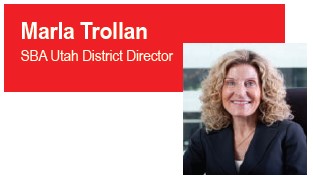 By Marla Trollan
Utah small businesses have demonstrated their commitment to their customers, communities and employees during this pivotal time in our nation's history. At the same time, extreme demands have been placed on them as they have had to figure out how to survive financially for their businesses, their employees and their families.
Thankfully, Utah small businesses have had access to unprecedented resources provided through the U.S. Small Business Administration (SBA). In response to the COVID-19 crisis, the SBA implemented a critically important new program, the Paycheck Protection Program (PPP), and enhanced one of its existing programs, the Economic Injury Disaster Loan (EIDL) Program, which now includes an advanced grant component.
The success stories in this issue of The Enterprise Small Business Focus highlight three different businesses doing extraordinary things for their communities and employees while dealing with their own economic and health challenges.
Ogden's Own Distillery converted its production processes to start making much-needed hand sanitizer instead of its normal assortment of spirits. The company has been donating a portion of its earnings to several local charities. The owner participated in SBA's PPP program and has received funds to help keep employees working.
Coleman Knitting Mills transitioned from producing letter jackets and cheer wear to fabricating hospital gowns and masks, using inventory they had on hand. The owners have used SBA resources in the past to help grow their business.
Sweet Cravings in Moab converted its bakery and bistro into a grocery store almost overnight to help bridge the gap for residents in need of food and cleaning staples. The owner applied for loans under both the PPP and EIDL programs and has already received funds from the PPP.
One of the main purposes of SBA's Paycheck Protection Program is to provide a direct incentive to small-business owners to keep their workers on the payroll. SBA will forgive the loans if the small-business owners maintain the number and compensation level of employee for eight weeks and the money is used for payment of payroll, rent, utilities and/or mortgage interest.
As of April 16, SBA's 4,975 participating lenders approved 1,661,367 PPP loans throughout the country. In Utah, SBA's participating lenders approved 21,257 PPP loans for a total of almost $3.7 billion. This volume represents more than 17 times what is normally processed in the state in a year. About 74 percent of all PPP loans have been approved in an amount of $150,000 or less.
As a result of the COVID-19 pandemic, small-business owners are also eligible to apply directly to SBA for an Economic Injury Disaster Loan, including an advance of up to $10,000 that does not need to be repaid. These loans will provide much-needed economic relief to businesses that are currently experiencing a temporary loss of revenue.
This EIDL program is for small businesses with less than 500 employees, including sole proprietorships, independent contractors, self-employed persons, private nonprofit organizations and farm and other agricultural-related businesses affected by COVID-19.
As of April 20, 2020, SBA has approved 26,919 EIDL loans totaling $5,566,913,788 nationwide. In Utah, 339 EIDL loans were approved totaling $74,665,900. Nationally, SBA processed 755,476 EIDL advances totaling $3,293,963,000. In Utah, the number of advances processed was 6,436 for a total of $30,419,000.
After this crisis comes to an end, getting back to our routines will continue to be a major challenge for many individuals and businesses. Even so, I know that resilient Utahns will continue to look for new opportunities, look out for each other and will prosper again.
The SBA Utah District Office will continue to work with you and our resource partners to answer your questions and help you access the resources you need. Please direct your questions to utahgeneral@sba.gov or call (801) 524-3209.
For additional resources, smallbusiness owners are encouraged to visit www.sba.gov/coronavirus, and please remember to follow us @SBA_UT and subscribe to our newsletter at www.sba.gov/ut under email updates.
Marla Trollan is the SBA's Utah District Office director based in Salt Lake City.