By Shane Wayment and Dennis Cigana

Keeping project costs manageable is essential to winning business as a general contractor, but so is uncompromising quality.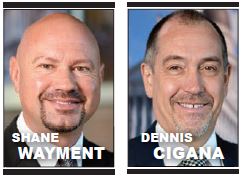 In Utah, the solution to the tension between these two factors has been continual innovation within the industry. Over time, successful general contractors in the market have learned to do the work of their projects more efficiently and with the same rigorous quality controls through the development and implementation of all sorts of inventive cost-effective techniques.
One such method that is gaining steam in Utah with builders and developers alike is tilt-up concrete construction. Although it has been around a while, only in recent years has the local building market started to fully embrace tilt-up's ability to add cost value to a project, as well as its versatility as a worthwhile method on a variety of different kinds of structures, said Jacobsen Construction Co. concrete project manager Shane Wayment. Jacobsen significantly ramped up its tilt-up work in 2019, indicating a significant market shift toward innovating with tilt-up concrete in non-traditional ways.
"It's natural for people to assume, if they've never built using tilt-up methods, that they should stick with their usual way of doing things," Wayment said. "But I think people are starting to see we can be more innovative with tilt-up than ever before."
In tilt-up concrete work, entire concrete panels are poured or placed while lying horizontally at the job site. When a concrete panel has gained requisite strength, it is then hoisted — or tilted up — using heavy machinery and fitted snugly into the structural frame of the building. This is a significant departure from placing concrete in precisely its final position in the building, and there are major advantages to tilt-up work related to cost and project schedule, said Dennis Cigana, Jacobsen executive vice president of preconstruction.
"Tilt-up is the most economical way to build a big warehouse building. It really goes up quickly," Cigana said. "If you do a tilt-up structure, it's a lot quicker and takes less manpower versus if you were to do a masonry steel structure. It's less labor and less time."
Increased safety is a definite benefit for builders, as well. By completing entire concrete panels at ground level, safety is enhanced and workflows are sped up, Wayment emphasized.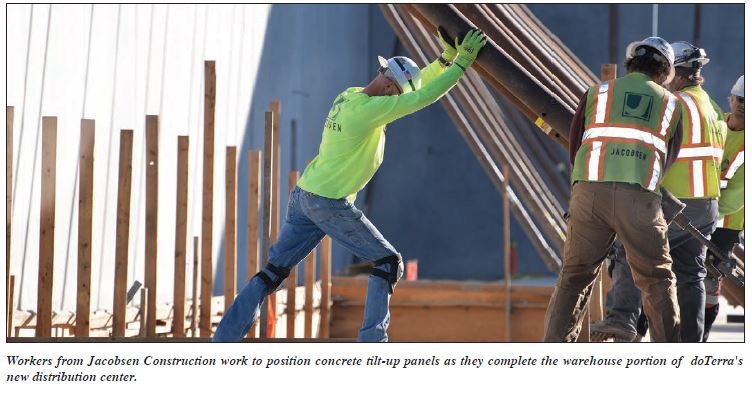 "Tilt-up work is typically a safer type of construction where you don't have guys needing to climb on walls to conduct form work. You're not working at heights, and, of course, working at heights is a big safety concern and requires a lot of precautions," Wayment said. "Anytime you're working up in the air, it takes longer to do and it's not as safe as ground-level work."
In addition to tilt-up, the construction industry, over the years, has also tried its hand at concrete panel pre-fabrication, known as precast work, which involves setting horizontal concrete panels in a controlled, indoor environment offsite and then transporting the panels to the job. Like tilt-up, precast is implemented to cut down on time and cost and make projects safer, "and the practice of precast was giving tilt-up a good run for a while there," according to Wayment. However, the transportation of massive panels to the work site has proven to consistently be a significant logistics hurdle, he says, which leads him to believe tilt-up is likely to be the more predominant concrete work trend long-term.
"I don't really see precast taking over, with the way tilt-up methods are coming on strong," Wayment said.
Tilt-up work has historically been put to use mainly on large warehouse projects, for which simple designs and large layouts have long made it an easy value-adding choice, Cigana said. But tilt-up has become more sophisticated in recent years, allowing for reliable inclusion of windows and other important features in the concrete panels, and gone are the days that office building clients wouldn't also consider tilt-up work for their projects. With recent advances, office building design ideals, such as maximizing natural light in the building, are more attainable than ever before with tilt-up work.
"A big part of recent interest in tilt is that we now have more options with what we can do with the look of the building, and give it less of a stereotypical 'tilt-up look,'" Wayment said. "Including big windows or openings is now really common — we see that a lot. And for the panels themselves, I think people are starting to see that we can be more innovative with their patterns, designs and shapes."
Because of this, Wayment expects a noticeably larger number of office building projects will soon start employing tilt-up methods.
"I think we're going to continue to see more and more of those three- and four-story office buildings going the tilt-up route," he said. "We've had some really good-looking tilt-up buildings going up the last couple of years and I think that's going to start catching the eye of more and more architects and developers."
Warehouse projects, which have already widely adopted tilt-up concrete methods in Utah, "will simply continue to grow" their adoption of the practice, Wayment predicted.
Cigana expressed a similarly positive outlook for tilt-up as a long-term trend that will save money for more and more clients while maintaining the high-quality concrete work standards that are rightly expected.
"Our industry in Utah has kind of fine-tuned it and got better at it," Cigana said. "The engineers have embraced it and we have a good base of contractors in the state who are willing to build this way. I know that here at Jacobsen we are certainly gearing up to lead this trend going forward."
Shane Wayment is a concrete project manager at Jacobsen Construction in Salt Lake City where he has responsibility for working with project teams to develop 3D preconstruction and construction models used in field operations.
Dennis Cigana is the executive vice president of preconstruction at Jacobsen and oversees the company's preconstruction and estimating departments. He has been with the company for 21 years.