By Kelsey Chugg
According to the National Golf Foundation's 2019 "Golf Industry Report," more than one-third of Americans over the age of 5 played, watched or read about golf last year.
Golf is no longer a game only for the elite and privileged. New programs, policies, technology and ways to play have piqued interest among women, children and minority groups.
The game of golf is evolving faster than ever.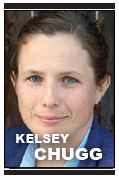 Leading organizations are quickly responding to the new generations of golfers who demand alternatives to the game that carries a reputation for being slow.
The game is profiting from off-course activities such as Topgolf, a lounge-sited game where micro-chipped golf balls are hit at targets in an outfield, and other simulator golf venues. These options are appealing to those who want a relaxed social experience or to those who just want to get a few swings in after work.
Time is Money
Benjamin Franklin coined the term "time is money." In the demanding and hectic world today, our time is more valuable than ever. Golf has been at a disadvantage because of the time it takes to play, so golf courses and innovators have had to rethink the game and how people access it.
The biggest industry changers over the past five years have been the multi-level, state-of-the-art driving ranges like Topgolf or Drive Shack. These multi-million-dollar facilities offer amazing golf and social experiences in short time periods.
Though many golf courses may not like the competition these futuristic businesses pose to their operations, they can't deny that the innovations have introduced the game to millions of people who may not have ever picked up a club otherwise.
Other organizations are looking for ways to advertise different ways to play golf on traditional courses. Over the past few years, the United States Golf Association has created a marketing campaign called "Play9" to promote the benefits of playing nine holes instead of 18. Many green-grass facilities are also adjusting to the needs of their customers by offering the ability to pay by the hole or by the hour.
Many business leaders are also adapting their corporate outings by choosing nine holes as an alternative to the all-day 18-hole option. The choice to play nine, dine, socialize and be back in the office by noon often makes it easier for their staff to participate in the function without missing out on important work or family functions.
It's Complicated
Even if you have played the game for 20 years, knowing every intricacy of the rules, handicapping and the swing can seem daunting. Many leading organizations have taken the initiative to create simplified policies and ways to learn the game.
The United States Golf Association and the Royal and Ancient Golf Association, Britain's governing body for golf headquartered at St. Andrews Golf Course in Scotland, have been working collaboratively over the past few years to create the new simplified "Rules of Golf" and the world handicapping system. Both have been streamlined to make golf less intimidating and easier to understand.
Golf instructors are also looking to simplify the game through technology and teaching methods and programs that break down each part of the game for students and teach them to score.
Let's Make It Easier
Ultimately, if evolution through ideas, programs and technology doesn't continue to happen in the golf industry, the game will not be appealing or accessible to new players.
Advances in technology are shaping the way the game is played and changing the industry and the future of the game. Whether it's through distance-measuring devices, clubs, simulators, mobile apps or swing analysis software, many companies are searching for ways to make the game easier to learn and more enjoyable.
Just 20 years ago it was rare to find clubs designed specifically for your swing speed and physical limitations, but now equipment manufacturers are constantly pushing the limits with clubs designed to provide more distance and more forgiveness and there are thousands of options for players of all ages and ability.
A great example of a company thinking outside of the box recently is a golf ball manufacturer Volvik, which released a ball that goes 10 percent further than a normal ball. It is smaller and heavier than a ball that conforms the Rules of Golf, so it can't be used in competition, but it will make the game more enjoyable for the casual player.
Recently, at the Professional Golfers' Association of America's annual merchandise show, several manufacturers previewed the first golf technology featuring artificial intelligence designed to learn your swing and provide practice tips. Though they warn it's not a substitution for a lesson from a golf professional, it is an exciting look into the future of golf.
As the game and those who run it adjust to the wants and needs of the public, watch for golf to make more of an impact, both socially and economically.
Kelsey Chugg is the associate director for Salt Lake City Golf, which operates six municipal golf courses in the Salt Lake City area.