By Danny Stewart
In January 2017, Gov. Gary Herbert challenged Utah businesses to create 25,000 jobs in the state's rural counties by the end of 2020. The Cedar City area took that challenge seriously. In just two years from the governor's request, 2,172 new jobs were created in Iron County. That's an astounding increase of 12.29 percent. This growth wasn't unique to just one or two job sectors but was spread across almost every category.
The local office of economic development would love to take credit for all of that success, but the reality is that Cedar City finds itself in exactly the right place with just the right resources for businesses to thrive. The fact that the city's leaders continue to welcome business growth makes the road to success even smoother.
When it comes to economic prosperity in rural Utah, Cedar City has several unfair advantages. First, it's located perfectly for work and for play. Businesswise, it's very helpful to be located within one day's trucking of major western markets, including Los Angeles, Phoenix, Las Vegas, Salt Lake City and Denver. It's also nice to be the commercial center for numerous smaller communities from across various county and state lines.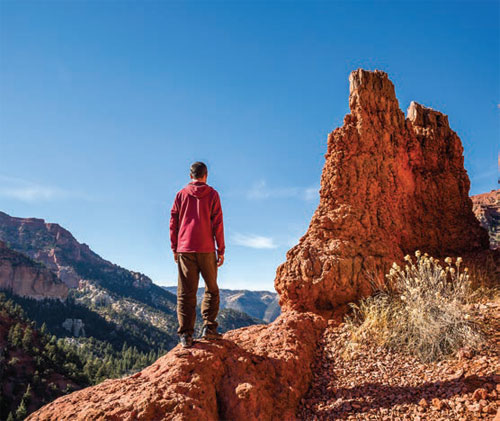 Hiking amid world-class scenery is an amenity available to residents
and visitors to Iron County's Cedar City.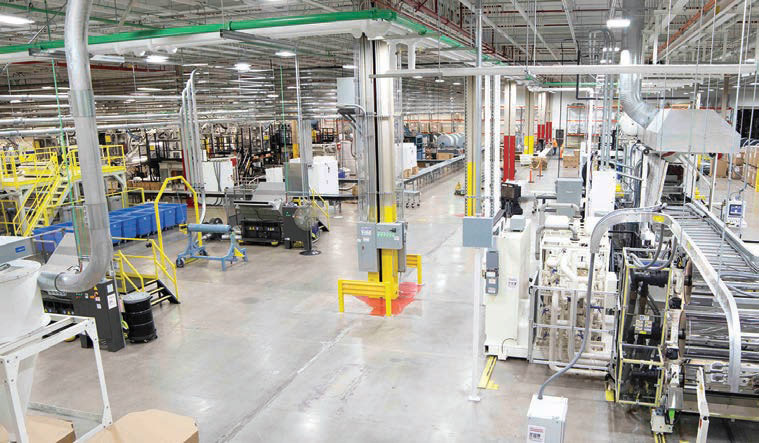 The manufacturing industry continues to grow in Cedar City as witnessed by the manufacturing floor of Genpak Plastics.
Recreationally, it's ideal to be surrounded by nearly every kind of terrain imaginable. There are lush alpine forests, rugged high deserts and majestic red rock destinations just minutes from downtown. Cedar Breaks National Monument, Zion and Bryce Canyon national parks, Brian Head ski and summer resort, and thousands of acres of public lands are all nearby. At a mile-high elevation among the convergence of the Colorado Plateau, the Great Basin and the Mojave Desert, Cedar City has four distinct seasons, with opportunities for adventure throughout the year.
Among Cedar City's economic advantages is its long list of amenities that are not common to most rural locales. There aren't many communities of 32,000 residents that are home to a university, a technical college, a dedicated railroad spur, a regional airport, a world-class theater company and lots of room for expansion. Tourism opportunities in Cedar City contribute another economic element, as millions of dollars are brought into the community each year by visitors from around the world who come to experience the parks and to attend the Tony Award-winning Utah Shakespeare Festival. These ingredients have created a perfect environment for a diverse and thriving economy.
One of the most sought-after resources in today's economy is a qualified workforce. This is an area where Cedar City excels. Southern Utah University has been an integral part of the community since its founding in 1897. Today, SUU is Utah's fastest-growing university, with 11,224 students enrolled, representing a 10.1 percent increase in the past year. Recent innovations, including a three-year bachelor's degree program and a cooperative dual enrollment program with Southwest Technical College, are evidence of the university's "student-first" goal.
The university's Larry H. and Gail Miller Family Center for Entrepreneurship provides mentorship, monthly networking events, a lively entrepreneurship club and new programs in development. This gives students of all disciplines access to resources to start a business. This program has led to the creation of successful companies that are thriving in Cedar City, including online retailer Outdoor Vitals and a local outdoor gear retail and rental shop, Cedar Sports.
SUU has also developed an aviation program that is looking to fill a nationwide need for pilot training. Created in 2013, the program offers both fixed-wing and helicopter pilot training. Today, the program is training 10 percent of the nation's new helicopter pilots and a significant number of airplane pilots. Plans are already underway to create a new aviation maintenance technician program, set to begin next year. This program will mesh nicely with the state's Aerospace Pathways Program, which expanded into Cedar City in 2019.
The Aerospace Pathways Program started in the Davis and Granite school districts in Northern Utah in 2015, creating training programs that begin in high schools, advance to technical colleges, then provide on-site internship training at aerospace companies. In Cedar City, local company MSC Aerospace worked with Southwest Technical College, the Governor's Office of Economic Development and the Iron County School District to expand this program in Southern Utah to help train new employees for its Metalcraft Technologies and SyberJet companies. Adding SUU's aviation maintenance technician program is a natural fit for this program.
Southwest Technical College is part of the state's system of technical colleges. It is headquartered in Cedar City and serves all of Iron, Beaver, Garfield and Kane counties with more than 20 accredited programs in fields of automotive, business, computer science, culinary arts, digital media, health professions, industrial maintenance and automation, professional truck driving and welding.
Students graduating from these programs are finding more and more opportunities to remain in the community as Cedar City's job creation continues to expand in many areas. New positions in healthcare, construction, information technology, manufacturing and business finance allow some students to live in the community after graduation as Cedar City continues to grow at a rapid pace. In 2018, Iron County had the highest growth rate of any county in the state at 3.6 percent.
All this recent growth has inspired the Cedar City Chamber of Commerce to take the lead in a new community visioning program to help guide the path toward a healthy community identity for the next 30 years. Dubbed "Vision 2050," the chamber is working with community leaders to help ensure that the city continues to maintain its unique identity while the population is projected to double during that period. Efforts to protect historic parts of the community; to enhance the traditional downtown area; and to meet future needs of transportation, infrastructure, education, arts and culture, business, healthcare, etc., are being addressed through this program.
Looking ahead, Cedar City strives to find the best use of its assets to direct growth in a positive way. The Cedar City-Iron County Office of Economic Development is working with its committee of county, city, school district and water conservancy district leaders to ensure that its efforts are focused on a healthy future for the community, aiming to grow local companies, preserve community identity and to attract new businesses that bring higher-paying jobs.
The recent announcement that GOEX Corp. is expanding its operations from Wisconsin into Cedar City is an ideal example of this effort. The company will build a 120,000- square-foot facility in the 540-acre Port 15 Industrial Park, bringing 100 new jobs. GOEX joins Charlotte Pipe, Genpak, Bway/Mauser, WL Plastics, GAF and other plastics manufacturing companies that transport raw materials in via rail and ship out a variety of products – primarily to western U.S. markets.
Cedar City's growing, diverse economy and its vast opportunities for healthy expansion make this community an example of how economic success along the metropolitan Wasatch Front can also be achieved in Utah's outlying rural communities. The designation of two qualified Opportunity Zones in Iron County, the potential to develop a rural spoke of the Utah Inland Port and the development of thousands of acres of solar electricity facilities add even more elements to this successful equation.
Cedar City's business future is certainly bright.
Danny Stewart is the director of economic development for Cedar City and Iron County. He also serves as a member of the boards of directors for the Cedar City Chamber of Commerce and Southwest Technical College.