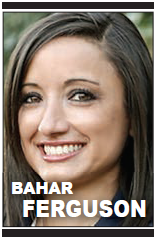 By Bahar Ferguson
Real estate has not only rebounded over the past few years, it has soared to new heights. The absurdly hot real estate market has resulted in tech companies launching endless applications in an attempt to keep up with demand. Like most other technological applications, these are designed to help make every aspect of real estate easier and more efficient.
Traditional images of a home that's for sale just are not cutting it in today's competitive market. If a real estate agent wants to give their listing a competitive advantage, aerial and 360-degree imaging is a must. These are not just unique images; they are informational and provide greater detail to potential buyers.
Aerial photography has become increasingly easy and cost-effective thanks to the progression of personal drones. With drones, agents can give angles of the house that's for sale that were previously unavailable. Potential buyers can now evaluate the condition of the roof, see what views the home may offer and survey the surrounding land.
Drone manufacturers, like the industry-leading manufacturer DJI, have come out with options for every budget and every application. Even their low-cost model, the $399 DJI Spark, still has a wide range of features. The spark has a 12-megapixel camera that is on a stabilized gimbal. It has a top speed of 31mph and a range of just less than 1.5 miles. You can get all this without breaking the bank. However, if you're interested in a more advanced model, you can go all the way up to the $3,000 Inspire 2, which is capable of speeds up to 58 mph and a range of over 4 miles.
Drones will have the exterior of the house covered, and 360-degree cameras will cover the inside. These cameras give the potential buyer the ability to see every angle of the house. They can even click and drag around to view where they want. These can also be turned into a virtual tour much like street view on Google Earth.
These cameras can become expensive quickly, so it is important to determine what exactly your needs are. A company called Theta offers a few options of 360-degree cameras that all have different features. A great middle-of-the-road option from Theta is the $380 Ricoh Theta V.
This camera can obviously shoot 360-degree images and videos, but it does it in an impressive 4K resolution. There is also an option to live-stream in the same 360-degree format. Realtors can use this feature to do live walk-throughs of a property as an alternative to coming to the open house.
Another real estate marketing strategy that has emerged from technology is custom websites. Platforms like Koaware provide an automated website building process for Realtors and private home sellers. These websites are easy to create and low-cost. You can create one for as low as $13 and in as little as two minutes.
These custom websites require no coding and are very user-friendly. You can add images, videos and 3D floor plans. Editing text is a breeze and attaching an easy contact button/form leads to higher lead generation. While these websites are for individual houses, Koaware also has custom websites for agents.
The agent websites created by Koaware can be 100 percent premade or completely coded to your desire. Like Zillow or any other real estate searching application, these websites offer tools like map search, videos, blog posts and many other filters. All websites are mobile friendly and will help with your SEO (search engine optimization).
A recent creation born from technology that is creating quite a disruption in the real estate market is Homie. Homie is revolutionizing the home selling and purchasing process by eliminating the 6 percent commission fees paid to Realtors upon sale and they claim to have already saved their customers over $42 million.
On Homie, a home seller will list their home on Homie's website for $199 and only have to pay $1,299 upon selling. That is a small percentage compared to most home sale commissions and users love their savings. Purchasing though Homie is just as easy and costs nothing.
Just because Homie doesn't provide a traditional real estate agent doesn't mean you are on your own. They give you access to attorneys and real estate agents to assist with any contract or listing questions. You can also rely on them to help with handling home loans through their sister company, Homie Loans, where they also strive to lower commissions and costs.
One of the tedious aspects of real estate and the house purchasing process is the signing of countless documents. Thankfully for Realtors, homeowners and home purchasers, DocuSign has created a quick and simple signing application. With DocuSign, important documents are sent via email and can be signed anywhere on a mobile phone.
When you get a document that is ready for your signing, all you have to do is provide your signature, approve your initials and then tap through all the requested signature spots. Every requested signature spot that you tap will be auto-populated with your signature. This makes the signing process simple and quick. Speed and ease is nice, but be sure that you are still reading the contract and know what you're agreeing to.
These two hot markets — real estate and technology — have sparked some creative and useful tools that you will probably be grateful for at some point in your life. So, whether you're buying, building or selling real estate, there is going to be some sort of technology that was specifically made to help assist you on that journey.
Bahar Ferguson is the president of Wasatch I.T., a Utah provider of outsourced IT services for small and medium-sized businesses.