By Eric Stratford
For the past several years, we have been experiencing a great economic upswing in Utah. Economists continue to predict a bright future — or, at the very least, a continuation of what we have seen in the past few years. Consumers continue to purchase, businesses are thriving and we are enjoying low unemployment rates.
All of these factors combined should make embarking on a construction project to help your business take its next leap forward a snap, right?
Wrong.
While Utah has an exceptionally talented group of commercial contractors for you to choose from, we're also facing a labor shortage and consistent increases in material prices that complicate the construction of your next project. These two factors, aside from the myriad other challenges to getting a project off the ground, can slow down your big next step — or even kill it entirely.
So, what's a growing business to do? Here are some tips that will help get the construction of your project going and set it up for success from groundbreaking through ribbon-cutting: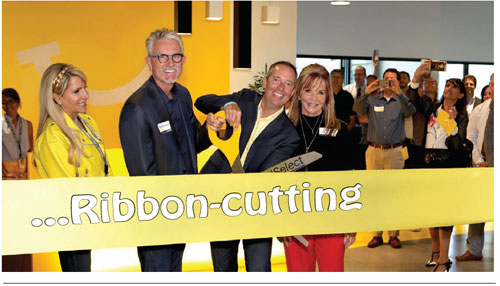 Involve a general contractor from Day One
When you start working with a design team to conceptualize and/or design your building project, get a general contractor involved early on. If all you have is a "pie in the sky" dream about your building or even perhaps a "napkin drawing," a GC can give you rough square-foot costs. If you're farther along in the design process, a GC can give you a more accurate budget as details are added to the design.
Keep in mind that not all cost models and budgets are created equal. Do your homework. Be sure that you are working with a contractor that provides accurate cost pricing. Ask colleagues and lenders for contractor references with a reputation for providing accurate information. If you know that you're working with a general contractor that will watch out for your best interests and genuinely think through all aspects of your project, your budget will be more dependable. In the early stages of a project, you want a contractor that builds an incredibly accurate budget so that you are working with the best information possible to make critical decisions.
Understanding your costs isn't everything. A general contractor can weigh in on other project elements early on. They should be an expert on the advantages and disadvantages of various building types, constructability, materials selection and even site conditions and how they impact your budget, schedule and final product.
A really good general contractor will also have positive working relationships with permitting entities, such as cities and counties, to help move your project through government red tape more efficiently. If you involve a general contractor during the design and permitting phase, by the time you are ready to break ground, you will have worked out many of the kinks in your project and it will go more smoothly during construction. This brings us to tip No. 2.
Know what you care about and communicate it early
Some clients are focused on a reasonable return on investment for their business or investors. Others want a green or highly sustainable building that will last for years to come. Some are bursting at the seams and need space ASAP. Still others want the "wow factor" that comes with an ultra-modern, aesthetically pleasing building.
Here's a secret: Just about any reputable contractor can build a building to suit your needs. The really good ones want to understand what it is that you value most so they can give it to you in a way that makes the building process a good experience. Your priorities shape the way contractors approach a project. If you tell them the budget is tight and you want to find ways to save money, they will constantly look for more affordable materials or processes to substitute (value engineering). If you indicate that building longevity is the most critical element then they will help analyze life cycle costs of materials and systems you put in the building. If you tell them it is critical to know what happens on-site during construction every single day, they will provide that information to suit your needs. The bottom line is that if you don't communicate what is most important to you, your general contractor can't give you the best possible customer service and an awesome building experience you desire and deserve.
Have realistic expectations about the construction process
If managing a construction project were easy, you would do it yourself, right? The truth is that managing the innumerable moving parts on a jobsite is both an art and a science. The goal of every contractor working today is to manage the costs, schedule and quality of a project within the bounds of the client.
Great construction companies set themselves apart by managing the construction process in a manner that is low-stress to you, the owner. A big part of that is helping owners understand that yes, things will go wrong, but that they have a solid team working to correct issues, both large and small, in real time. Every project will face some sort of challenge during construction; there is simply no way around it. Good general contractors are defined by how they handle and communicate solutions to these challenges. During design, your architect-contractor team understands your vision and priorities (because you took tips No. 1 and No. 2 seriously), so you should expect them to come up with creative proactive solutions to the challenges that arise on your project. They are experts who want to give you what you want, but they will be seriously limited if you aren't willing to let them explore some options to meet your needs.
The best general contractors will bring solutions to the table and approach them with a team spirit, asking for input from all the owner, architect and subcontractor team members. Having the expectation that a project will have challenges is realistic, but expecting your general contractor to help solve the challenge in a proactive teaming approach is an equally realistic expectation.
Eric Stratford is the director of preconstruction and business development at R&O Construction in Ogden, a general contractor that deals in light commercial, multi-family, warehouse, retail, municipal, education and government projects.