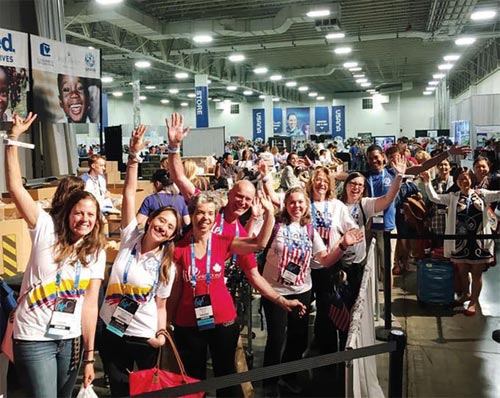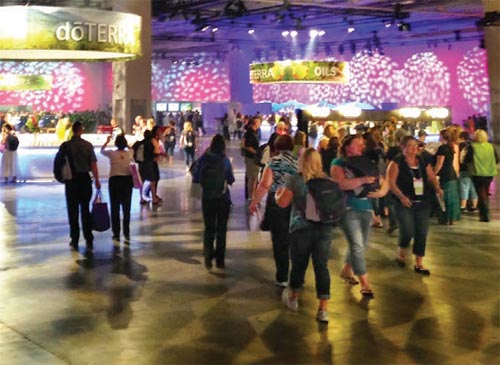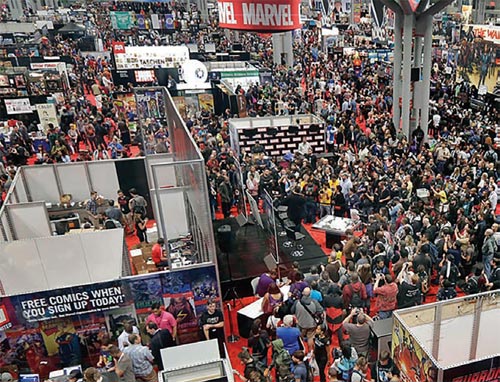 Visual evidence that the Salt Lake City convention industry is doing just fine includes recent conventions of USANA (top), doTerra (center) and Comic Con, all at the Salt Palace Convention Center.
By Brice Wallace
Gone are the twice-annual Outdoor Retailer trade shows and their $50 million annual impact, but don't yet write the obituary for Salt Lake County's convention industry.
At a recent news media gathering ostensibly to promote energy sustainability certifications attained by the Salt Palace Convention Center, county and convention leaders maintained that the local convention industry itself remains energized and sustainable. While the loss of the OR shows was a gut punch, it was by no means lethal because Salt Lake has maintained its largest convention, which could grow even bigger; is looking for other gatherings to fill the gap left by OR; and continues work toward the building of a convention headquarters hotel.
"We never want to lose a customer, but what we know is that we have a lot of shows here — 56 citywide conventions here, doTerra being the largest," said Salt Lake County Mayor Ben McAdams. "And every time we lose a customer, we want to ask ourselves what we can do better to retain them. … We're picking ourselves up and continue to move forward and attract new conventions to come here and visit the Salt Lake area, and we know we have a lot to offer."
Scott Beck, president and chief executive officer of Visit Salt Lake, also stressed that OR was just two of 56 citywide events — defined as those that use more than 750 hotel rooms on peak nights and use the Salt Palace. "We have been and will continue to be more than just the OR shows," he said.
Outdoor Retailer's Winter Market usually had about 25,000 attendees and a $22 million economic impact. The Summer Market usually had about a $27 million impact. But the shows pulled out after this year's summer gathering and will have them in Denver going forward.
To try to fill that gap, Visit Salt Lake will focus on bringing in other trade shows, aided by the Society of Independent Show Organizers. Beck noted that of the 54 non-OR shows this past year, 24 will not be in Salt Lake City again — part of a typical churn of losing events and gaining events.
"Every year, we bring new groups into the community. What we do is bring new groups to Salt Lake. What we're doing [now] is what we do every single day. … The convention business has a bright future and has been very strong," he said, noting that this year's revenues for local hotels and restaurants will surpass last year's amount "and 2018 looks to be very strong."
Helping maintain the convention industry's health is doTerra, an essential oils company whose recent four-day annual global convention in Salt Lake City attracted 30,500 people from 68 nations. They had a direct economic impact of $29 million.
DoTerra has had its global convention in Salt Lake since 2008, and this year was the third consecutive year for it to be the largest citywide convention in Salt Lake County, even with OR. Ninety-four percent of attendees were from outside Utah and Utah's language translation support was "mind-boggling," according to Kirk Jowers, vice president of corporate relations and European markets for doTerra.
"There was really no place on Earth that could hold this type of convention as successfully as Salt Lake," said Jowers, who said the company believes its annual convention in Salt Lake County could grow to as much as 45,000 attendees.
"OR was unique," Beck acknowledged. "It's going to be hard to find things to replace OR. What will replace OR will be growth in organizations like doTerra. People forget that when OR started, it was 6,000 people. OR didn't come to the community as a 30,000-person convention. OR grew into that. So I think there still is a proven track record, and the viability of growing a lot of our ongoing, repeat conventions is very, very high."
Already, Beck said, several citywide conventions and events are booked through 2030.
"Rest assured that Visit Salt Lake and Salt Lake's hospitality community will continue to work hard to continue the long-term success of the meetings and convention and leisure travel industry that provides so much economic support to our community," he said.
McAdams described OR as "a unique convention" and added that "it always hurts to lose a big convention like that."
"Losing two big shows like that, the OR shows, certainly hurts, but we hope that they'll come back and we're going to work to replace the hole that that leaves in the schedule in the meantime. … Salt Lake County is a prime destination for conventions. We continue to innovate and grow … and continue to be on the cutting edge of attracting visitors and conventions to the Salt Lake metro area."
OR had long sought a large hotel at or near the Salt Palace to help accommodate its growth over the years, and the development of a convention headquarters hotel remains on track. While the hotel was never planned to address just OR's needs, "not having the hotel makes finding someone to replace Outdoor Retailer harder," Beck said.
Salt Lake County is still negotiating with the developer, DDRM, based in St. George, on the $300 million hotel, which will include about $25 million in local government tax incentives for certain parts of the new structure. The hotel likely will have 700-800 rooms and 80,000-100,000 square feet of ballroom space. Among the possible locations are the south or north ends of the Salt Palace property, as well as several sites nearby.
McAdams said Salt Lake needs the headquarters hotel because it has lost out on conventions to competing cities that have such a facility.
"The convention center hotel is one that we know is necessary for conventions of all sizes," he said, noting that the ideal convention for Salt Lake has about 8,000 attendees. "To have a convention headquarters hotel located here adjacent to the Salt Palace is a missing ingredient that we find as we're trying to attract new conventions and retain existing conventions."