From humble beginnings in Smithfield in 1952, Staker Parson Companies has grown to become one of Utah's leading suppliers of quality sand, rock, landscape products, ready-mixed concrete, asphalt, paving and construction services. The company is a 13-time Utah Best of State medal winner, former Utah Manufacturer of the Year and is the Engineering News Record's 2015 Mountain States General Contractor of the Year.
Humble Roots
The company's history began in 1927 when 15-year-old Jack B. Parson boarded a train and headed off to help his father build roads. That summer's experience developed into a lifelong passion for Jack as he quickly learned to operate every piece of equipment in the fleet and gained a wealth of experience in the construction industry. In 1952, Jack founded Jack B. Parson Companies in Smithfield. With a vision to supply quality construction materials and expert construction services, the company grew to become one of the largest of its kind in Utah and Idaho.
Stuart, Val and Gordon Staker founded Staker Paving and Construction Company in 1969 and the company grew to be one of the largest asphalt paving firms in the western U.S. Jack B. Parson Companies (JBP) and Staker Paving and Construction Company merged to form Staker Parson Companies in 2001.
Building a Legacy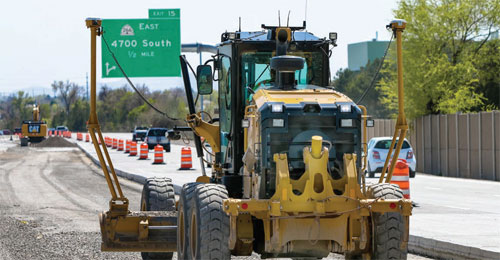 A Staker Parson road grader works an I-215 project in Salt Lake County
A company doesn't endure for more than 65 years without encountering — and more importantly, overcoming — challenges. High interest rates and increased energy costs created a challenging business environment in the 1980s. Businesses had a difficult time paying off debt and the spike in operating expenses made it tough to break even, let alone make money on projects already underway.
Jack B. Parson Jr., former JBP president, recalls, "There were times when I wondered if we would make it through the '80s. The costs to do business skyrocketed and margins on work were extremely tight. We refocused our business at that time and faced the difficult decision to auction much of our equipment. We became more selective in the highway jobs we bid, pursued new kinds of work and focused on our aggregates, ready-mixed concrete, asphalt and paving business."
JBP completed work for Great Salt Lake Minerals located west of Ogden during this challenging time. The project involved year-round work to rebuild dikes and provided much-needed revenue to help the company pull through those challenging times.
Accelerating into the Future
Staker Parson Companies' formula for growth and strategy for the future is to build its business to be the Intermountain region's preferred source for construction materials and services. Employing over 2,500 people from more than 50 locations, the company serves a variety of contractors, businesses, government agencies, municipalities and homeowners in Utah, Idaho, Nevada, Oregon and Arizona.
"I am very proud of the legacy built by my grandfather," said John Parson, former Staker Parson president. "He built his business to provide top-quality products coupled with excellent customer service. By following his formula for success, we have expanded our business so that we now offer the broadest variety of products across the widest geography of any supplier in Utah. Our success would not have been possible without our great customers and employees."
Staker Parson Companies has helped build some of Utah's most notable projects, including:
• I-15 Point Design Build Project
• I-15 CORE in Utah County
• Salt Lake International Airport
• Utah Data Center
• Adobe Systems Campus
• United States District Federal Courthouse
• City Creek Center
• Falcon Hill
• Utah Museum of Natural History
• UDOT I-15 Lane Gain Project in Davis County
• Utah State Capitol
• LDS temples in Brigham City, Ogden, South Jordan, Provo and Twin Falls.
Staker Parson's employees and projects are the recipients of local and national awards. In 2011, the company received the National Asphalt Pavement Association's prestigious Sheldon G. Hayes award, recognizing the UDOT I-15 Farmington to Gordon Avenue project as the single best highway pavement project in the nation. In 2015, Engineering News Record recognized Staker Parson Companies as Contractor of the Year.
Ready-mix driver Bob Lowery was honored by the National Ready Mixed Concrete Association (NRMCA) as the national 2011 Driver of the Year, and in 2016, driver Paul Chipman was recognized as Driver of the Year Runner Up. The NRMCA has also honored the company for Producer Excellence in Quality for two consecutive years and several of the company's read-mix plants earned the Green Star certification for strong environmental and sustainability initiatives.
The company supports community and education programs, including the Utah National Guard Charitable Trust, Parents Empowered, Habitat for Humanity, Boy Scouts of America and the Christmas Box House. Staker Parson's educational outreach program, "Rocks Build Our World," dovetails with the geology science unit for Utah's elementary school curriculum and reaches several thousand students each year. The company also helped found the Parson Construction Management Technology Program at Weber State University.
"In everything we do, we strive to safely build The Preferred Source for our customers, employees, and neighbors," said Scott Parson, Staker PArson president. "This was the foundation built by my grandfather — and it is the same way we conduct business today."
What does it mean to be The Preferred Source? To Staker Parson Companies, it means creating innovative products and solutions. It means safely building projects of the highest quality. It means developing and training employees. It means a quality and timely delivery with every load of material. It means supporting and giving back to the community. In short, it means award-winning safety, quality, service and innovation for over 65 years and looking forward to many more.