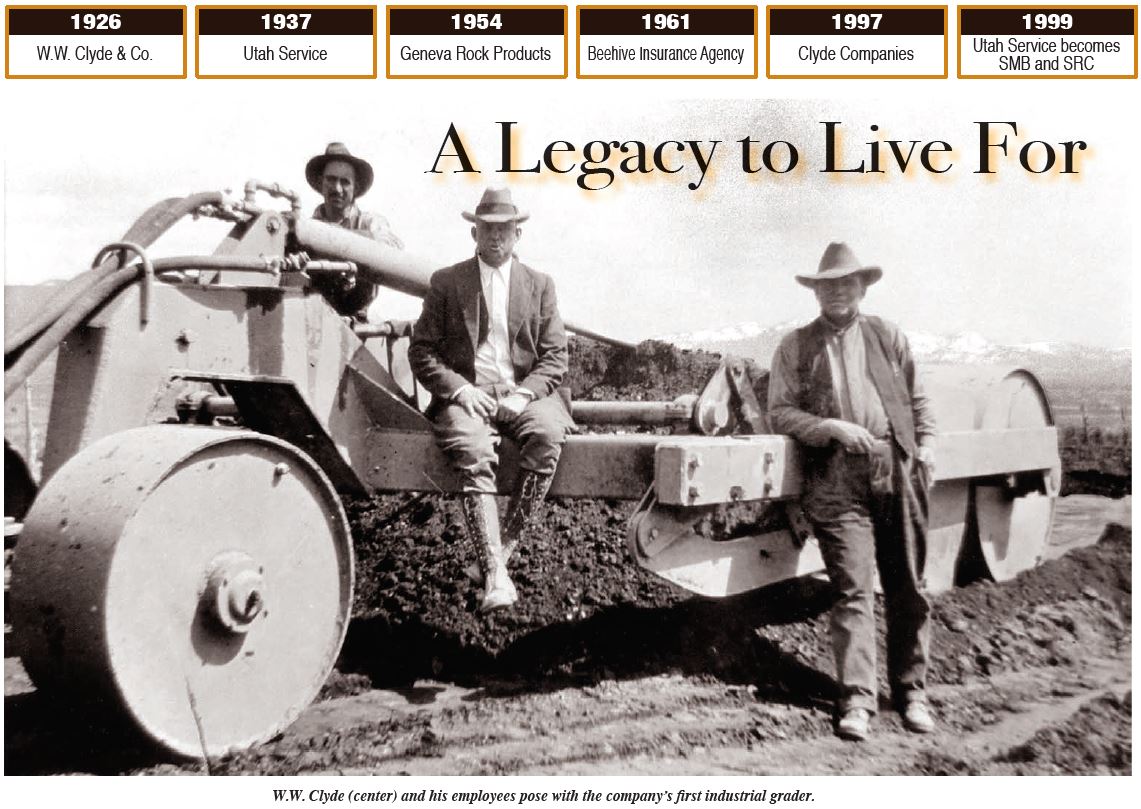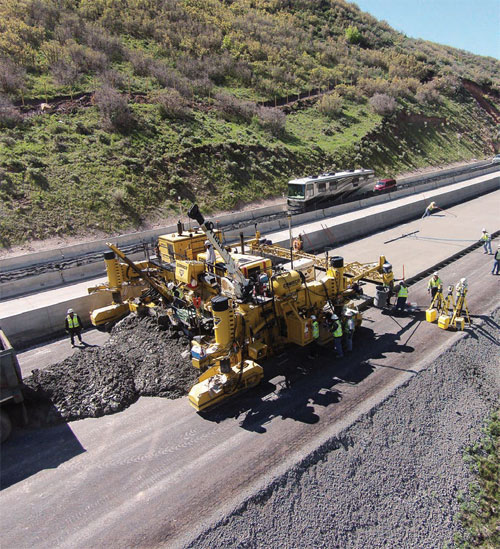 Geneva Rock crews conduct concrete paving on 1-80 in northern Utah on the Silvercreek to Wanship project in 2015.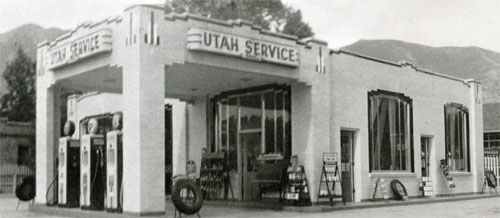 The original Utah Service service station on Main Street in Springville. The company would become Sunroc Building Materials and Sunroc Corporation.
After World War I, national calls for highway transportation support were met when Congress passed the Highway Act of 1921. This bill set aside $75 million per year — today's equivalent of nearly $1 billion per year — to help states build their infrastructure. The federal government also promised to match state-raised funds to build local roads.
It was during this pro-construction era, that a 33-year old Wilford W. Clyde, a straightforward no-nonsense businessman who went simply by "W.W.," joined with his wife's cousin, Blake Palfreyman, to pursue his first road contract in Nevada in 1923.
With little experience and a whole lot of vigor, W.W. and Blake left for Nevada with nothing but "a Fresno and four" — which meant a dirt-moving scraper and four horses.
From that project, W.W. said he "got nothing but experience — and a lot of it."
W.W. found his niche and his passion. With his head up and teamsters ready, W.W. made his way into the heavy highway construction arena. His Nevada project would be the first of hundreds of road-building contracts that would become W.W.'s legacy in the Intermountain West.
W.W. Clyde & Co.
After several joint ventures with business partners and relatives, W.W. formed his own heavy civil construction company, W.W. Clyde & Co., in 1926. The organization was officially incorporated under Utah laws in 1933.
"My grandfather was a hard-working, driven man with unyielding values," said Wilford Clyde, current Clyde Companies chairman and CEO. "He set the company on a road to success by leading by example. Work hard day in and day out. No shortcuts. Always valuing his employees, his project partners and delivering at or above the expectation of the project owner."
Last year, W.W. Clyde & Co. celebrated nine decades of successful heavy civil construction work. Today, the company operates under the direction of W.W.'s great-grandson, Jeff Clyde, with projects underway throughout the Intermountain West and Hawaii.
W.W. Clyde & Co. is the largest locally owned and operated heavy civil construction contractor in Utah.
Sunroc & Sunroc Building Materials
In 1937, Utah Service — which would become Sunroc Corporation and Sunroc Building Materials — opened its doors in Springville. W.W. created the business after recognizing a need for local building materials for his company and other area contractors.
What began as a single operation in W.W.'s hometown has grown into two multi-million dollar companies and more than 50 operations, retail hardware locations, aggregate facilities, construction offices, asphalt plants and concrete facilities.
Sunroc Building Materials operates under the direction of Greg Templeman. The company manages 11 locations in Utah and Idaho and supplies thousands of projects each year.
"For 80 years, this company has grown through the core values that were instilled by our founder," said Templeman. "Our commitment to deliver quality products and services at the best value, coupled with the promise that our word is our bond, have helped us build strong relationships and form valuable partnerships."
Sunroc Corporation — a ready-mix concrete, asphalt, sand and gravel, masonry and construction contractor — has also experienced longevity and growth.
In 2001, Sunroc purchased Gorge Rock in Wyoming and added Clements Concrete in Idaho to its team in 2008. Additional acquisitions in 2016, including Low's Ready-Mix and C&A Paving (both of Idaho), cemented Sunroc's presence and ability to perform throughout the Intermountain West.
The company currently operates under the direction of Jeremy Hafen in Utah, Nevada, Idaho and Wyoming.
Sunroc is the preferred contractor for many of the state's vertical construction leaders.
Geneva Rock Products
While most would relax after finding so much success, W.W. was far from finished.
In 1954 he formed Geneva Rock Products to provide ready-mix concrete for the Wasatch Front community. The company would eventually add asphalt, sand and gravel products, and a variety of construction services — including excavation, utility work and paving — to their repertoire.
Geneva Rock Products is currently Utah's top-rated concrete supplier.
"It's been the highlight of my career, to work for and lead an organization that has the history, reputation and legacy of Geneva Rock," said Jim Golding, the company's president. "I have proudly served this company for 33 years, all because of the way it does business. I couldn't be more proud to put my name on its work."
With more than 1,000 employees, Geneva Rock is the largest of W.W.'s companies today.
Beehive Insurance Agency
You know by now that when W.W. saw a need, he didn't look for a solution, he created one. To provide quality bonding and insurance coverage for all his business operations and project contracts, W.W. founded Beehive Insurance Agency in 1961.
The operation began in a humble office in Salt Lake City with J. Richard Walton serving as Beehive's first president. In the past 50 years, the company has grown from a single producer to an agency of 20 producers in an office of 50.
Beehive Insurance is currently under the operation of Doug Snow, and insurance is written for individuals, businesses and nonprofit organizations across the country.
Clyde Companies
In 1967, W.W. retired after 41 years of executive management.
The business continued to grow under the direction of wise leaders, skilled professionals and thousands of dedicated employees.
Clyde Companies Inc. was formed in 1997 to facilitate and provide the various administrative services required by the continually growing Clyde family businesses.
Today, the parent company is led by grandson Wilford Clyde, chairman and CEO, and Rhys Weaver, president and COO.
Clyde Properties
The newest Clyde venture is the Clyde Properties organization, which was formed in 2015. Under the direction of Paul Washburn and Brandon Henrie, the company is busy creating residential and commercial developments for Utah communities.
The company's most notable project is Desert Color, a 10,000-resident-unit development on the Utah/Arizona border that will span 3,300 acres.
2017
With a workforce of 3,100 and more than 100 locations, the Clyde Companies collaborate on more than 500 projects each year. The company is proud to have been involved in almost every aspect of building and construction in the Intermountain West for nearly a century.
Clyde Companies' goal is, and always has been, to "Build a Better Community."