https://slenterprise.com
801-533-0556
---
This week in The Enterprise
Sunday, March 15, 2020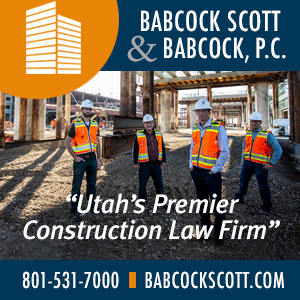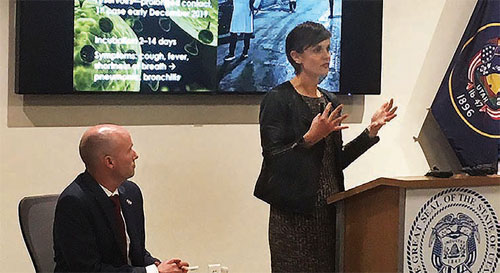 State leaders: Be prepared, but don't panic about virus
By Brice Wallace While Utah had only three confirmed cases of coronavirus as of the middle of last week, a group of prominent government and business officials were encouraging individuals and businesses to be prepared because that number likely will grow."The key is we don...
---
California fintech coming to Utah with more than 500 jobs
A California-based financial technology company will expand into Utah, bringing more than 500 jobs. Deserve Inc. made the announcement last week after being approved for a state incentive by the Governor's Office of Economic Development board. The incentive is tied to 258 jobs th...
---
Event highlights contributions of Utah's women-owned businesses
As women grow in their roles as business owners, they can become a growing force in international trade, Ana M. Guevara, deputy assistant secretary for U.S. field operations of the U.S. Commerce Department, told a recent gathering at the International Women's Day Celebration host...
---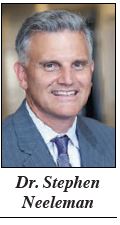 MWCN names HealthEquity founder Neeleman 2020 Entrepreneur of the Year
MountainWest Capital Network (MWCN) has named Dr. Stephen Neeleman, founder and vice chair of HealthEquity Inc., as its 2020 Entrepreneur of the Year. HealthEquity is a health saving account trustee and custodian founded in 2002. Neeleman was recognized during a ceremony on ...
---
Veteran leader Sarah Lehman named CEO of Lehi's Entrata
Property management software developer Entrata has announced major changes to its senior leadership team. The company has named Sarah Lehman as CEO and member of the board of directors, and John Schmidt as chief software architect. "We are delighted to have someone of Sarah's cal...
---
Grewe to head Utah Office of Outdoor Rec.
Gov. Gary Herbert has named Patrick "Pitt" Grewe as director of the Utah Office of Outdoor Recreation (OOR). "We conducted an extensive two-month search to find our new director for the Utah Office of Outdoor Recreation," said Val Hale, executive director of the Governor's Office...
---
IE Corp. acquires Baselayer Technology
Price-based power distribution engineering company IE Corp. has acquired edge data center company Baselayer Technology LLC. Edge data centers are smaller facilities located close to the populations they serve that deliver cloud computing resources and cached content to end u...
---
Vivint Smart Home announces upper management changes
Alex J. Dunn is stepping away from his position as president of Vivint Smart Home after 14 years at the company. He will remain an advisor to the company through March 2021. Scott R. Hardy, Vivint's chief operating officer, will assume many of his day-to-day responsibilities. "I ...
---
CORPORATE FINANCIAL REPORTS 3-16-20
The following are recent financial reports as posted by selected Utah corporations: Purple Innovation Purple Innovation Inc., based in Lehi, reported a net loss of $12.7 million, or 29 cents per share, for the fourth quarter ended Dec. 31. That compares with a loss of $5.4 m...
---
Upgraded restaurants and lodges part of Deer Valley's $14 million improvements
This summer, Deer Valley Resort will begin its biggest capital investment in over two decades with a $14 million improvement plan for the 2020-21 season. The summer work will be the beginning of resort owner Alterra Mountain Co.'s five-year plan for the resort that will total mor...
---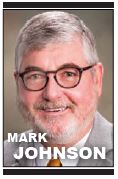 Utah County Update: Lehi: Transportation, parks and fiber optic network priorities for the city
By Mark Johnson Lehi City will focus on three primary objectives in 2020 which have generated much discussion. They are all related in some specific way to the issue that has concerned many in our community and much of our state: growth.I want to briefly frame what lies ahea...
---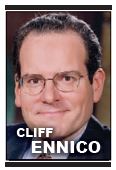 Succeeding in Your Business: Should you be a guinea pig for a new franchise?
By Cliff Ennico "I was downsized from a corporate job about a year ago. I have never run my own business before, but I am realizing now there is no future for me in corporate America (I am over 50 years of age), so I am looking at entrepreneurial options."My outplacement firm rec...
---
Calendar Highlights
Calendar listings are provided as a free service to our readers. Information about upcoming events may be sent to brice@slenterprise.com. The submission deadline is one week before publication. See the full calendar.
Pillar of The Valley Gala 2020 - March 24
A Utah Valley Chamber event. Location is Utah Valley Convention Center, 220 W. Center St., No. 200, Provo. Details are at thechamber.org.
---
Giant in our City 2020 - March 26
A Salt Lake Chamber black-tie, invited event. Award recipient is Gov. Gary Herbert. Location is the Grand America Hotel, 555 S. Main St., Salt Lake City. Cost is $250. Details are at slchamber.com.
---
Women in Business Spring Conference - April 14
A ChamberWest event. Location is Utah Cultural Celebration Center, 1355 W. 3100 S., West Valley City. Sponsorship opportunities available. Details are available at (801) 977-8755 or chamber@chamberwest.com.
---
Second Annual Valley Visioning Summit - April 15
An Association of Utah County Chambers event. Location is Utah Valley Convention Center, 220 W. Center St., Provo. Cost is $50. Details are at thechamber.org.


JOIN US ON FACEBOOK

FOLLOW US ON TWITTER

SEND US AN EMAIL