http://slenterprise.com
801-533-0556
---
This week in The Enterprise
Monday, March 9, 2020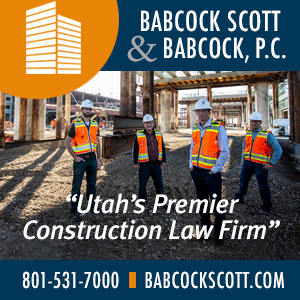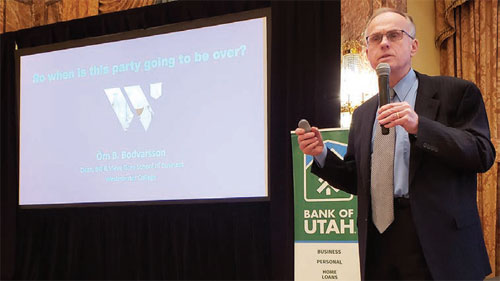 Utah's economy mirrors nation's, economist says
By Brice Wallace Think "Utah" and "party," and one might logically think "Republican." But Orn B. Bodvarsson instead concludes "economy." The state has been enjoying an economic party - outpacing the U.S. and other states - since the depths of the economic crisis of 2009-10,...
---
Initiative launched to preserve affordable housing
A coalition of Utah heavy hitters, including the Clark and Christine Ivory Foundation, Intermountain Healthcare, Utah Nonprofit Housing Corp. and Zions Bank, have launched an effort to address the state's housing shortage and affordability. Aimed at saving affordable housing that...
---
Utah's InMoment announces merger with Lehi's MaritzCX
Two Utah companies involved in the customer experience industry have announced an agreement to join forces. InMoment of South Jordan and MaritzCX of Lehi will combine under the InMoment banner with the latter operating as MaritzCX, An InMoment Company. The combined company will i...
---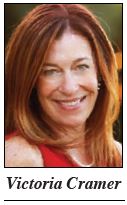 Cramer named new president of Lodging Dynamics
Lodging Dynamics Hospitality Group (LDHG), a Provo-based hotel management company, has announced that its board of directors appointed Victoria Cramer as president. The outgoing president, Joel Sybrowsky, while stepping down from day-to-day responsibilities, will c...
---
Arbiter buys FamilyID
Arbiter buys FamilyIDArbiter Sports, a sports and activities management software company based in Sandy, has acquired Boston-based FamilyID, a developer of programs for online registration for school and community programs. "The FamilyID acquisition extends Arbiter's offerings an...
---
Coronavirus postpones Qualtrics meet, others make adjustments
An abundance of caution over the global outbreak of COVID-19 (Coronavirus) has caused Utah tech giant Qualtrics to postpone its annual user conference originally scheduled this week in Salt Lake City. "The health and safety of our customers, employees and partners is our hig...
---
Here are ways to crack the prospect code and win more sales
By John Graham Why do so many meetings with prospects fizzle out and go nowhere? Is it just the way it is, so we should just accept it? Or, is it possible that our "this is what went wrong" explanations are merely excuses for failing to turn prospects into customers?As sure as Fr...
---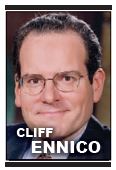 Succeeding in Your Business: Fool me once, shame on you; fool me twice ...
By Cliff Ennico "A couple of years ago, I was employed as the marketing director for a small, family-owned business. For several years in a row, this company saw huge increases in annual sales as a result of my efforts. Unfortunately, the owner died and the owner's son who took o...
---

Travel Recreation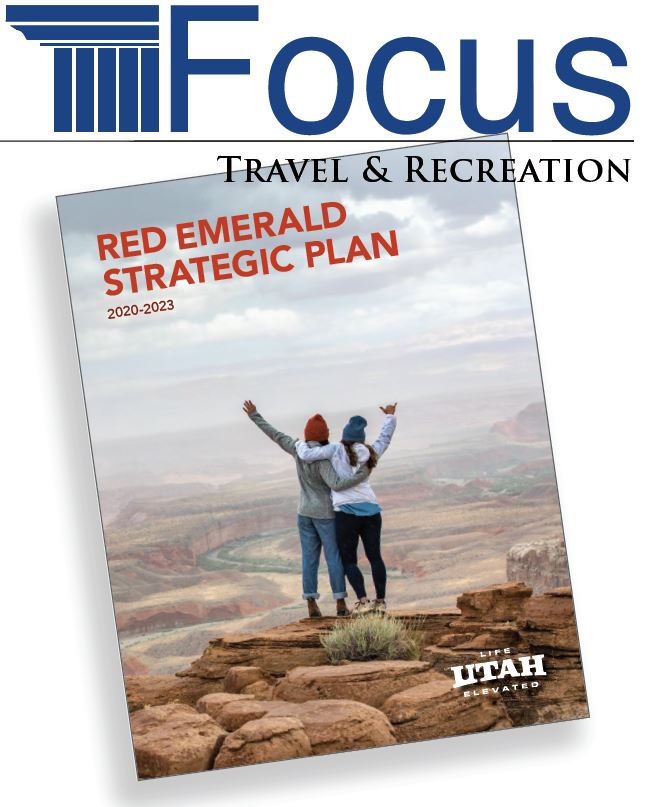 The Utah Office of Tourism considers Utah a rare gem and has launched a strategy to promote it that way
By John Rogers According to the Utah Office of Tourism, red emeralds are found in only a few places in the world and only grow to any substantial size in the Wah Wah Mountains of western Utah. "They are distinctive, rare and highly sought-after," the agency says.And that's w...
---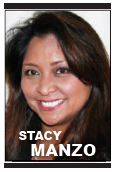 Motivate and inspire your employees with annual trips as your acknowledgment of a job well-done
By Stacy Manzo Owners and executives understand the importance of recognizing top performers and rewarding management teams for their contribution to the growth and success of their companies. They typically find ways to recognize these high contributors with a bonus or public ac...
---
Calendar Highlights
Calendar listings are provided as a free service to our readers. Information about upcoming events may be sent to brice@slenterprise.com. The submission deadline is one week before publication. See the full calendar.
Intermountain Sustainability Summit - March 19
Featuring the main summit day March 19 and workshops March 20. Location is Weber State University, Shepherd Union Building, 3910 W. Campus Drive, Ogden. Details are at https://www.weber.edu/issummit.
---
Pillar of The Valley Gala 2020 - March 24
A Utah Valley Chamber event. Location is Utah Valley Convention Center, 220 W. Center St., No. 200, Provo. Details are at thechamber.org.
---
Giant in our City 2020 - March 26
A Salt Lake Chamber black-tie, invited event. Award recipient is Gov. Gary Herbert. Location is the Grand America Hotel, 555 S. Main St. Salt Lake City. Cost is $250. Details are at slchamber.com.
---


JOIN US ON FACEBOOK

FOLLOW US ON TWITTER

SEND US AN EMAIL