https://slenterprise.com
801-533-0556
---
This week in The Enterprise
Monday, January 21, 2019
Tech gathering receives capital infusion from state Legislature
By Brice Wallace A nascent gathering of tech junkies just got a financial boost.The annual Silicon Slopes Tech Summit, in just its third year but expecting perhaps 20,000-25,000 attendees later this month, has received a commitment from the Governor's Office of Economic Developm...
---
Shared office company will add 250 jobs as it expands in Utah
A company that provides shared office and meeting space and online meeting software is expanding in Utah, planning to add 250 jobs over the next five years. Salt Lake City-based Teem LLC, which was acquired last year by New York-based WeWork, made the announcement after being app...
---
Housing prices drive CPI with another record
Housing price hikes along the Wasatch Front didn't take the holidays off like they usually do. For the second consecutive month, home prices in December set a year-over-year record for growth, according to the Zions Bank Wasatch Front Consumer Price Index (CPI). The 0.4 percent r...
---
Point of the Mountain Board Authority looking for director to oversee development
The Point of the Mountain Board Authority, the body charged with the disposition of land where the Utah State Prison now stands, is searching for an executive director to oversee the process of developing the site once the prison has been relocated."This is one of the largest eco...
---
Ride Systems merges with Indianapolis firm
Morgan-based Ride Systems LLC and DoubleMap Inc. of Indianapolis, Indiana, have merged their vehicle-tracking software companies to form Journey Holding Corp. The new firm is now considered the largest public transit tracking system provider in North America, according to a relea...
---
Arizona fashion software company buys Salt Lake's Red Wire Group sewing operation
Salt Lake City-based Red Wire Group LLC, a contract sewing manufacturer, has been acquired by 12 ReTech Corp., a retail fashion shopping software company with U.S. headquarters in Scottsdale, Arizona, and operations in Europe and Asia. The stock-for-stock transaction is scheduled...
---
Lassonde launches Entrepreneur Challenge
The Lassonde Entrepreneur Institute of the David Eccles School of Business at the University of Utah has opened registration for the 2018-19 Utah Entrepreneur Challenge. The statewide business competition is open to university students in Utah. Teams compete for $100,000 in cash ...
---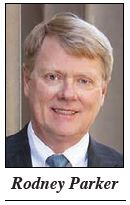 Parker new president at SCM
Rodney R. Parker, a shareholder at Snow Christensen & Martineau, has been appointed president of the firm. His appointment was effective Jan. 1.Parker replaces Andrew M. Morse, who has served as the firm's president since 2011. Parker leads the firm's appellate practice. His ...
---
Children of wealthy want their parents' values more than wealth, survey finds
More than nine in 10 Generation Z and millennial children of millionaires say the most important thing they will inherit is their parents' values, not their wealth, according to a recent survey by Wells Fargo Private Bank. More than four out of five (84 percent) say they want to ...
---
Legal Matters: Opportunity zones and opportunity funds in Utah
As part of the Tax Cuts and Jobs Act, a new tax incentive program was created to encourage economic development in distressed communities. Within these communities, specific "qualified opportunity zones" or "opportunity zones" were designated by the governors of all 50 states. Ut...
---
Calendar Highlights
Calendar listings are provided as a free service to our readers. Information about upcoming events may be sent to brice@slenterprise.com. The submission deadline is one week before publication. See the full calendar.
2019 Athena Leadership Award Ceremony and Luncheon - January 22
An Ogden-Weber Chamber of Commerce event. Location is the Timbermine Steakhouse, 1701 Park Blvd., Ogden. Cost is $20. Details are at http://www.ogdenweberchamber.com.
---
31st Annual "Share the Magic" Gala - January 24
A West Jordan Chamber of Commerce event featuring dinner, live entertainment, a silent auction and an awards ceremony. Location is The Gathering Place at Gardner Village, 1100 W. 7800 S., No. 24, West Jordan. Registration deadline is Jan. 18. Details are at http://www.westjordanchamber.com.
---
Business Awards Banquet - January 25
A Davis Chamber of Commerce event. Location is the Davis Conference Center, 1651 N. 700 W., Layton. Details are at http://www.davischamberofcommerce.com.
---
Central Bank Economic Summit Forecast 2019 - February 6
Presenter is Natalie Gochnour, an associate dean in the David Eccles School of Business at the University of Utah and director of the Kem C. Gardner Policy Institute at the UofU, as well as chief economist for the Salt Lake Chamber. Location is Provo Marriott Hotel & Conference, Grand Ballroom, 101 W. 100 N., Provo. Free. Registration can be completed at http://www.Eventbrite.com.


JOIN US ON FACEBOOK

FOLLOW US ON TWITTER

SEND US AN EMAIL