https://slenterprise.com
801-533-0556
---
This week in The Enterprise
Monday, October 29, 2018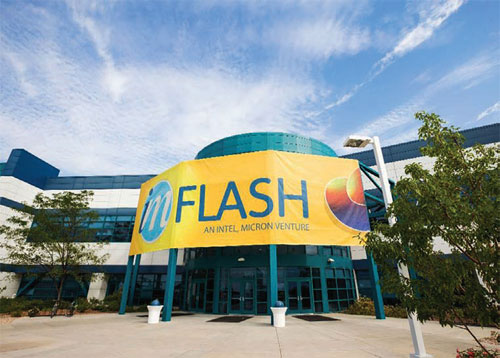 Micron exercises option to buy Intel's stake in Lehi's IM Flash
Micron Technology Inc. has announced that it intends to take full control of its IM Flash Technologies joint venture with Intel Corp., including the IM Flash facility that the two companies built in Lehi. The deal's terms include payment of about $1.5 billion in cash, as well as ...
---
In Utah, 'angels' continue strong support of startups
By Brice Wallace By just about any measure, Utah's economy is strong. That certainly applies to angel investing.The 2018 Angel Worx Report on investment activity by angel groups and early-stage venture firms in 2017 shows that Utah investment comprised 86 deals totaling nearly $...
---
SilverVue health reporting company merges with Maine's Mingle Analytics
Sandy-based SilverVue Inc. has merged with Mingle Analytics of South Paris, Maine, to form a new firm with a concentration on healthcare practice reporting. The new entity, to be called Mingle Health, will launch a new all-in-one practice management platform that includes consult...
---
PetIQ acquires Springville-based HBH Enterprises
HBH Enterprises of Springville, a developer and manufacturer of specialty pet supplements and treats, has been acquired by Eagle, Idaho-based PetIQ. The deal includes $500,000 cash, 400,000 shares of PetIQ Class B stock and the repayment of designated HBH debt, according to a rel...
---
Shaffer replaces Case at ETC Group
ETC Group, an energy engineering firm specializing in building efficiency based in Salt Lake City, has announced that Spencer Shaffer has been appointed president, replacing Mark Case, the firm's co-founder and current president who is retiring.Case and his wife, Patti, founded t...
---
Blanding's J.C. Hunt Co. purchased
J.C. Hunt Co., a well-known distributor of fuels, lubricants and cargo services headquartered in Blanding, has been acquired by Cincinnati-based RelaDyne. Hunt does business as BCL Distributing in Southeastern Utah. In a press release, RelaDyne, one of the nation's largest distri...
---
SLC nanotech company buys U.K. counterpart
Salt Lake City's HZO Inc. has acquired U.K.-based Semblant Ltd., a manufacturer and marketer of protective nano coatings and waterproof technology for electronics. Terms of the deal were not disclosed. HZO was founded in 2009 and manufactures a thin film that is applied by electr...
---
NGA Market Snapshot: Commercial real estate still thriving in Utah
Commercial real estate is still thriving as companies inside and outside of Utah look to grow and expand across all sectors within the state, according to the 2018 Newmark Grubb ACRES Market Snapshot for the third quarter released last week. Industrial product saw an increa...
---
Chamber leads mission to Peru
A delegation of nearly 30 Salt Lake Chamber members and business leaders recently traveled to Peru to get a better understanding of Peru's economy and business climate as well as the country's trade with Utah. The group returned Oct. 11 following eight days of business-related vi...
---
CORPORATE FINANCIAL REPORTS 10-29-18
The following are recent financial reports as posted by selected Utah corporations:ZionsZions Bancorporation, based in Salt Lake City, reported net earnings applicable to common shareholders of $215 million, or $1.04 per share, for the third quarter. That compares with $152 milli...
---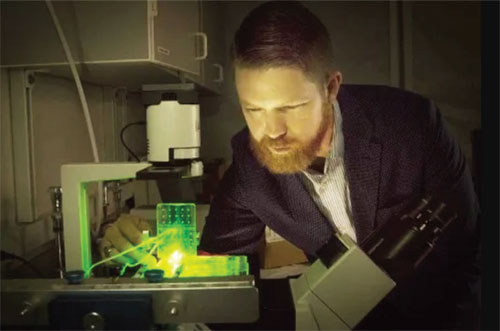 Utah executives have strong but declining sentiment on state's economic future
Utah's business leaders continue to be optimistic about the state's economic outlook but are concerned about three things: their ability to find qualified talent, reasonably priced housing for their employees and the potential disruptions to global trade. That's the finding of th...
---
FiberFix purchased by Georgia-based J-B Weld
Marietta, Georgia-based J-B Weld Co., a developer and marketer of adhesives for the do-it-yourself consumer, has purchased the FiberFix business unit from Spark Innovation LLC in American Fork. FiberFix manufactures pre-impregnated repair wraps, repair tapes, specialty adhesives ...
---
University of Utah engineers develop process to 3-D print human cells
With today's technology, we can 3D-print sculptures, mechanical parts, prosthetics - even guns and food. But a team of University of Utah biomedical engineers have developed a method to 3D-print cells to produce human tissue such as ligaments and tendons, a process that will grea...
---
Legal Matters: Beware of residual clauses in NDAs for M&A transactions
A nondisclosure agreement (NDA) is typically the first agreement that will be entered into in connection with a potential mergers and acquisitions (M&A) transaction. The NDA is designed to protect the confidentiality of the seller's technology and proprietary and/or confident...
---
Calendar Highlights
Calendar listings are provided as a free service to our readers. Information about upcoming events may be sent to brice@slenterprise.com. The submission deadline is one week before publication. See the full calendar.
Business Women's Forum 2018 - October 30
Speaker Sydne Jacques, an engineer-turned-CEO and professional speaker, will discuss "Creating Influence by Design: The Power of Mentoring." Location is 50 West Club & Caf, 50 Broadway, Salt Lake City. Cost is $27 for members, $35 for nonmembers. Details are at http://www.slchamber.com.
Location 50 West Club & Cafe
---
Ninth Annual BioUtah Life Sciences Summit - November 1
Presented by BioUtah. Speakers include Dr. Jeffrey Shuren, director of the Center for Devices and Radiological Health at the FDA; Dr. Marc Harrison, CEO of Intermountain Healthcare; Pat Jones, CEO of the Women's Leadership Institute; Gary L. Crocker, chairman and Merrimack Pharmaceuticals and president of Crocker Ventures LLC; John Knotwell, president and CEO of the Utah Technology Council; Paul Brooks, executive director of the national Regulatory Affairs Professional Society (RAPS); and Alex Butler, lead PMM for MasterControl Registrations. Location is Salt Lake Marriott Downtown at City Creek, 75 S. West Temple, Salt Lake City. Cost is $275 for BioUtah members, $325 for nonmembers. Details are at http://www.utahlifesciencesummit.com.
---
Utah Global Forum - November 8
Presented by Gov. Gary Herbert. Theme is "Utah Crossroads of the World," chosen in anticipation of three major state projects: the opening of the new Salt Lake City International Airport, the expansion of Utah's burgeoning tech sector, and the groundbreaking of the Utah Global Trade Port. Location is Grand America Hotel, 555 S. Main St., Salt Lake City. Early-bird registration (through Sept. 7) is $75. Details are at http://wtcutah.com/event/utah-global-forum-4/ - https://business.utah.gov/.
---
42nd Annual Women & Business Conference and Athena Awards Luncheon - November 16
A Salt Lake Chamber Women's Business Center event. Theme is "Brave & Bold." In addition to the Athena Award, five other women will receive the Pathfinder Award. Keynote speaker is Courtney Brown, founder and CEO of Cents of Style. Location is the Grand America Hotel, 555 S. Main St., Salt Lake City. Cost is $85 for members, $100 for nonmembers. Sponsorships are available. Details are at http://www.slchamber.com.


JOIN US ON FACEBOOK

FOLLOW US ON TWITTER

SEND US AN EMAIL