https://slenterprise.com
801-533-0556
---
This week in The Enterprise
Monday, February 19, 2018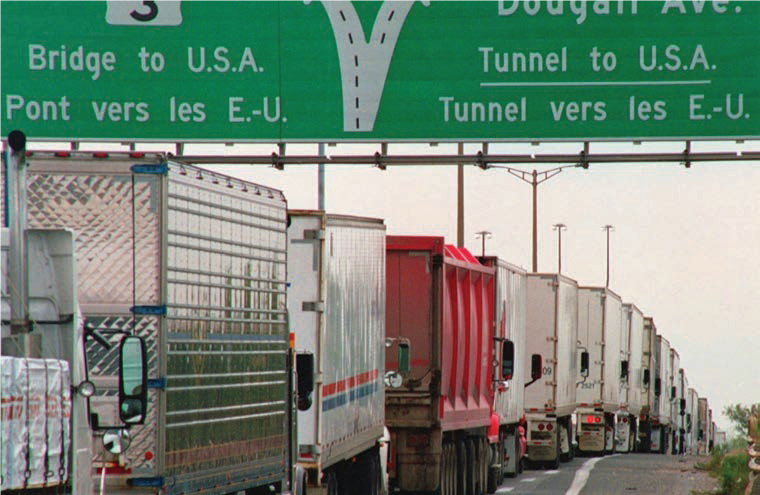 Many agree: NAFTA withdrawal would jeopardize U.S. economy
By Brice Wallace Several new voices have joined the chorus wanting the North American Free Trade Agreement (NAFTA) to remain in place.The Utah Farm Bureau last week said total U.S. withdrawal from NAFTA would weaken the nation's farm economy. Speaking recently in Salt Lake ...
---
Late mortgages climb a bit, still down for the year
Mortgage delinquencies in the Salt Lake City market crept up slightly in November, according to the latest numbers from CoreLogic, a California-based real estate information and analytics firm. Locally, home loans in some degree of delinquency in the state inched up from 2.8 perc...
---
Housing pushing cost of living up along Wasatch Front
Consumer price increases in Utah continue to run ahead of the national average and housing continues to be the main culprit. The Zions Bank Wasatch Front Consumer Price Index (CPI) increased 0.4 percent from December to January. Year-over-year, the Wasatch Front Consumer Price In...
---
GOED honors 21 companies with Rural Business of the Year awards
Companies in Utah's rural counties were honored recently with the first-ever Rural Businesses of the Year awards.The Governor's Office of Economic Development (GOED) worked with county commissioners to select the winners to represent the individual counties. The compa...
---
Incentives bring production of pair of movies to Utah
A pair of movies recently were approved for incentives to shoot in Utah, with principal photography set for this spring.The incentives were awarded by the Governor's Office of Economic Development (GOED) board during its February meeting.Late Shift ...
---
Proposal would bring $2M to fight California's extra charge on coal-generated Utah power
State Rep. Mike Noel of Kanab is shepherding a bill through the Utah Legislature that would allocate $2 million to sue California over its laws that make power generated at Utah coal-fired plants more expensive. The bill passed its first test last week, a subcommittee vote with a...
---
Jive acquired by Boston-based LogMeIn
LogMeIn Inc., a developer of remote connectivity software based in Boston, has acquired Orem-based Jive Communications. Jive develops and markets cloud-based phone systems and unified communications software (UC). Jive Communications will become a wh...
---
Utahns warned to hang up when tax scammers call
Just as the tax filing season begins, the Utah State Tax Commission is warning Utahns about the latest tax scam. The commission is telling taxpayers to be defensive in dealing with those out to steal money, dat and identities. "If a taxpayer re...
---
Calendar
Calendar listings are provided as a free service to our readers. Information about upcoming events may be sent to brice@slenterprise.com. The submission deadline is one week before publication.
Bank of Utah Annual Economic Outlook Events - February 21-27
Featuring information for business and community leaders about Utah's projected economic growth. Speaker is Pamela S. Perlich, director of director of demographic research at University of Utah's Kem C. Gardner Policy Institute. Events are Feb. 21, at Ogden Eccles Conference Center, 2415 Washington Blvd., Ogden (in conjunction with Weber State University and Ogden/Weber Chamber of Commerce), with additional speakers including Jim Taggart of OWTC and Eric Allen of MetroStudy; Feb. 22 at Little America Hotel, 500 S. Main St., Salt Lake City; Feb. 26, at Thanksgiving Point, 33 W. Clubhouse Drive, Lehi; and Feb. 27 at The Riverwoods Conference Center, 615 Riverwood Parkway, Logan. All are 11:30 a.m.-1 p.m. Pre-registration is required. Registration and details are (801) 409-5172 or https://www.bankofutah.com/events/2018-economic-outlook-event.
---
ChamberWest Chamber of Commerce Annual Awards Gala - February 21
With the theme "Dust Off Your Boots." Harmons will receive the 2018 Hall of Fame Award. Winners will be disclosed for Business of the Year, Small Business of the Year, Best New Business, Best Place to Work, and Volunteer of the Year. Location is the Maverik Center, 3200 Decker Lake Drive, West Valley City. Details are at http://www.chamberwest.com.
---
UTC Legislative Breakfast - February 22
A Utah Technology Council event featuring a discussion of the latest policy issues that affect the local tech industry and a chance to hear from local legislators. Location is the East Senate Building, Utah State Capitol, 350 State St., Salt Lake City. Details are at http://www.utahtech.org.
---


JOIN US ON FACEBOOK

FOLLOW US ON TWITTER

SEND US AN EMAIL