https://slenterprise.com
801-533-0556
---
This week in The Enterprise
Monday, September 25, 2017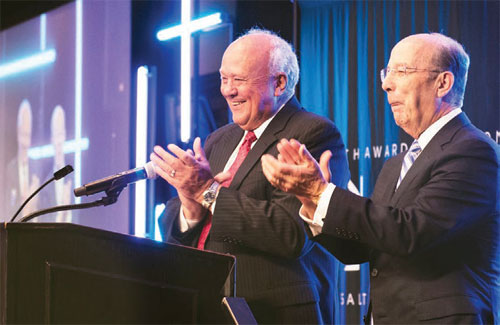 Chamber leaders want members to be 'engaged, vocal and active'
By Brice WallaceThe leaders of "Utah's Voice of Business" want more voices to be part of their chorus.During the Salt Lake Chamber's annual meeting in Salt Lake City, they encouraged more involvement in chamber programs and with efforts to address issues c...
---
Lassonde Studios 'exceeded expectations' in its first year
In its first year, the Lassonde Studios has proven to be a huge springboard for a group of aspiring entrepreneurs.The $45 million student innovation building opened last summer at the University of Utah and resulted in year-over-year increases in student participation in Lassonde...
---
Consumer costs stay same from July to August
Consumer prices remained flat from July to August, according to the Zions Bank Wasatch Front Consumer Price Index (CPI) released recently. The index has grown 3.4 percent since August of last year. The majority of this growth has been caused by increased housing costs, as well as...
---
Software company plans to expand Utah operations and add 218 jobs
A North Carolina-based payment software company has announced it will expand operations in Utah, creating 218 new jobs over the next five years.AvidXchange, which in late 2014 acquired Cottonwood Heights-based Piracle Inc., announced it has selected Utah for the $3.5 million expa...
---
Private bank opens SLC office
Denver-based Fortis Private Bank has opened a loan production office in Salt Lake City. Fortis has hired four people to initially staff the new location headed by Jeremy Lowry, executive vice president for private banking and residential lending. Also at the new bank will be...
---
Fisher Group moves its operations to new facility
Fisher Group Inc., the holding company for several companies in the largest sign supply, label printing and plastic fabricating sectors, has moved its operations into an 83,000-square-foot facility on the northwest side of Salt Lake City, nearly doubling its cubic feet of capacit...
---
Apartment vacancy lowest ever
Apartment vacancy in the Salt Lake market is at the lowest point ever reported since such records have been kept, according to research from commercial real estate firm Cushman & Wakefield Commerce. Mid-year figures show the vacancy rate at 2.6 percent."For the third co...
---
Northrop Grumman acquisition of Orbital ATK includes Utah operations
A large aerospace company with a major presence in Utah has been purchased by defense contracting giant Northrop Grumman. Orbital ATK will become part of the Northrop Grumman family at a price tag of $9.2 billion. Orbital ATK develops and tests propulsion systems for rockets and ...
---
O.C. Tanner buys Australian incentive program firm
Salt Lake City-based O.C. Tanner, a global leader in employee recognition and workplace culture, announced last week that it has signed an agreement to acquire Accumulate Loyalty Services Ltd., a leading Australian provider of employee recognition and incentive programs and ...
---
CBRE report: U.S. malls need to change their merchandise mix
According to a new report from commercial real estate company CBRE, the solution to the troubles faced by malls across the U.S. is simple: change their merchandise mix. The change, like most bold fixes, is far easier said than done, CBRE said.The report says that the two categori...
---
Executech opens new headquarters
Executech, a South Jordan-based outsourced IT provider, has moved to its new corporate headquarters. According to a release from the company, the new offices, which more than double the company's previous available space, support the company's current needs ...
---
SilverVue acquires California firm
Sandy-based SilverVue, a cloud-based patient choice technology platform company, has acquired Ergo Sum Health of Redondo Beach, California. The acquisition includes Ergo Sum Health's clinical data registry, which is now available as Check by SilverVue. Check provides c...
---
Obbard is new CEO at Marketware
Marketware, a provider of software-as-a-service (SaaS) healthcare relationship technology, has named Alex Obbard as the company's CEO.Obbard brings more than 25 years of experience in all areas of revenue and profit generation for technology organizations, with signifi...
---
Aneth oil field sold in $195M deal
Resolute Energy Corp. has sold its subsidiary that owns oil and gas operations in the Paradox Basin of southeastern Utah. The properties, known as the Aneth Field, was purchased by Elk Petroleum Ltd. of Australia for an immediate $160 million in cash and potentially $35 million m...
Calendar
Calendar listings are provided as a free service to our readers. Information about upcoming events may be sent to brice@slenterprise.com. The submission deadline is one week before publication.
UTC Public Policy Forum - September 28
A Utah Technology Council event. Location is InContact, 75 W. Towne Ridge, Sandy. Free. Registration can be completed at http://www.Eventbrite.com.
40-Year Anniversary - September 28
A Sandy Area Chamber of Commerce event. Adults only. Location is Snowbird Ski & Summer Resort, Cliff Lodge, 9385 Snowbird Center Trail, Sandy. Cost is $10. Details are at http://www.sandychamber.com.
Utah Outdoor Recreation Summit - October 3-4
A gathering of outdoor industry leaders, county and city officials, user groups and public land managers to focus on Utah's outdoor recreation. Location is Ruby's Inn, 26 S. Main St., Bryce Canyon. Another regional summit takes place Aug. 30-31 at Snowbird Ski and Summer Resort, 9385 Snowbird Center Trail, Sandy. Early-bird registration is $100 for two summits, $60 for each summit. Registration can be completed at http://www.utahoutdoorsummit.com.
Utah Sustainability Summit - October 11
Presented by P3 Utah, the U.S. Green Building Council and Intermountain Healthcare. Theme is "Wellness: Connecting Human and Environmental Health." Location is Falls Event Center at Trolley Square, 580 S. 600 E., Salt Lake City. Details are at https://utsustainabilitysummit.com/.


JOIN US ON FACEBOOK

FOLLOW US ON TWITTER

SEND US AN EMAIL