https://slenterprise.com
801-533-0556
---
This week in The Enterprise
Monday, August 21, 2017
Board member: Reservations at national park 'a huge mistake'
By Brice WallaceThe notion of requiring reservations for all Zion National Park visitors is "a horrible idea" and "a huge mistake" that would hamper park visitation and nearby businesses.That's the conclusion of Steve Neeleman, a member of the Govern...
---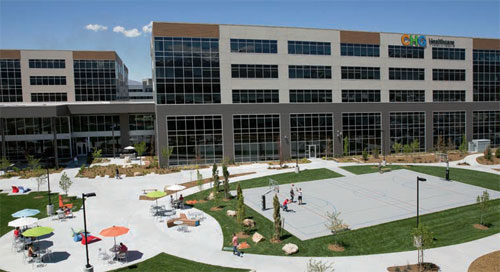 CHG opens world headquarters
Utah-based CHG Healthcare, the nation's largest privately held healthcare staffing company, has opened its new headquarters in Midvale. The 282,000-square-foot campus — located off I-15 and 7200 South — consists of two five-story buildings connected by a glass &...
---
Consumer prices continue to inch upward in Utah
Summer rates for water and sewer were the major contributors to a small uptick in consumer prices along the Wasatch Front from June to July. The Zions Bank Wasatch Front Consumer Price Index (CPI) rose 0.2 percent from the previous month. The utilities costs had the largest impac...
---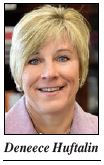 Huftalin named Chamber's Athena winner
The Salt Lake Chamber has named Salt Lake Community College president Deneece Huftalin as its 2017 Athena Leadership Award recipient. According to a release from the organization, the Athena Leadership Award is a national award presented annually to an active member of the Salt L...
---
Utah is best place in U.S. for growing old
Utah is the best state in which to grow old, according to a new Caring.com report. The study ranked all 50 states in 13 financial, healthcare and quality-of-life categories focused on senior care. Iowa, South Carolina, Washington, Nebraska, Arizona&n...
---
MSEC shortens name
Nearly two years after the merger of Utah's Employers Council with the Mountain State Employers Council, the combined entity has announced that it has shortened its name to Employers Council to reflect the organization's overall geographic expansion beyond the Rocky M...
---
STEM Action Center unveils new tool to drive kids' interest in sciences
A new vehicle will soon hit the road, trying to steer Utah youngsters into certain career fields.The Utah STEM Action Center last week unveiled the Utah STEM Bus, which will serve as a mobile classroom highlighting science, technology, engineering and mathematics and expose stude...
---
Disney show, other series extend Utah production
A popular Disney Channel show is extending its production work in Utah.The second season of "Andi Mack" originally was going to spend $15 million in Utah, but the series has been approved for five more episodes, meaning its Utah spending will reach $18.8 million.The p...
---
C&W acquires brokerages
Commercial real estate firm Cushman & Wakefield has announced that it has entered into an agreement with NorthMarq Cos., a private holding company of the Pohlad family of Minneapolis, to acquire Cushman & Wakefield NorthMarq (CWN) in Minnesota and Cushman & Wakefield ...
---
Holly buys two Utah pipelines
Holly Energy Partners LP, a Dallas-based energy company that owns petroleum processing and transportation facilities throughout the West, including the Holly Refinery in Woods Cross, has entered into agreements to acquire full ownership of two crude-oil pipelines that terminate i...
---
Mortgage delinquencies down
The number of Utah homeowners who are delinquent on their mortgages continues to drop, according to a new report from property information and analytics firm CoreLogic. In the Salt Lake City market, 2.9 percent of mortgages were delinquent by at least 30 days in May, the Loan Per...
---
CORPORATE FINANCIAL REPORTS 8-21-17
The following are recent financial reports as posted by selected Utah corporations:Vista OutdoorVista Outdoor Inc., based in Farmington, reported net income of $16.7 million, or 29 cents per share, for the fiscal first quarter ended July 2. That compares with $29.1 million, or 48...
Calendar
Calendar listings are provided as a free service to our readers. Information about upcoming events may be sent to brice@slenterprise.com. The submission deadline is one week before publication.
"25K Jobs" Launch Tour
- August 22
Presented by Lt. Gov. Spencer Cox and World Trade Center Utah and focusing on Gov. Gary Herbert's challenge to create 25,000 jobs in rural Utah during the next four years. Location is Wasatch County. Similar events take place Aug. 23, noon-2 p.m. in Daggett County and 4-6 p.m. in Uintah County; Sept. 5, 11 a.m.-1 p.m. in Juab County and 4-6 p.m. in Millard County; Sept. 6, 4-6 p.m. in Tooele County; Sept. 25, 11 a.m.-1 p.m. in Kane County and 4-6 p.m. in Garfield County; and Sept. 26, 11 a.m.-1 p.m. in Piute County and 4-6 p.m. in Wayne County. Exact locations to be announced. Details are at
http://www.25kjobs.com
.
Utah Outdoor Recreation Summit
- August 30-31
A gathering of outdoor industry leaders, county and city officials, user groups and public land managers to focus on Utah's outdoor recreation. Location is Snowbird Ski and Summer Resort, 9385 Snowbird Center Trail, Sandy. Another regional summit takes place Oct. 3-4 at Ruby's Inn, 26 S. Main St., Bryce Canyon. Early-bird registration is $100 for two summits, $60 for each summit. Registration can be completed at
http://www.utahoutdoorsummit.com
.
Utah Women Charity Golf Classic - August 31
Presented by the Women's Leadership Institute and the First Tee of Utah. Activities include a meet-and-greet breakfast and a tea time luncheon and awards presentation. Location is Thanksgiving Point Golf Course, Lehi. Cost is $75, $40 for tea time luncheon only, $300 per foursome. Sponsorships are available. Details are at www.thefirstteeutah.org/womencharitygolf.


JOIN US ON FACEBOOK

FOLLOW US ON TWITTER

SEND US AN EMAIL