By Ron Zarbock
If you've ever binge-watched the sitcom "Parks and Recreation" on Netflix, you may be familiar with a thing called "Galentine's Day." This holiday, celebrated the day before Valentine's Day, was a day for women on the show to celebrate their friendships with other women, and since its origin on the show several years ago, many female "Parks and Rec" fans have co-opted the tradition as well. On Feb. 13 of this year, a group of women in Provo organized "Galentine's Day with a Purpose" — a service activity partnered with the International Rescue Committee (IRC) focused on helping refugees here in Utah.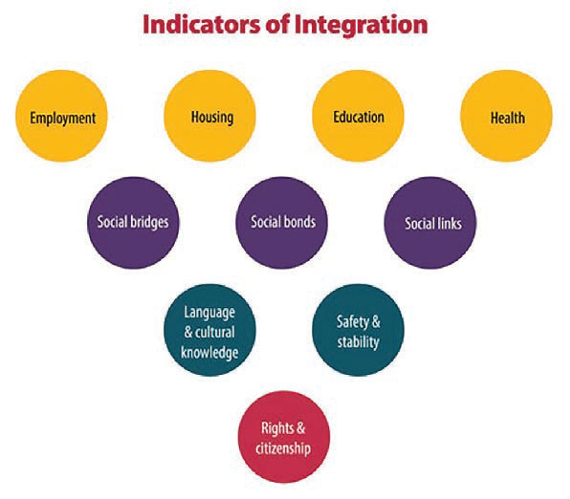 By the end of the night, these women had raised over $3,000, put together 50 adult work bags and 25 women's welcome kits and donated a carload of basic household supplies, all in the name of helping our local refugees.
This article is a follow-up to our last "HR Matters" discussing how employers can help refugees. There are so many ways we are privileged to help our local refugees, but the unique circumstances of business owners or employers allow them to help in ways perhaps not every person can.
Much like Maslow's hierarchy of needs that states one cannot have their social or safety needs met until their physiological needs are met, there is a pyramid of indicators of refugee integration published by the Department of Workforce Services that states certain indicators must be successfully met before we can move on to the next level of integration. Using this model, we can help decide in what ways we might be most helpful to our refugee neighbors. The first level of these indicators includes employment, housing, education and health. It is critical that all of these indicators are met before we can help successfully integrate refugees socially, culturally and beyond.
How might we start meeting that first level of refugee integration into our community? This month, "HR Matters" has more ideas and some results from our last article:
Donate Our Time,
Resources and Skills
First, as "Galentine's Day with a Purpose" did, we can contact local charities and nonprofit organizations to find out the items of which they are in most need. Many of these items are things you and I might take for granted — things like dish soap, hygiene products and lotion. Nevertheless, these are items desperately needed by many organizations. Additionally, when people donate specific items to these charities, other funds the organization may have used to purchase those items can be used to fill other needs. There is not a donation too small or too insignificant, but please contact your local refugee relief center to find out specifically what items they need to be replenished.
There are many of us out there who are invested in helping Utah's refugees but may prefer to donate our time and skills rather than money or items. Utah is known nationwide for the "Greatest Snow on Earth," but residents of Utah are known for their kindness, generosity and willingness to serve others. Perhaps you'd like to help refugees develop effective job hunting and interview skills and your efforts might be best suited for the IRC. Maybe volunteering to help teach refugees English is more your style and you could be trained and mentored by the English Skills Learning Center (ESLC) to do just that.
You might also consider volunteering with Catholic Community Services (CCS) to help set up homes for refugee families currently in the process of resettling to Utah. There are a number of local organizations seeking volunteers to help refugees, and there is certainly a great volunteer opportunity for you. If you are interested in volunteer opportunities seeking to serve refugees, please visit jobs.utah.gov/refugee/volunteer for more information.
Hire Refugees Trained through Workshops
To recap our last article, refugee-focused nonprofit organizations include resources to help refugees settle in a new, unfamiliar area like Utah. Many of them also use volunteers to coach refugee men and women how to write resumes and gain interview skills to help them find gainful employment and become self-sufficient. However, there is a unique way employers can help refugees that many cannot: by hiring them.
Utah's refugees work with the Refugee Services Office (RSO) in Salt Lake City to receive training and employment counseling and that makes them excellent candidates for long-term employment in a variety of fields. Our strong Utah economy boasts some of the lowest unemployment rates in the nation, and for that reason it can be difficult for businesses to retain rock star employees. Refugees are adaptable with strong work ethics and lower turnover rates. They require no government work visa to employ and are some of the most dependable people you could ever hire.
According to data distributed by the RSO, each of the three offered refugee training classes boasted 100 percent scores across the board. Each training class had a 100 percent graduation rate, 100 percent attendance and 100 percent of participants received at least one job interview upon completion of the class. While pre-training employment rates averaged 66 percent, post-training employment rates increased to 100 percent. Let's restate that: Each refugee who completed the training course was employed upon graduation. Not only that, but a refugee's average wage increased from an average of $11.78 per hour to an average of $14.44 per hour — a 23 percent increase overall.
There are so many ways to help refugees here in Utah. If you are interested in ways you may be able to personally get involved, please contact the RSO at (801) 414-5878 or visit refugee.utah.gov for more information and resources.
Ron Zarbock is the owner of the Utah and Idaho offices of Spherion Staffing and Recruiting and chairman of Tifie.org Humanitarian.