By Mark Decker
Beyond a set of project drawings created by the design team, there is a second set of construction designs that are rapidly changing the way commercial building projects are being managed — and it may surprise some to learn that these complementary plans are coming from contractors' in-house tech experts.
Virtual design construction (VDC) departments are the modern builder's not-so-secret weapon in the war on construction inefficiencies, and partner roles are beginning to react to the addition of this modern tech.
Historically speaking, roles were kept in completely separate lanes — it was architects and engineers who designed and contractors who built. However, with development opportunities and construction pressures at an all-time high, a 2019 survey from the Associated General Contractors of America (AGC) and the FMI Corp. shows an accelerating trend toward contractors handling and overseeing certain design elements in response to the speed and complexity needed to meet developers' expectations. In fact, survey numbers reveal that more than 43 percent of contractors are ramping up to perform design work in-house — a 5 percent increase from 2018 — with another 25 percent stating they are considering making this change "soon."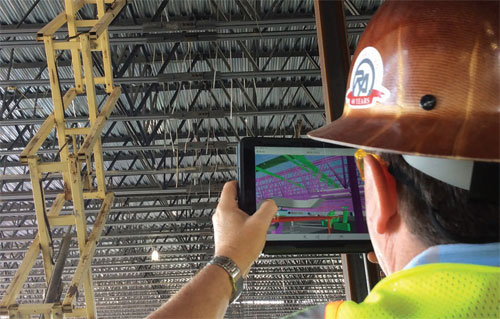 Adding Value
The risk-mitigation value of VDC technology is proving to be a golden opportunity — aiding contractors in expediting development and fabrication, just as our industry struggles to adapt to tighter schedules, smaller budgets, higher-tolerance building systems and a shrinking labor force. More is being done by fewer people, and at a faster pace than ever before — which without VDC, can result in reduced quality of work.
There are enormous benefits associated with VDC's high-tech tools. VDC's predictive infrastructure clash-detection consistently produces a higher-quality result with impressively fewer change orders. And because of this, opportunities abound for those who hold an evolved vision of design coordination, including contractors and architects already poised to provide integrated VDC services to their clients.
Addressing a Problem
Because contractor technology has rapidly advanced over the past several years, it has outpaced a decades-old process model. At issue are veteran decision-makers that tend to hold on to long-standing practices and an employment market that is beginning to fill with tech-savvy VDC practitioners.
Complicating matters even further, contracts and fee structures are not yet routinely adapted to fully realize VDC's advantages while managing its costs. Currently, design teams who don't account for modern realities can hide behind contracts that have not included design-conflict resolution. This can give a temporary, false sense of comfort to owners and pushes the responsibility of unintended design conflicts downstream to contractors to resolve later.
With owners and builders catching on to the disadvantages of building without VDC coordination, such issues are likely to be less well-hidden in the future. And with survey numbers revealing the significant upward trend of in-house construction design, the market will soon demand widespread adoption. Contractors with solid VDC experience under their belts are well-positioned to deliver higher-quality projects with record speeds.
How We Got Here
In the early 2000s, early versions of design software were introduced which — for the first time — allowed buildings to be designed in a true 1:1 scale in three dimensions. As design workflows evolved, better visibility of design intent and spatial layout became available and coordination issues began to become obvious. Because the software was first used to replicate the same workflows and management practices of the past, it created system-specific, scaled drawings from the model but referenced other building systems as simple 2D overlays. No effort was placed on using the tool to better collaborate and lay out building systems which needed to be routed to fit within the building's 3D space. Instead, traditional and uncoordinated 2D drawings were produced and the coordination responsibility was passed on to the construction team as "means and methods."
What followed were change orders, needed to resolve many of the problems inherent to the design — changes that cost the owner time and money. Increasingly, pressure was placed on the construction team for cost and schedule overrun. As a result, construction teams began to use models to coordinate and lay out projects so that building systems were constructible before fabricating any systems. Eventually, top contractors began providing coordination services to efficiently manage the process and act as a liaison between the construction team and the design team of record (architects and engineers), creating some responsibility tensions.
By 2012, model usage was normalized and efficiencies were made that allowed contractors to use the design team's model to fabricate the building system. But even with a more streamlined process, inherent problems arise when contracts, developed from decades-old practices, still separate design from construction.
Going 3D in a 2D World
Currently, contractors are still seeing mechanical engineering plans and subcontractor shop drawings submitted in 2D. To solve this issue with minimal budget increase, tech-savvy contractors are leaning on software that provides layered markups and custom-column features to integrate the varying levels of information modeling used across a construction project. In addition to harnessing the power of software to handle complex integration and communication between multiple stakeholders in real time, contractors are using tech to leverage their own 3D VDC data with the 2D data provided by their subcontractors.
This coordination effort allows subcontractors to confidently prefabricate building systems off-site, resulting in quicker installation and safer, less-congested construction sites and more on-time deliveries. Additionally, by uploading documents to 2D-3D coordination software, construction teams are able to speed up concrete work and start rough-ins earlier.
The Future: Design-Build
More and more, knowledgeable developers and owners are turning to a modern construction solution for efficiencies and quality known as "design-build." It's a process that starts with an updated contract structure which favors the idea that design coordination responsibilities are best managed, for the benefit of all, by the construction team. This better allows for the construction budget and schedule to manage the complete building process, while experts from both the design and construction worlds are better utilized at the correct time, and coordination issues are addressed when most efficient for owners.
While some contractors may feel like design-build is a forced marriage between the designer and contractor, corporate risk directors believe today's contractors have little choice but to embrace it. Design-build is here to stay, they say, because owners like it. While acknowledging that fact, experts advise owners to look for contractors with high-tech, integrated design experience.
"A contractor needs to be a strong leader, and learning that role takes time," said Kristin Hill, director of educational programs for the Lean Construction Institute. She notes that leading an integrated construction design process demands a culture of commitment and trust that isn't developed overnight.
Additionally, other experts agree that builders should expect their in-house design capabilities to evolve to keep pace with the changing construction environment, and that design-build is an iterative process that will spin unless contractors have the right information that best comes from VDC knowledge and planning.
Outlook
Because collaboration is fundamental to the design-build delivery model, it's not a surprise that the 2019 AGC/FMI survey found communication and oversight to be the prime motivators for contractors adding in-house design.
As construction continues to heat up this year, it will become increasing obvious that builders who are prepared to lead with integrated tech tools will consistently outperform those still trying to catch the construction tech wave sweeping our industry.
Mark Decker is a 12-year design and construction veteran who leads Jacobsen Construction Co.'s VDC department. His latest area of focus is holistic software that documents best workflow coordination.