Aggregates — sand, gravel and crushed stone — account for $331 million dollars in annual sales across Utah and the industry directly employs 1,620. So says a new research report from Utah Foundation. The study found the industry and its associated jobs have an indirect impact of $680 million a year and support 3,410 jobs.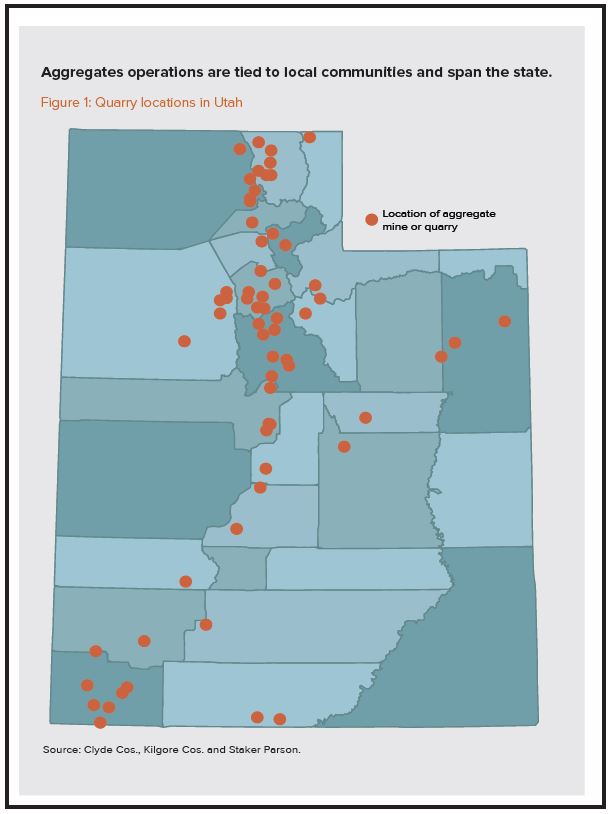 Key findings of the report "The Bedrock of Civilization: The Economic Impact of the Aggregates Industry in Utah" include:
• Most (90 percent) of aggregates are consumed within 50 miles of mining and production and shipping costs rise sharply with distance.
• The aggregates industry is present in 26 of Utah's 29 counties and has a moderate or larger impact in 14.
• Unlike many other industries where borders are fluid and companies can choose where to expand and contract, the aggregates industry is dependent on the location of the natural resources which are mined. The aggregates industry is strongly tied to local communities. In Utah, there are aggregate quarries in at least 23 of 29 counties.
• Earnings for Utahns within the industry and from all jobs supporting the industry results in up to $9.1million in revenue for Utah through state income taxes.
• Sales within the industry and from all sales supporting the industry may generate up to $31 million in sales taxes for the state and another $10 million for local governments.
• The value of aggregates industry output has rebounded in recent years but has not yet returned to its pre-recession peak, when adjusted for inflation. This reflects national and regional trends.
"Those involved in the aggregates industry often get little attention, but the work they do provides the basic materials necessary for modern civilization," said Utah Foundation's Peter Reichard. "In conducting this study, we learned much about the significant impact those jobs and related sales have on Utah's economy and tax base."
The research report was commissioned by Clyde Companies, Kilgore Companies and Staker Parson Materials and Construction. It is available on the Utah Foundation website at www.utahfoundation.org.